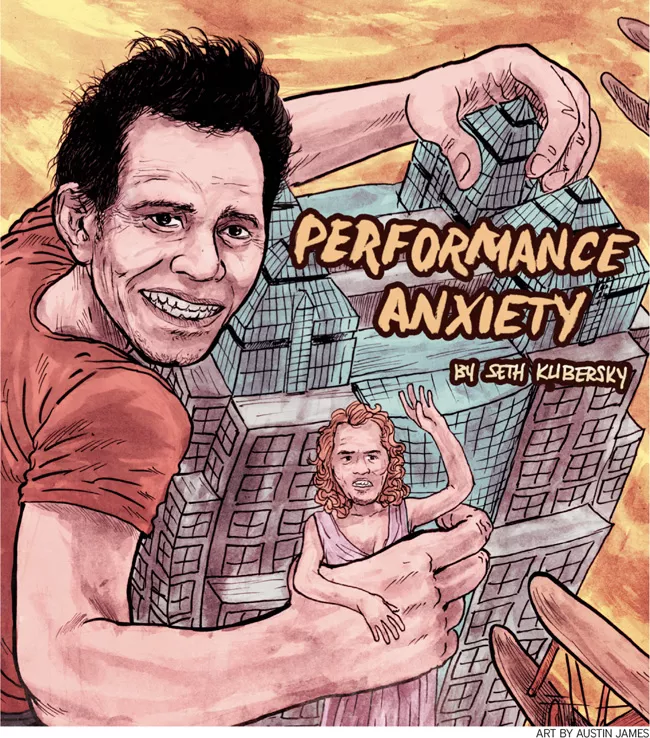 Ghetto Klown
8 p.m. Tuesday, March 6
Bob Carr Performing Arts Centre
401 W. Livingston St.
407-440-7900
orlandovenues.net
$29.50-$49.50

John Leguizamo gained mainstream attention as a character actor in a wide range of eccentric screen roles, from a killer in Carlito's Way to a drag queen in To Wong Foo, Thanks for Everything, Julie Newmar to the artist Henri de Toulouse-Lautrec in Baz Luhrmann's Moulin Rouge. But he first found notoriety (along with Tony nominations and Drama Desk awards) on Broadway with his one-man monologues Mambo Mouth, Spic-O-Rama, Freak and Sexaholix … a Love Story. Leguizamo spoke to OW from Houston in advance of his March 6 appearance at Orlando's Bob Carr Performing Arts Centre, where he will perform his latest work of verbal virtuosity, Ghetto Klown.

Orlando Weekly: It's an honor to talk to you. Like your earlier one-man shows, Ghetto Klown is largely autobiographical. You can be merciless in your observations and impressions of family and friends. Is there anyone left in the old neighborhood in Queens who will still talk to you?

John Leguizamo: Luckily, Queens is an incredibly transitory kind of world because everyone just comes in to get out. The people that I knew already got moved out; nobody's left where I came from. That's why this show is basically talking about all the people I've worked with in movies and theater – all my reps, handlers, whatever people call them.

Your plays' titles have always been provocative. What are you saying with the title Ghetto Klown?

A "ghetto klown" to me is a person that, back in the day when we had nothing, was that guy that cracked you up, cracked you up and made you laugh, and made you forget you had nothing. Nothing to do, or nowhere to go. You just talked and goofed and made fun of things. And you didn't want for anything, because all you needed was that togetherness and the laughter.

How do you keep up your famously hyperactive stage persona at age 47? Has your offstage routine changed over time to compensate?

My prep is so much longer now than it used to be, and my cool-down is even longer. That's what I really notice, it takes twice as long for me to get ready, and then twice as long to cool down after. To maintain this energy level I've got to work. It's not as easy as it used to be. I've got to do a lot of PT [physical training]; the rollers, the bands. You've got to do so much stuff to get that body animated.

Do you have to adapt your Broadway shows to suit a touring audience?

In America I don't have to do anything. I thought I would have had to, but I guess with television and radio, we're just really monolithic. When I did it in Latin America I had to do a lot more changes, because culturally I realized we're really far apart. There's so many things that they don't understand. Affirmative action, the pejoratives they call Latin people here – they don't understand any of that. Also, all my kid references are cartoons that they didn't watch, or they were translated so they didn't hear the real original voices, so Foghorn Leghorn doesn't play the same. They don't know when I'm making fun of a New Yorker or [someone from] the West Coast; they don't have those audio references. So I had to come up with totally different things.

It's been almost 17 years since your sketch comedy series House of Buggin' was prematurely canceled. Why can't we buy it on DVD or stream it on Netflix yet?

I think part of it is because it was a really expensive show. It was like $1 million an episode. To put out a box set – I tried, it's just really too expensive.

Congratulations on your new development deal with ABC Television.

That's not a development deal – I'm shooting a pilot. I'm on level 2 of the game, or something. This is going to be fun. I'm doing a sitcom, so this is going to be really interesting. I'm shooting for fall; I don't really know TV, but if I shoot a pilot in March, is that for fall season or a mid-season replacement? I don't know. [Laughs] You know, TV's not my thing, I do movies and theater.

You've done live theater, feature films and episodic television. As an artist, which medium is most fulfilling?

Oh, theater! Even when it's not my own piece, it's the actor's medium. Especially when you write your own stuff, then it's the writer's and actor's medium. The vibe you get from the audience. You can really say what you really think. There's no corporate whitewash.

You've performed Shakespeare on screen (Baz Luhrmann's Romeo + Juliet) and stage (A Midsummer Night's Dream). Any plans to return to the Bard? I'm sure Orlando Shakes would love to have you as a guest artist.

I'd love to do that short attention span version of Shakespeare [Complete Works … Abrgd, coincidentally being presented by Orlando Shakes next season] so I can do all the works in an hour. I like that show, I'd like to do that. Actually, I think someday I would like to do Shakespeare in a more serious way. Probably try Richard III or be Iago in Othello. It would be great.

You have a son who is 11 now. Has he discovered Super Mario Bros. yet, and have you showed him the movie [in which Leguizamo co-starred as Luigi, with Bob Hoskins as Mario]?

He loved the movie. He saw it when he was about 8. Then he moved quickly into Spawn [in which Leguizamo played a demonic clown] and then he was into The Pest. He's played Super Mario Bros. forever; I couldn't compete with him.

In George A. Romero's Land of the Dead you got turned into a zombie and snacked on Dennis Hopper. How do you think you'd fare in a real zombie apocalypse?

Oh man, you know, that's a good question. I'm pretty savvy and fast. It depends if it's George Romero zombies that move slow, or the remake [zombies], who are extremely fast. In that scenario I might be done for, but I'll take out a couple hundred.

According to urban legend (aka IMDb.com), the great acting teacher Lee Strasberg died after coaching you for just one day.

Absolutely true. I was in his school, it was my first master class. One emotional memory exercise and he was gone that night. I'm sure it was [my fault]. My acting was so bad back in the day, I'm sure it did the poor man in.