The Florida Prize in Contemporary Art has emerged as an important stage for the voices of Florida's contemporary artists, and it's significant that it's juried and curated here by the Orlando Museum of Art – it isn't a traveling show come to town, or a received corporate gift. It is therefore one of the most essential exhibitions in Central Florida annually. This year, 10 potent artists present (to varying degrees) deft social commentary via installation, video, sculpture, photography and good ol' painting. Miami-based, Peruvian-born artist William Cordova won the Florida Prize this year, with Miami-based, Haitian-born photojournalist Carl Juste taking the people's vote at the show's opening-night party.
What all the art has in common is a distressing (or distressed) take on the sour times we're living through. It's a chicken-and-egg problem trying to figure out whether the current craze for dystopian art has a causal or a coincidental correlation with this rotting world of ours, but, as near-future apocalypse prophet William Gibson noted in a recent interview with New York magazine, "Much of the planet's human population, today, lives in conditions that many inhabitants of North America would regard as dystopian. Quite a few citizens of the United States live under conditions that many people would regard as dystopian. Dystopia is not very evenly distributed."
It's not very evenly distributed throughout this show, either; but it's there, coursing through the veins. The Florida Prize exhibition closes Sunday, Aug. 20, so if you haven't already, you've got just a few weeks to witness it – if you dare.
RTR: Warnings. This year, I see cultural and social warnings everywhere in the art on exhibit. It's like we're all helplessly on some kind of horrid highway under construction, and the art here is like the "Caution – men working" signs telling us what's coming.
JBY: Well, this is the dourest, most severe group yet. The Florida Prize started as an explosion of color and texture and movement, and each year it has gotten more intellectual. Some of the works this year felt almost bloodless, though most claimed to engage with blood or conflict or pain.
RTR: Our current period is very unsettled. In contrast, the art here looks very restrained. It invites you in, however, to tense Haitians waiting at a polling booth; a Syrian execution scene; a ghost orgy. The work surreptitiously draws you out of your comfort zone.
JBY: Let's start with Rollins College art professor Dana Hargrove's looming wall. She described it to our reporter Esteban Meneses as a reference to borders, to Hadrian's Wall protecting England from Scotland, where she grew up.
RTR: The huge scrap-cardboard installation has a street quality about it, in contrast to the studio-born, crisp and colorful building blocks inside the gallery. Hargrove's cairns are exquisite, as always. They're very architectural.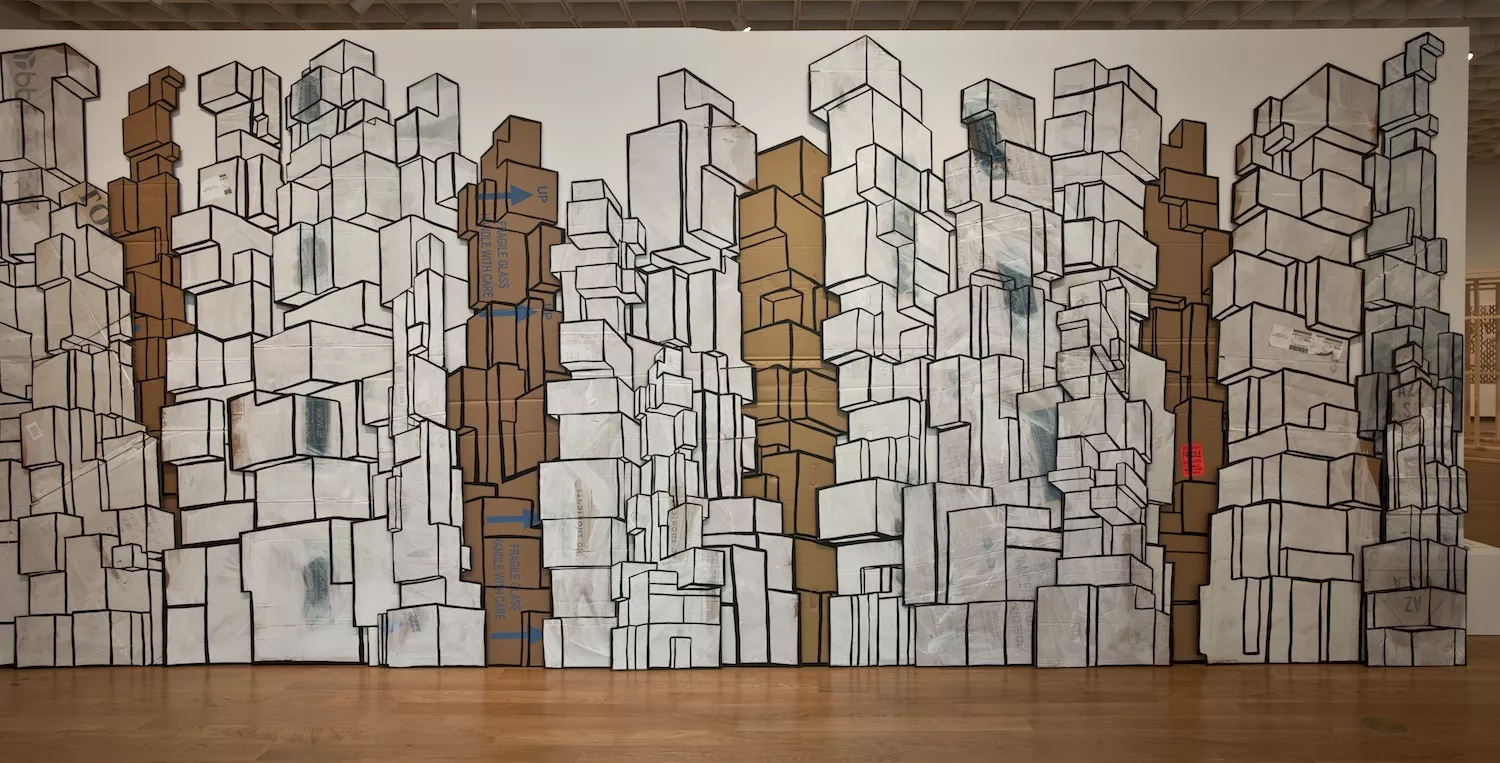 JBY: The rainbow cairns are very pretty and sharp and clean, but the battered cardboard wall has a grim quality that resonates with the rest of the show. Very good choice to install it as the opening piece.
RTR: Sharp-edged and clean also characterizes Chase Westfall's work. The Gainesville gallerist and artist juxtaposes clean, static grids over terrorists, human and animal body parts. The grid imprisons them. "Blue Barricade," for example, blocks the subject matter from the viewer. And then the "Replica of Syrian Fence" is quite clean and nice, until he explains it is ISIS' favorite execution fence. The effect is chilling. Or it could be. Things here are so pristine, there isn't a spot of blood on it, so he has to tell you what it is.
JBY: I particularly appreciated "Untitled (Memorial)," a delicate pendant of that fence that interrogates the fetishization of violence in religion's name – if it seems repugnant to wear a representation of that fence as jewelry, what does that say about crucifixes?
RTR: Heavy! So, Lisa Iglesias.
JBY: Iglesias' interactive drawing/projection will grow over time as visitors add to it, and there are various other interventions with the drawings – video, web.
RTR: Transforming the black-and-white information into a video and then, ultimately, into "yes" or "no" is an awful lot of conceptual process reminding me of so much of what we all do now: filter out all the noise in our presence – Facebook, TV, whatever – in order to make a decision.
JBY: Speaking of "an awful lot of conceptual" well, hoo-hah, what did you make of Miami artist Domingo Castillo's two video screens on poles, attended by a clutch of cheap office wheelie chairs?
RTR: One screen flips through classical nude portraits with cheeky slogans, the other a history of citrus promotion in Florida. The two screens were interesting spatially, subtly interactive. The right eye sees beautiful female forms, while the left eye sees oranges, commercial images. The brain mixes them together visually but the signal was drowned out. It was like we have more pressing matters than Florida's vanishing beauty right now. I don't know; if television is a cold medium, this was definitely on the cool side.
JBY: Yeah – this piece left me cold. I wanted to like it; the Miami New Times named Castillo Best Emerging Artist a few years ago; but I felt like I was missing the joke. If an American Apparel store clerk were impregnated by a VICE article and the baby was a video installation, it would be this installation. Loved the cat photo, though.
still from video "Surface Image" by Domingo Castillo
RTR: In contrast, Mark Gerstein's videos were interactive in a slightly more overt way. Several screens hold constantly shifting mosaics of self-portraits, family and nature scenes; as you approach it you activate voices speaking to you. The effect was subtle. I had to see it twice to get the full effect.
JBY: The interactivity was technologically clever; the way the viewer gleans different information by moving closer or away mimics transactions in human relationships.
RTR: Ralph Provisero's "Maltryoshka," "Ironsides" and "Iron Cross" series sort of capture the hidden menace in a lot of the work we see this year, with its reference to weapons. Nesting artillery shells into each other, as a play on the old Russian doll meme, ties together many references in this show to the world's unsettled, edgy state. They're warning us: Beware of what's coming.
JBY: Provisero's work was beautifully fabricated and certainly fit into the generally dark, militaristic tone of the show, but I didn't feel like I learned anything here.
RTR: His "Dystopianutopia," a beautifully aged lead sheet cut in a disc, bookends the current obsession with upcoming armed conflict. It references Anselm Kiefer, whose lead airplanes and paintings looked backwards at German military weapons from World War II.
JBY: I'm also beginning to be certain that OMA places the most overtly military or weaponry-themed works in the Lockheed Martin Gallery every year as some kind of inside joke. Or maybe there's a dark conspiracy at play ... ooh-woooo.
RTR: In the same room, Carl Juste's photographs of Haitians in the throes of voting were striking and immediate. One feels the raw emotional energy of the people in the photographs. Juste's work is a different kind of warning to those of us sleepwalking through the results of our own recent election. And, despite its journalistic quality, the photographs are beautifully composed and printed, rich with color and clarity.
JBY: They showed the rawest emotion in the show, for sure. Aramis Gutierrez's work is also emotional ... but it's a heightened performance of emotion, as opposed to Juste's photojournalism.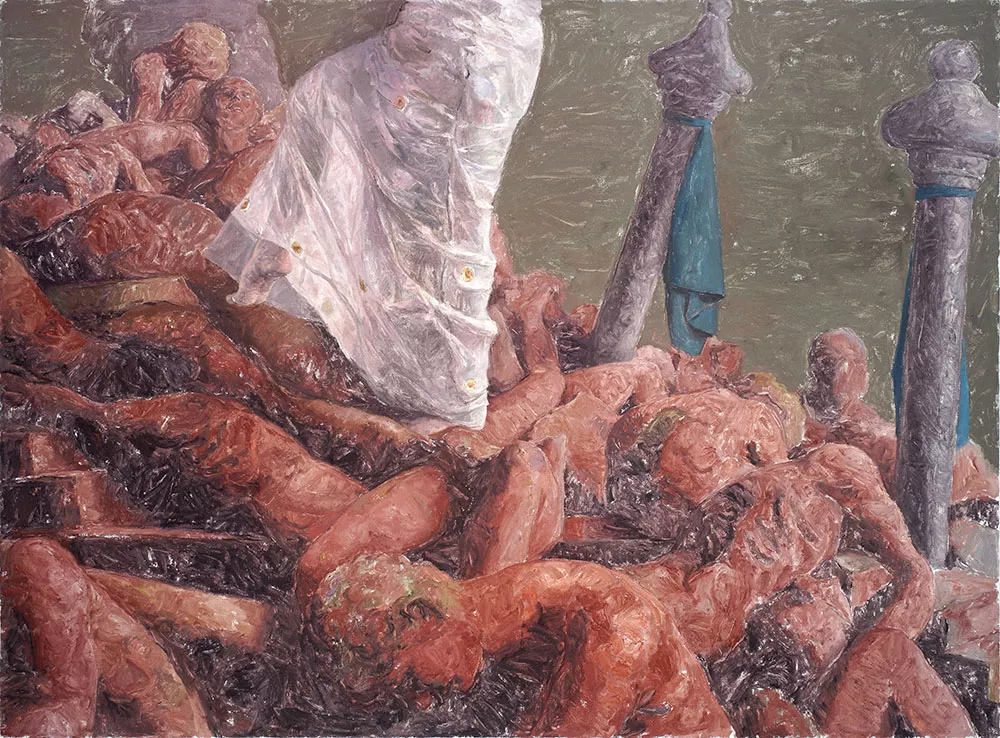 "Sleepwalker," painting by Aramis Gutierrez
RTR: Gutierrez's paintings at first were a little too acidic for me. He uses fantasy and horror movie scenes as subject matter. His mauve-grays and umbers capture a twilight of sorceresses and creep kings, a kind of rogue's world of mother's-basement gamers caught in their own games. What took me in, finally, was a pathos that comes out through the various filters he puts over his work. He limits himself to movies, to a nontraditional palette, and to a brush style that's somewhat hostile to portraiture. Despite these self-imposed filters, you still connect with the people. You don't like 'em, but you get 'em.
JBY: At first I recoiled – there was something off-putting in that skimpy brushwork – but eventually it came to feel like a comment on the theatricality of these scenarios, like, see behind the scrim? And I was seduced by the weirdly inhuman skin tones, the exhalations of trance-inducing vapors and the goddesses' feet delicately treading over corpses. Very decadent, otherworldly, fleurs-du-mal stuff.
RTR: And we come to Coco Fusco's epic sea voyage "Y entonces se mar te habla (The sea will talk to you)," evoking a Cuban émigré's escape by sea, as well as the return to Cuba to scatter her mother's ashes. You sat in one of the inner tubes scattered on the floor and "floated," I noticed. What did you think of the experience?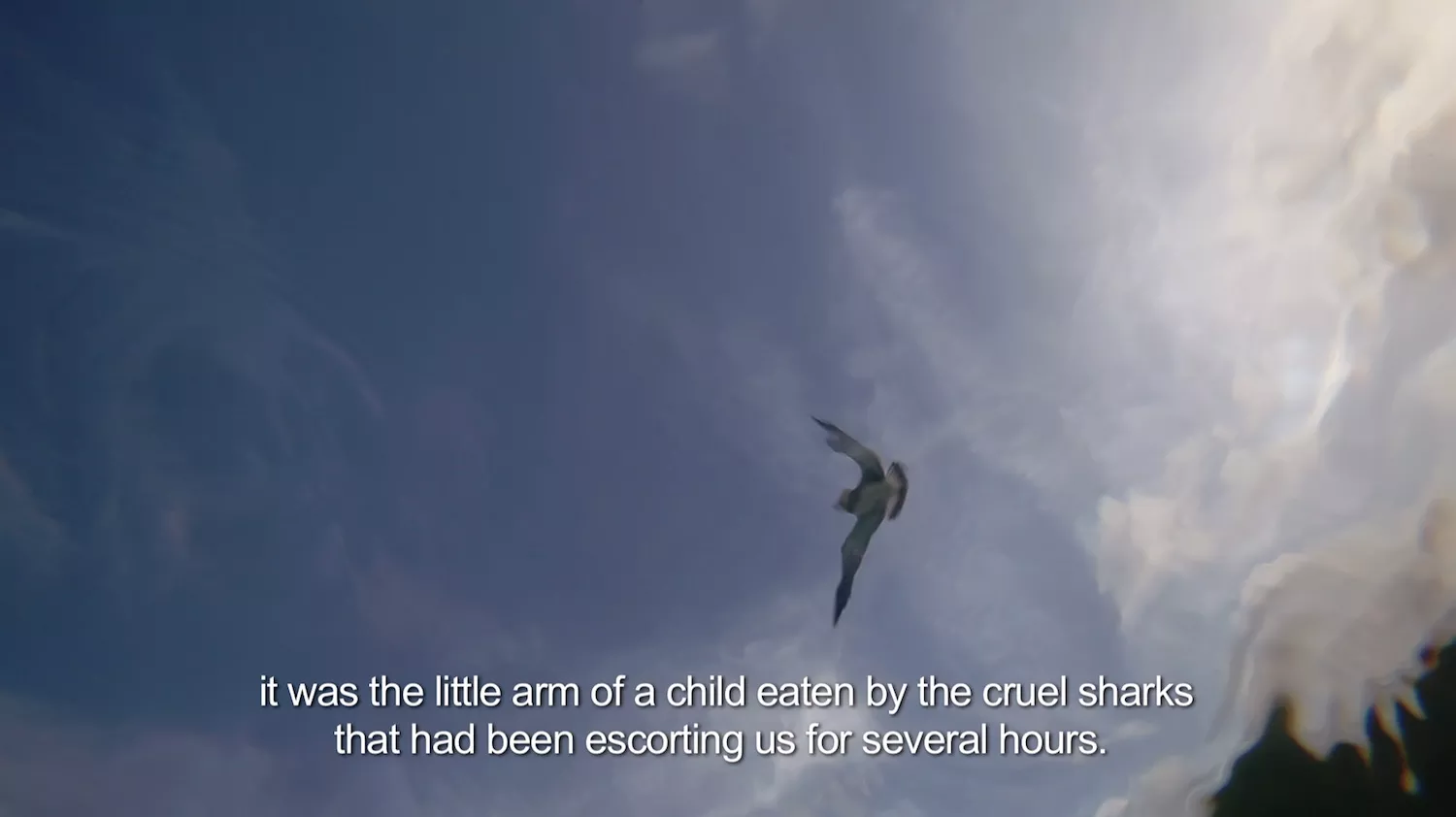 Still from video "The Sea Will Talk" by Coco Fusco
JBY: The darkened-room video installation is peaceful and soothing, until you realize this view lulling you is that of a desperate escapee. Floating in the ocean is lovely, unless you're fighting for your life. Also, getting up out of that inner tube was a bitch.
RTR: Fusco's series of photographs of Havana's Plaza de la Revolucion were haunting warning signs as well. "The Empty Plaza," with no one to worship the seven-story portraits of Fidel and Che, bodes ill for revolutionaries. More danger signs.
JBY: And last of all: Florida Prize winner William Cordova.
RTR: I appreciated Cordova's care in creating the installation "The house that Frank Lloyd Wright built 4 fred hampton y mark clark (despues de Atahualpa)." You can walk right through the wood frame structure that re-creates the apartments where the two Black Panthers referenced in the title were shot.
It was crisp and clean and well-crafted. His series "transmissions: a more radical elsewhere," "untitled (spiritual underground)" and "syncretism (paraq purinaykipeq)" were some of the best mixed-media work I have seen in a long time. They're sensuous, almost lyrical compositions of painted images, scraps of paper, gold leaf, Pearl Jam lyrics and other items that tell cross-cultural stories. His masterful light touch gathers Peruvian and American perspectives; it's very transcendentalist.
"The house that Frank Lloyd Wright built 4 fred hampton y mark clark (despues de Atahualpa)," installation by William Cordova
JBY: I most enjoyed the line of tiny drawings marching along the wall outside the two-by-fours of the house – I felt more humor and social engagement in them, but that's a personal preference. Of course "The house that ..." is socially engaged; it manages to contain a crackling fire of anger in its sere bare bones. For this piece alone, Cordova deserved the prize.
RTR: This year, the show seems to fit into two or three categories. Sculptures by Provisero, Westfall and Cordova symbolically reference war, terrorism, murder – but are so clean and pristine that the references are almost hidden. One longs for a spot of blood on Westfall's gate or bullet splinters in Cordova's wood stud walls; something, anything to mar the surface. This extends to Hargrove's colored cairns, Iglesias' drawings, and the videos by Gerstein, Fusco and Castillo. In Marshall McLuhan's terms, they are "cool" and cerebral. Then, with Gutierrez' paintings, Juste's photographs of the Haitian election scenes and Hargrove's cardboard box towers, you get a little more texture, more human element ... stuff's a little less cooked and more raw, but it is still in the medium-well category. There's no rare steak dripping blood here, little of the happy accident. Accidents, whether happy or not, are bad. At least that is how I read this show.
JBY: Obsessing over the apocalypse is just a way of trying to control it, whether you're celebrating it – truthfully or ironically – or trying to stave it off. Are we headed for end-times catastrophe? Is it all just part of the eternal cycle? Or is it time to go into the forest and get it on until the end of the world?