Page 2 of 3
JBY: Yeah – this piece left me cold. I wanted to like it; the Miami New Times named Castillo Best Emerging Artist a few years ago; but I felt like I was missing the joke. If an American Apparel store clerk were impregnated by a VICE article and the baby was a video installation, it would be this installation. Loved the cat photo, though.
still from video "Surface Image" by Domingo Castillo
RTR: In contrast, Mark Gerstein's videos were interactive in a slightly more overt way. Several screens hold constantly shifting mosaics of self-portraits, family and nature scenes; as you approach it you activate voices speaking to you. The effect was subtle. I had to see it twice to get the full effect.
JBY: The interactivity was technologically clever; the way the viewer gleans different information by moving closer or away mimics transactions in human relationships.
RTR: Ralph Provisero's "Maltryoshka," "Ironsides" and "Iron Cross" series sort of capture the hidden menace in a lot of the work we see this year, with its reference to weapons. Nesting artillery shells into each other, as a play on the old Russian doll meme, ties together many references in this show to the world's unsettled, edgy state. They're warning us: Beware of what's coming.
JBY: Provisero's work was beautifully fabricated and certainly fit into the generally dark, militaristic tone of the show, but I didn't feel like I learned anything here.
RTR: His "Dystopianutopia," a beautifully aged lead sheet cut in a disc, bookends the current obsession with upcoming armed conflict. It references Anselm Kiefer, whose lead airplanes and paintings looked backwards at German military weapons from World War II.
JBY: I'm also beginning to be certain that OMA places the most overtly military or weaponry-themed works in the Lockheed Martin Gallery every year as some kind of inside joke. Or maybe there's a dark conspiracy at play ... ooh-woooo.
RTR: In the same room, Carl Juste's photographs of Haitians in the throes of voting were striking and immediate. One feels the raw emotional energy of the people in the photographs. Juste's work is a different kind of warning to those of us sleepwalking through the results of our own recent election. And, despite its journalistic quality, the photographs are beautifully composed and printed, rich with color and clarity.
JBY: They showed the rawest emotion in the show, for sure. Aramis Gutierrez's work is also emotional ... but it's a heightened performance of emotion, as opposed to Juste's photojournalism.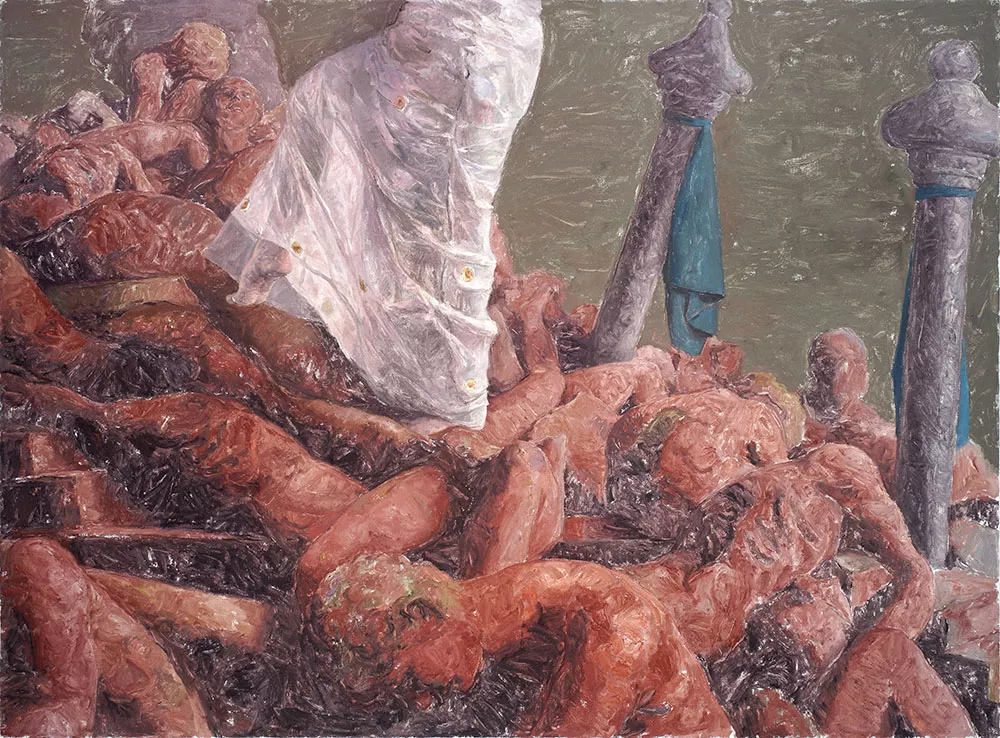 "Sleepwalker," painting by Aramis Gutierrez
RTR: Gutierrez's paintings at first were a little too acidic for me. He uses fantasy and horror movie scenes as subject matter. His mauve-grays and umbers capture a twilight of sorceresses and creep kings, a kind of rogue's world of mother's-basement gamers caught in their own games. What took me in, finally, was a pathos that comes out through the various filters he puts over his work. He limits himself to movies, to a nontraditional palette, and to a brush style that's somewhat hostile to portraiture. Despite these self-imposed filters, you still connect with the people. You don't like 'em, but you get 'em.
JBY: At first I recoiled – there was something off-putting in that skimpy brushwork – but eventually it came to feel like a comment on the theatricality of these scenarios, like, see behind the scrim? And I was seduced by the weirdly inhuman skin tones, the exhalations of trance-inducing vapors and the goddesses' feet delicately treading over corpses. Very decadent, otherworldly, fleurs-du-mal stuff.
RTR: And we come to Coco Fusco's epic sea voyage "Y entonces se mar te habla (The sea will talk to you)," evoking a Cuban émigré's escape by sea, as well as the return to Cuba to scatter her mother's ashes. You sat in one of the inner tubes scattered on the floor and "floated," I noticed. What did you think of the experience?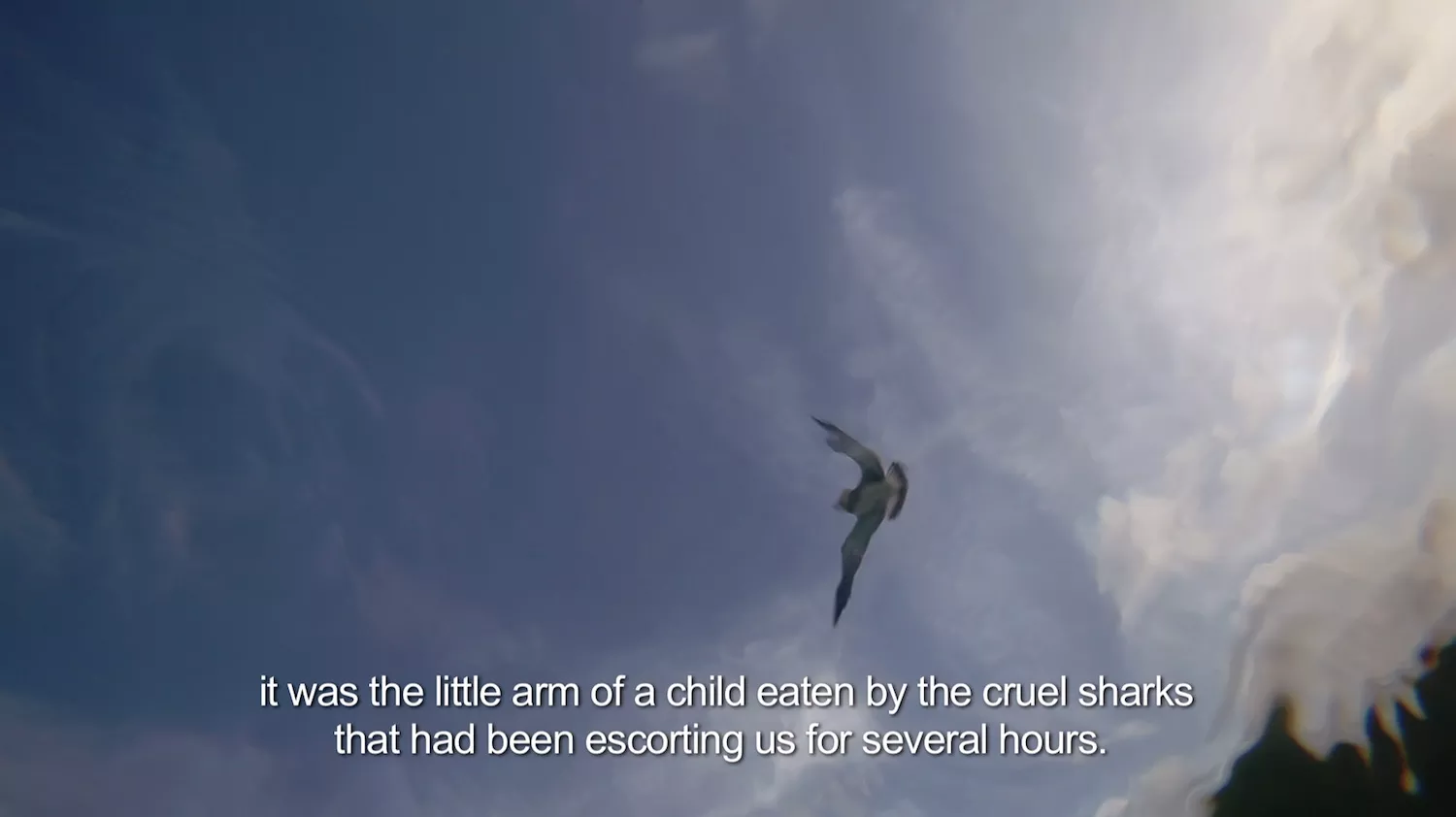 Still from video "The Sea Will Talk" by Coco Fusco
JBY: The darkened-room video installation is peaceful and soothing, until you realize this view lulling you is that of a desperate escapee. Floating in the ocean is lovely, unless you're fighting for your life. Also, getting up out of that inner tube was a bitch.
RTR: Fusco's series of photographs of Havana's Plaza de la Revolucion were haunting warning signs as well. "The Empty Plaza," with no one to worship the seven-story portraits of Fidel and Che, bodes ill for revolutionaries. More danger signs.
JBY: And last of all: Florida Prize winner William Cordova.