Wall Street Plaza: More than just block parties
With seven bars lining its brick-paved pedestrian walkway, it's no surprise Wall Street Plaza is known as downtown Orlando's party central – particularly on the weekends, when 20somethings gravitate to the epic block parties and liquor-infused events that transform the space from quirky daytime lunch spot or happy-hour hang to full-tilt nightlife hotspot.
But take a moment to look more closely at the details in any of Wall Street Plaza's bars and you'll realize that the space is more than just the sum of its parties, as events and marketing director Paul Emery points out.
Each bar in the plaza is elaborately themed – Wall Street Plaza owner Joel Springman is what Emery calls, "not an American picker, but an international picker," who travels the world finding unique objects and concepts to bring back to the bars. Sideshow, for example, is reminiscent of a 1930s carnival. From the giant Alexander the Crystal Seer mural above the bar to the giant grinning clown face that greets visitors coming in from Orange Avenue to the sideshow-themed paintings on the walls (commissions completed by Orlando artist Maureen Hudas), the space is full of eye candy, oddities and Easter eggs for patrons. Don't miss the fun house mirrors in the bathrooms and the surreal projection mapping that transforms the space after dark. "With the projection mapping, we tried to make it so there are so many scenes that you would hopefully never see the same thing twice," Emery says. "So maybe you'd be sitting there at the bar with your buddy and say, 'Hey, did you see that?'"
Some of the spaces also have some interesting lore that predates downtown's nightlife scene – according to Emery, rumor has it that the Henhouse, which is a tiny bordello-themed cocktail bar, used to be a city jail. The space that is now Hooch was once a bus stop, he says, where Jack Kerouac allegedly stopped while writing On the Road.
Wall Street Plaza started out as just two bars on Orange Avenue, One Eyed Jack's and the Loaded Hog, back in 1995. But over time, it grew and evolved. Jack's and the Hog (which used to have a giant pig that, "blew confetti out of its butt," Emery says) have been replaced by Sideshow, and three newer bars, Hooch, Shine and the Henhouse, now occupy spots that used to house beloved Orlando counterculture spots Yab Yum, the Kit Kat Club and the Globe restaurant. Those spaces were purchased by Springman in 2001 and transformed over time.
Emery says Wall Street's owners still have some of the old signage from those spaces – down the road, he says, they're thinking about installing them as an homage to the space's storied past.
"We are locally owned and operated," he says. "We are not a theme park, and we care about the environment we live in. We just want to offer interesting places for people to sit, have a drink and some food and just enjoy Orlando."
Wall Street Plaza
, 26 Wall St. | wallstplaza.net
The Big Chill: IceBar Orlando
The first thing you need to know about Icebar, opened by Orlando resident Patz Turner in 2008 after she visited an icebar in Sweden, is that you will absolutely want to wear the parkas and gloves the "ice princesses" at the front door offer you with your admission fee ($12.95 if you buy online, $19.95 and up at the door).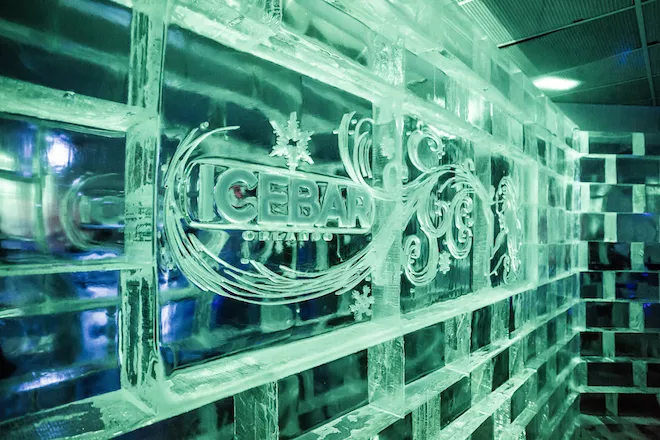 It's literally freezing inside the Icebar, which is a permanent room constructed from 70 tons of carved ice – from the walls to the bar decor to the glasses from which you sip your icy cocktails, everything in the bar is made of ice, which means they keep that room cold.
The thermometer measured a frigid 20 degrees during our recent visit, and even though they cover the barstools – also made of ice – with faux-fur pelts, sitting down is something of a chilling experience. Don't worry – the entire building isn't an ice palace. The icebar is actually just one room in the larger facility, which also houses the less dramatic – but far warmer – Fire Lounge where you can recover after your foray into the arctic.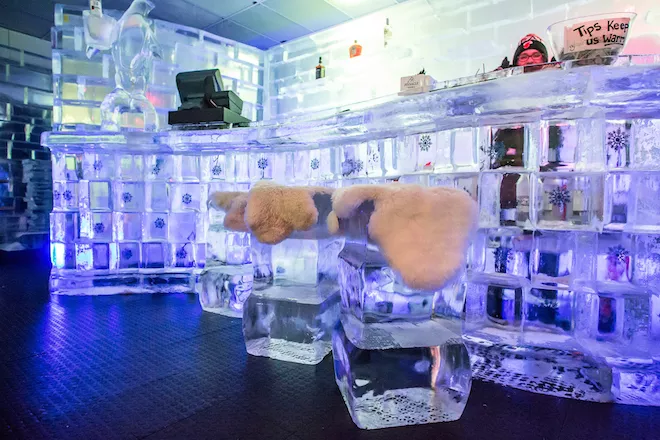 Icebar Orlando, 8967 International Drive | icebarorlando.com
Branching out: The Treehouse
You know a bar is dedicated to its theme when they even take the scents wafting through the air into consideration – at the Treehouse, one of downtown Orlando's newest speakeasies, you catch the distinct aroma of pine needles after you climb the stairs carpeted in fake grass and decorated with tree limbs (and even a tree swing hanging overhead), which give you the feeling that you're about to walk into an elf's apartment.
The room itself is small, cozy and comfortable, and when we visited, the two TVs that flanked the bar played scenes of snow falling in a forest. Since it's a speakeasy, part of the fun of the Treehouse is finding it, and the owners (who also own the Basement and the Attic) don't publish the bar's address online. So you'll have to be resourceful when looking for it. We'll give you a hint – look for the green door, which is usually open during bar hours, and take a peek up the stairs. If you see an arboreal-looking stairwell carpeted in green turf and lit by lanterns, you're in the right place.
The Treehouse
, located in the vicinity of 68 E. Pine St. | thetreehouseorlando.com
Exceeding expectations: The Boathouse and the Shark Bar at T-Rex Cafe
If you haven't had a reason to visit Downtown Disney – soon to be rebranded Disney Springs – lately, there's a new bar/eatery located on the lagoon that gives locals a good reason to go back. It's called the Boathouse, and its tagline – "great food, waterfront dining, dream boats" – is spot on.
Owned by Schussler Creative, the Minnesota-based branding innovators behind Downtown Disney's T-Rex Cafe and Rainforest Cafe (as well as the Hot Dog Hall of Fame at Universal CityWalk), the Boathouse is stunning in its attention to detail – the interior and exterior flow together seamlessly (as Schussler Creative creator/CEO Steven Schussler points out, you can see the water from the moment you walk into the bar), and while there's something new to look at anywhere you let your eye fall, the space never feels cluttered or chaotic. That, Schussler says, is by design.
"We build everything around the five senses," he says, noting that from the sound to the lighting to the colors and materials chosen to design the bars, the goal is to create an environment that's exciting, comfortable and interesting to look at, but also soothing. In the Boathouse, that means polished vintage boat motors mounted overhead, carefully selected nautical-themed art, graceful architectural elements that mimic the hull of a ship. Outside, a curated fleet of vintage boats (the dream boats from the tagline) line up along the docks, which guests are welcome to wander so they can drool over the rare collection that includes a 1930 Chris-Craft Runabout, a 1966 Cir-Craft Floating Funster and a 1958 Sadaucher Unlimited Hydroplane.
"I call these boats pieces of floating artwork," Schussler says. "I wanted to continue with the decor we had inside on the outside. We tried to do something that no one else has done."
The Boathouse
| 1620 E. Buena Vista Drive, Lake Buena Vista | theboathouseorlando.com
At the Shark Bar inside the T-Rex Cafe, which probably attracts more extended families with kids (drawn, no doubt, by the animatronic dinosaurs and mammoths that roar and crane their necks at diners) than single people headed out for drinks, the bar is neither childish nor cheesy – rather, it's stunning and graceful, with its massive saltwater fish tanks tucked into the arms of a giant octopus.
Once seated at the bar, it's actually surprising how sophisticated and comfortable it feels. Again, that's by design. Schussler says the water plays a big role in making the bar feel like a retreat. "You have that bar made out of that incredible glass with a blue tinge," he says. "It's soothing and it's comforting to the brain. There's a lot of psychological aspects that go into it, besides just design."
And that philosophy extends to people of all ages who enter any of his properties. "It's important to us that someone who is 6 years old is happy and feels just as comfortable sitting at the bar as an adult," he says – an important point for a bar/restaurant located in a highly trafficked tourist spot. "I've never been to the Boathouse, or the T-Rex, where you couldn't speak to anyone at the bar, or it wasn't inviting for anyone of any age. We take into consideration all demographic profiles. It's that kind of appeal that nobody else addresses. I can't tell you how many bars I go into and it's just uncomfortable for any demographic. I just can't imagine designing something that's not appealing to everyone."
T-Rex Cafe
| 1676 E. Buena Vista Drive, Lake Buena Vista | trexcafe.com
Hang 10: Aku Aku Tiki Bar
First things first: Not all tiki bars are created equal. "Tiki-philes are very particular about certain things," says Todd Ulmer, operating partner of Aku Aku Tiki Bar. You can't just put some bamboo and longboards in your bar and call it a tiki bar, he says – you have to do your research.
And clearly, Ulmer and his partners have done theirs. When you walk into Aku Aku, which opened almost a year and a half ago in the space that used to be XL Gallery, it's clear that no detail has been overlooked. From the vintage bamboo barstools, to the carved tiki god sculptures, to the vintage beach films playing on the TVs, to the tiki tchotchkes lining the shelves and walls, the entire tiny space is an homage to a 1950s or '60s Hawaiian beach bar. Ulmer, who is also a partner in Mucho Tacos and Tequila (the design of which he says was inspired by Quentin Tarantino's epic vampire bank robbery flick From Dusk Till Dawn) and Stardust Lounge (a dark, vintage Vegas-themed lounge located just downstairs from Aku), says that all of the artwork is authentic, "made by artists who specialize in tiki art." He has a tiki sculpture gifted to the bar by Jeff Chouinard, limited edition tiki prints by Brad Parker and signed and numbered prints by legendary California artist Shag.
"I had one artist fly in from Hawaii for a surf expo," Ulmer says, "and he wanted to do a signing at Aku. Afterward, he emailed me and said, 'I will give you the best deal I can on my artwork, but I want my art in your bar.'"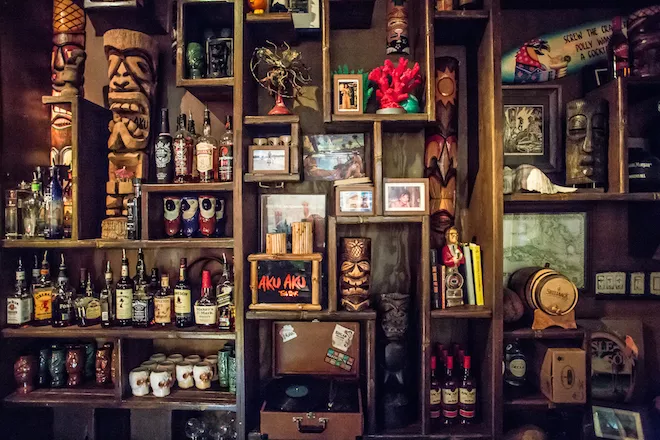 Ulmer says he had originally considered doing a more traditional craft cocktail bar, but there were already so many in downtown Orlando. Instead, he put a twist on the concept and went tiki-craft. "Tiki drinks are not just sugar-filled garbage cocktails," he says. "Our drinks are balanced cocktails, which is what tiki cocktails originally were. Mass-market mixes ruined it, but now it's really coming back."
And so far, he says, Orlando has embraced Aku Aku and customers seem to appreciate the fact that the bar isn't just a tiki-themed venue – it's a real-deal tiki bar.
"We try to stay traditional," Ulmer says. "Tiki music, the island music, and everybody seems to really enjoy the cocktails. I love that people are really getting into it and enjoying not just the interior but the whole experience."
Aku Aku Tiki Bar,
431 E. Central Blvd. | akuakutiki.com
Ten more bars that push boundaries
Ember
You'll feel like you're sipping your drinks in a Mediterranean plaza when you're sitting on the patio at this impressively sprawling indoor/outdoor bar in downtown Orlando.
42 W. Central Blvd. | emberorlando.com
Hanson's Shoe Repair
This 1930s speakeasy-themed spot doesn't play around – you have to call in advance to get the password, which will be texted to you with a time during which you can arrive, if you want to get in. Once inside, it's elbow room only, but the decor (and the exquisite craft cocktails) truly transports you to another era.
27 E. Pine St., hansonsshoerepair.com
Hollerbach's Willow Tree Cafe
This authentic German beer hall not only offers German music (accordions, yodeling, spoons!), it also serves "das boot" – beer served in giant liter and three-liter glasses, which you're expected to pass around the table and chug while the crowd cheers you on. No pressure.
205 E. First St., Sanford | willowtreecafe.com
The Lodge
For you northerners who miss hanging out après ski at the bars near the slopes, the closest thing you'll find in Orlando is the Lodge, where you can sip whiskey (or whatever) in a rustic lodge-themed setting. If you're freaked out by taxidermy, beware: The walls are festooned with mounted animal heads.
49 N. Orange Ave. | downtownlodge.com
Minus 5 Ice Bar
Locally owned Icebar Orlando was the first of its kind in Orlando, but then the Minus 5 icebar chain opened a location just down the road at Pointe Orlando. The theme is pretty much the same – a bar made completely of ice.
Pointe Orlando, 9101 International Drive | orlandoicebar.com
Mucho Tequila and Tacos (and Mucho Liquor Store)
This Thornton Park staple is loosely themed on the Quentin Tarantino movie From Dusk Till Dawn.
101 S. Eola Drive | muchotequilaandtacos.com
Parliament House Resort
This sprawling gay (and straight-friendly) resort doesn't have one specific theme, unless that theme is partying it up. There's usually so much going on you're not likely to get bored here. Have dinner at the Rainbow Cafe, catch a show at the Footlight Theater, have a drink by the pool, dance in the club, repeat. Party too hard? There's also a motel on site so you can get a room and stay over.
410 N. Orange Blossom Trail | parliamenthouse.com
CityWalk's Rising Star
If you're into karaoke, check this out – rather than singing along to a pre-recorded track, at Rising Star you get a backup band and singers so you can really show people how good (or bad) you are.
6000 Universal Blvd. | universalorlando.com
Stardust Lounge
This 1960s Vegas-themed bar, from the creators of Mucho Tacos and Tequila and Aku Aku Tiki Bar, is Orlando's Space Age bachelor pad. Catch some burlesque, lounge on a red faux-leather banquette or play some pool in a venue that transports you to the Rat Pack era.
431 E. Central Blvd. | stardustorlando.com
Stigma Tattoo Bar
Though it's not usually advisable to mix drinking and tattooing, you can do so at this downtown Orlando nightspot, which is home to five dancing poles, a trapeze swing, cages (for dancing in) and multiple tattoo stations. As the bar states clearly on its website, it doesn't condone getting wasted and tattooed – but you can certainly have a drink to calm your nerves before going under the needle.
17 S. Orange Ave. | stigmatattoos.com