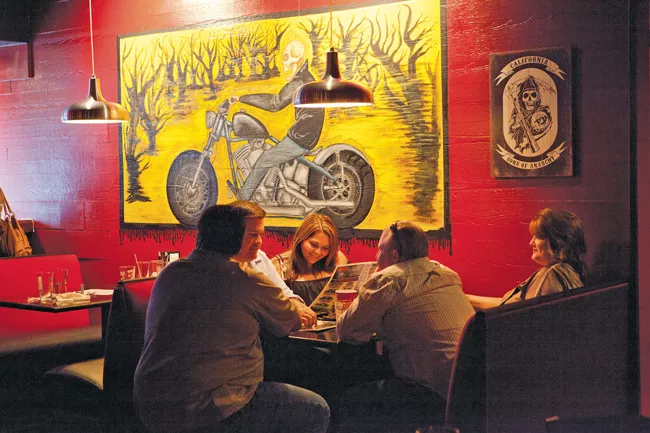 Since I'm not an angry drunk, you're mostly forgiven if you weren't aware that next week (May 14-20) is American Craft Beer Week. Because I am the kind of drunk that'll talk your ear off explaining why I'm right about things, let me explain why you should care. This week is the kind of celebration that fills me with the exuberant joy you get after throwing a double bull's-eye despite the six pints of Guinness making tidal pools in your gut. I don't know if you've noticed, but American craft beer is kicking all kinds of ass right now. According to the Brewers Association (founder of American Craft Beer Week), craft beer sales have been climbing by 10 to 15 percent for the last few years, despite a flagging economy and an overall reduction in American beer consumption. Due to a shrinking demand for beer (down 1.3 percent last year) and fast-growing competition from craft brewers, macrobreweries are now desperately pumping out horrific experiments, like Budweiser Platinum and iced tea/beer abominations.
The big two (Anheuser-Busch and Miller-Coors) are losing their totalitarian grip on American beer – and more specifically, American taste in beer. Why? Good ol' American capitalism, plain vanilla supply and demand. Craft breweries are opening by the hundreds every year because people are voting with their pocketbooks and turning down over-marketed, flavorless yellow beer in favor of a finely crafted, artisanal treat. Which reminds me of another reason I love this week: artsy-fartsy drunkenness.
With more than 100 distinct styles brewed in the United States, beer is a beverage worthy of the kind of high-falutin', pinky-extending lip service usually reserved for wine and cordials. Despite its pedigree and predilection for nuance, it's also the beverage of choice for frat sports (you don't see people playing wine pong, do you?), so it's difficult to exalt beer to too precious an echelon before a popped collar shows up and ruins everything.
Unfortunately, folks looking to go from zero to 0.08 percent blood-alcohol-content in no time flat are the ones who dictate what beers you find in restaurants and bars. In Orlando we've been fortunate to see an explosion in the availability of craft beers over the last couple of years, so it's likely your favorite watering hole has a unique brew or two to try. If not, American Craft Beer Week is a good time to stick it to the (Bud)Man by going to craftbeer.com to download the Declaration of Beer Independence craft brew manifesto, which you can sign and give to the local bar that's keeping you in macro-brew hell.
Filing arcane paperwork may seem like a futile task, but take a lesson from the Brewers Association, which successfully tied up our legal system with fun bullshit legislation, twice: Federal House Resolutions 753 and 1297 both declare that craft brewers are hot shit, and that American Craft Beer Week (as well as American beer in general) is pretty pimp.
But more than anything else, I love American Craft Beer Week because of one thing: Localholism. We may not have a plethora of breweries to celebrate in Orlando, but we ought to appreciate what we've got. Craft Beer Week has a shitload of events going on, like Florida Local Taps Only at World of Beer in Dr. Phillips (7800 Dr. Phillips Blvd., Suite 300, drphillips.wobusa.com), a Highland Brewing and Cigar City Tasting at Total Wine & More (2712 E. Colonial Drive, totalwine.com), Flavors of the Southeast at Oblivion Tap Room (5101 E. Colonial Drive, obliviontaproom.com), and a Cigar City Tap Takeover at Red Light Red Light (745 Bennett Road, redlightredlightbeerparlour.com). Of course, Orlando Brewing (1301 Atlanta Ave., orlandobrewing.com) is no slouch, holding events all week long, kicking off on Tuesday, May 16 with Pink Boots Day, celebrating women in brewing by offering ladies $2 Orlando Brewing beers, and having a chocolate and beer pairing at 7 p.m. ($10).
Craft beer is booming (partly thanks to an economy that encourages one to drink), and if there's one thing Orlando loves, it's a trend. So I sling a challenge to those who swear by Budweiser and Miller and PBR – take a trip out to your local beer bar. Tell the bartender what you normally drink, and bet them a dollar they can't find an American craft beer you'll like. Chances are you'll be out a buck and on your way to a new appreciation of the brewing arts.