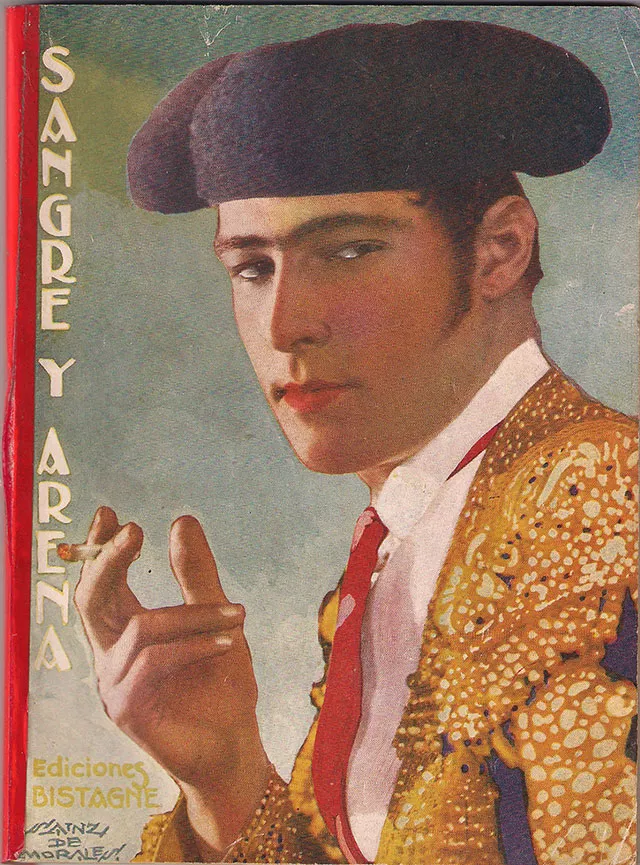 A movie is a vehicle to tell a story. This is obvious. But when you watch a movie, you're seeing more than one story: There's the plot contained within the pages of the screenplay, and then there's the story of the people who watched it and the times in which it was made. This year's Oscar nominees are no different: Her isn't just a love story; it's an expression of anxiety about technology. (Same goes for Gravity.) The Wolf of Wall Street isn't just a rascally anti-hero romp; it's a queasy look at how Wall Street screwed all of America along with all those hookers.
The Blood and Sand, a cocktail invented and named for a 1922 silent film, doesn't capture that movie at all well – but it perfectly captured the moment in which it was created. Blood and Sand stars Rudolph Valentino as a Spanish bullfighter whose guilt over a love triangle leads him to (spoiler alert!) recklessly spill his own blood in the arena. The cocktail, though, rather than reflecting the melancholy – and, frankly, masochistic – air of the bullfighter, is a beefy concoction of Scotch, cherry brandy, orange juice and vermouth. It's smoky and big-shouldered, perfectly suited to its Hollywood origins. But what if we made a drink that captured that fictional character, that slight lonely man on the Spanish sand, instead of Valentino, that swaggering Hollywood lothario?
My Remix ditches the Scotch (not so appropriate for a 1920s Spaniard) for a dry, nutty sherry (thin and pale ... just like that poor bullfighter), and dumps the syrupy cherry brandy in favor of delicate Luxardo Maraschino, with a hint of Cynar for bitterness. If you're weighing your vermouth options, Punt e Mes has a port-like flavor that coordinates naturally with the sherry, but you want a bit to go easy here … so use mellower Carpano Antica. It's more expensive, but it's worth it.
CLASSIC
3/4 ounce Scotch whisky
3/4 ounce sweet vermouth
3/4 ounce Cherry Heering
3/4 ounce orange juice
orange peel
Add all the ingredients to an ice-filled shaker. Shake well and strain into a chilled cocktail glass. Garnish with an orange peel.
REMIX
2 1/4 ounces sherry fino
1 ounce blood orange juice
3/4 ounce Carpano Antica vermouth
1/4 ounce Luxardo Maraschino
1/4 ounce Cynar
sprig of rosemary
Add sherry, fresh-squeezed juice, vermouth, Luxardo and Cynar to a chilled glass and stir with a bar spoon. Add one large ice cube. Garnish with a sprig of fresh rosemary.