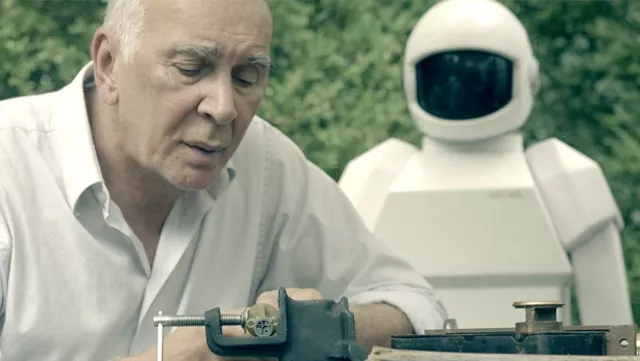 Robot & Frank
★★★★
(PG-13)
It's been quite a year for first-time directors, with Benh Zeitlin getting most of the attention for Beasts of the Southern Wild. Although Jake Schreier's Robot & Frank isn't exactly an attention-grabber on the scale of Beasts, it deserves praise for its touching and subtle commentary on aging, family and friendship in a world dominated by technology.
In a very convincing though not overdone near future, Frank (Frank Langella) is a retired, long-divorced jewel thief living alone in upstate New York, fiercely protective of his privacy and independence and doing his best to hide his early-onset Alzheimer's from his two kids. But when the weekly drive to visit his cantankerous father becomes too much, Frank's son does what any loving offspring in mid-21st-century America would do: He buys his dad a robot to serve as companion, cook and housekeeper.
But Robot – it's never given a proper name – soon becomes a different type of helper. In a clever twist, Frank soon realizes that his fiberglass friend (who is, thankfully, not computer generated) is perfectly suited to burglary, and it isn't long before the pair attempt a major grab. It seems Robot, while being programmed with the definitions of "steal" and other crimes, can't quite grasp their practicality and is concerned only with tasks that bring mental health and joy to Frank.
Schreier and writer Christopher Ford, also in his feature-film debut, create a compelling tale not because we're fascinated by the technology that allows Robot to exist – a technology still just slightly beyond our reach in 2012 – but because their story of growing old is one we already know, just told in a fascinatingly new way. The film displays a lot of the muddle and drift typical of a new director, but thanks to a couple of touching little turns of the screw in the third act, it mostly satisfies.
The supporting cast is competent, with James Marsden and Liv Tyler as the children, and Susan Sarandon as a friend, but the film belongs to Langella. Few actors convey the endearing curmudgeon in quite the same touching and comical way. His performances in Dave,
Frost/Nixon (for which he received an Oscar nomination) and even The Box, a subpar film he nevertheless made better, all are noteworthy, but this may be his finest screen work. Peter Sarsgaard's voice-over as Robot is pitch-perfect, too, as the Green Lantern actor adds his name to the pantheon of slightly creepy digital concoctions, alongside Douglas Rain's Hal in 2001: A Space Odyssey and Kevin Spacey's GERTY in Moon.
Even more intellectually challenging than the story itself is the film's contention that a machine can adapt to new tasks, while humans, particularly Frank, are frozen in a single behavioral pattern, unable to reprogram and wipe away our more negative tendencies. Ironically, a movie about a robot possesses more humanity than most films you'll see all year.