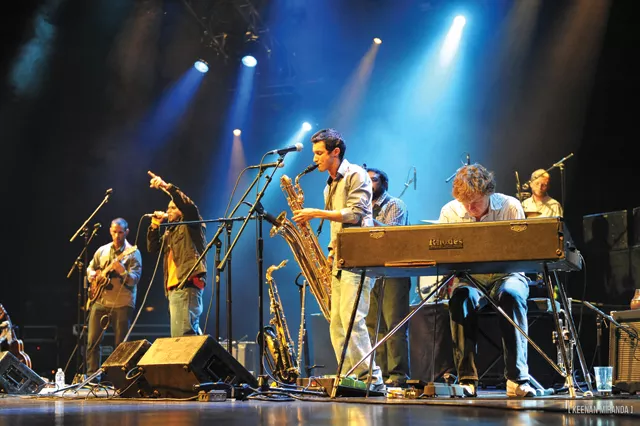 This week: Mad Sexual Genius
Orign (singer, MC) – "A Tribe Called Quest's People's Instinctive Travels and the Paths of Rhythm (The most awesome name for an album.); the Roots' Do You Want More?!!!??!; Jamiroquai's The Return of the Space Cowboy, Prince and the Revolution's "Pop Life." Also D'Angelo, Killah Priest, Little Dragon, Brand New Heavies, Bilal and Lucy Pearl."
Matt McCarthy (trumpet, keys) – "Radio Retaliation by Thievery Corporation. Not exactly new, but I'm grooving to it daily."
Jonathan Cestero (sax, flute) – "I've been listening to a lot of Muse albums. Their musicianship is out of this world. Their live shows are second to none, as well!"
Greg Jungbluth (bass) – "I'm listening to Raphael Saadiq and Mint Condition right now and they're both wicked friggin' pissah!"
Nik Ritchie (drums, MC) – "Orign just turned me on to Little Dragon. My favorite tracks so far are "A Place to Belong" and "Ritual Union." I've also been really digging a couple of tracks by Alabama Shakes: "Hold On" and "Be Mine." I'm always down for some Nina Simone, Stevie Wonder and Smokey Robinson (check out the track "Quiet Storm")."
Local R&B, soul and funk act Mad Sexual Genius play the 6th Annual I-4 Fest beginning at noon Wednesday, July 4 with Alias Punch, Goodrich and the Die Tryins, Not Them, Chopper Stepe, Room Full of Strangers, Sarah Purser and many more. Admission is $5.