A few months before Orlando's 2005-2006 budget process formally begins, the Dyer administration faces a $27 million deficit. Since the city's required by law to balance its budget, something's gotta give.
Or does it? On May 6, police union chairman Sam Hoffman fired off a letter to city commissioners accusing Mayor Buddy Dyer of lying to them. Based on a report from an accountant the union hired to look over the city's books, Hoffman declared: "This report clearly establishes that Mayor Dyer and his financial advisors have intentionally deceived the citizens of Orlando in their briefings and analysis of the financial status of the city of Orlando. The question is: did the mayor and his staff deceive you too?"
In essence, the union accuses Dyer – and Glenda Hood before him – of massaging the city's budget numbers for political gain. According to the union's theory, it works like this: At the beginning of the budget cycle, the city projects a gloom-and-doom deficit that isn't really there. At the end of the year, the city turns up a surplus, and the mayor and the administration look like heroes. According to the report, the city has forecast deficits that never materialized every year since 1997, except for the fiscal year following Sept. 11, 2001.
This year, Hoffman says the mayor's used the deficit to deny cops the 4 percent raise they're demanding in an increasingly heated contract negotiation. Anything less, the cops say, barely offsets increases in health insurance costs. Meanwhile, Dyer has rigidly held that no city bargaining unit – including the cops – will get more than a 2 percent raise this year.
"The city has and remains committed to being fair, dealing in good faith and arriving at a positive resolution with `the police union` similar to that which we have already negotiated with seven other unions," Dyer wrote in an e-mail to Orlando Weekly.
In fact, Dyer's former hatchet man, David Dix, who negotiated the city's union contracts, placed "me too" clauses in other bargaining units' contracts, meaning that if any unit got more than a 2 percent raise, every other unit would get a raise. The police union thinks that clause doesn't apply to them; the city disagrees.
It's been an ugly battle. The cops have protested loudly outside some of Dyer's speaking engagements. They put up billboards accusing him of being lax on homeland security. More recently, they've floated the idea of a recall campaign. Dyer, in turn, has lambasted the cops in the press, and said if he caved to their demands, he'd have to raise taxes. And he thinks the allegations are baseless.
"I feel personal attacks on the city are attempts to `distract` the public and the media from the real issue at hand, which is our fiscal responsibility to the citizens of Orlando," Dyer wrote.
Despite the ongoing dispute, Hoffman says the city and the union aren't too far apart. While there are a few less consequential issues outstanding, pay is the big one, and on that score the union's demands amount to about $1.5 million a year more than the city wants to give. (In informal meetings, the union backed off its 4 percent demand, and said it would agree to a slightly more than 3 percent raise. But because no deal was struck, when the issue went to an impasse hearing, the union's formal demand was back at 4 percent.)
City spokeswoman Brie Turek says that during negotiations, the city and union's assessments of the total cost have "broken down differently."
The May 6 letter alleges the administration uses a "financial shell game in which they intentionally overestimate expenditures and underestimate revenues to create the appearance of a severe financial 'structural imbalance.'" In other words, the city wants to make things look worse than they are.
The union's hired gun is Steven Wood, an accountant with Bellows Associates P.A., a CPA firm in Fort Lauderdale. In an interview with Orlando Weekly, Wood says it's common for municipalities to forecast conservative estimates, especially ahead of contract negotiations. Still, he says, "Orlando may have gone in one extreme direction by indicating things were worse than they really were. ... The budget in this case is more of a political tool than a plan of how the city is going to go forward."
A POLITICAL TOOL
But it works both ways: Proclaiming a huge deficit doesn't exactly work to Dyer's benefit, considering the trifecta of nine-figure public works projects he considers his legacy. While the money for the proposed Citrus Bowl makeover, arena renovation and performing arts center would probably come from somewhere besides the general fund – most likely a combination of tourist taxes, the sale or lease of city land holdings, partnerships with developers for mixed-use projects and tax breaks from the city-run downtown Community Redevelopment Agency – selling them to the public won't be easy when the city's hemorrhaging red ink.
Moreover, a troubled budget leaves Dyer with four undesirable options: further belt-tightening, raising property taxes, raiding the city's reserve fund or asking the Orlando Utilities Commission to turn over more money.
City Hall's about as streamlined as it can get without substantially affecting services. (And remember how many enemies Dyer made in 2003 when he laid off nearly 200 people.) The council probably doesn't have enough votes to raise taxes, not even back to pre-2001 levels, when the council decreased the millage rate at Glenda Hood's urging. Raiding the rainy-day fund does nothing to solve the long-term problem, and those reserves are more useful in a genuine emergency so no one wants to go there. That leaves OUC, which may be problematic for Dyer. Earlier this year, news hit that he'd been secretly considering selling the city-owned utility to free up some spending cash. Dyer backpedaled as soon as that nugget was reported, but after the dust cleared the city and OUC agreed to jointly study consolidation.
IMAGE IS EVERYTHING
When Dyer took office in 2003, city administrators discovered that the city was $23 million in the hole and hinted that Glenda Hood had known about the problem but concealed it from taxpayers. Dyer laid off approximately 150 workers and eliminated 50 other vacant positions, assuming the mantle of ship-righter. The city ended that fiscal year $3.2 million in the black, and followed that with an $8 million surplus the next year, despite more onerous predictions about the city's financial health.
However, since 2003, some critics have characterized the layoffs that kick-started Dyer's reputation for being a budget-balancer as more politically motivated than financially necessary. And when it comes to pet projects and favorite staffers, they say he isn't conservative at all.
Last year, the Dyer administration paid a consultant $230,000 to investigate selling off OUC, without informing the city council or the public. He recently hired former South Florida Water Management District chief Henry Dean as a part-time advisor, for which Dean will be paid more than $61,000. Jose Fernandez, Dyer's former chief of staff, will make more than $122,000 as a senior advisor. Dix, another former chief of staff, resigned in December 2003 but came back a few months later as a senior advisor making up to $2,354 a week. Word around City Hall was that when Dix came back, he was in charge, which meant Dyer essentially had two chiefs of staff. Now, with Dix gone and Fernandez reassigned, former communications director Cheryl Henry is the new chief of staff. She makes more than $122,000 a year as well.
In December, the city released its long-term budget projections, and the picture was bleak. Not only did 2005-2006 have a $27 million deficit, but over the next four years, the city faced a cumulative $80 million in red ink. Basically, Dyer argued, the city simply didn't have the money to give the cops what they wanted.
The union counters that Dyer has the money, but he doesn't want to give it up. "The mayor's misleading statements are a far bigger concern than the police contract," the union's letter says. "It appears Buddy Dyer says what he wants until he is confronted with the truth and then he changes his story."
The city says that regardless of the rosy picture the cops want to paint, these are troubled financial times. And, they add, Orlando cops already make enough money. Dyer, for instance, has said the city has the seventh-best compensation package in the state. Commissioner Vicki Vargo takes it a step further: "They're paid very well. We have been very generous. They need to work with us on it."
Salary statistics compiled by the union show that OPD officers lag consistently and significantly behind several other departments, especially in south Florida, in both starting and maximum pay for officers and sergeants. These numbers are raw data, and don't factor in cost of living and other variables. OPD cops are the best paid in the region, however.
MAGICAL NUMBERS
Hoffman argues that no matter how bad things look for the city, it all boils down to a matter of priorities. The city could pay the cops what they wanted – it would just mean finding room in the budget elsewhere.
"Our numbers are not magical numbers," Hoffman says. "That money does exist. It's money that's sitting there. It's not us reaching out and making up numbers. `The city's` capital improvement projects – you're not out that money until you spend it." In other words, the city doesn't have money for the cops' demands only if it chooses to spend the money other ways.
"You're only broke if you spend the money," Hoffman says.
Wood's report identified two sources of income the city could draw from to meet the union's demands. The first is the city's fleet maintenance fund, which is used to buy and repair automobiles. According to Hoffman, most of the money for new cars is already included in the OPD's $92 million allowance. Since 1997, the report says, the fund has taken in between $1.5 million and $9 million more per year than the city budget. The excess can be moved to the general fund or sit in the fleet maintenance fund.
The other source is the utilities service tax fund, which as of September 2004 boasted an $11.4 million balance, according to Wood's report. Putting that money in the general fund, or allocating it to the police, would more than cover the union's request.
But according to Deborah Girard, the city's budget guru, Wood got his information wrong. First, the fleet maintenance fund is actually a fleet replacement fund, or money the city stows away to replace aging city vehicles. Raiding it now would mean the city would need to find more money to buy vehicles as the city's fleet ages. Other funds are tied up in repaying bonds and can't be transferred into the general fund.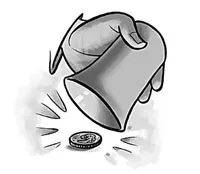 "Their accountant didn't go to that level of depth," Girard says.
The city and the union had an impasse hearing in early May. On June 8, both sides were required to submit briefs arguing their positions to the magistrate, who will make a recommendation, most likely by the end of the month. From there, if the union members and the city both sign off on the recommendation, the deal is done. If not, the city council will have to hold a public hearing – at which Hoffman says they'll "put the council on the spot," particularly the three members up for re-election next year – and the council will make a ruling.
Whatever the council decides will only be in effect until Sept. 30, the start of the next fiscal year. Then the whole mess starts over.
A 'MIRE OF MUCK'
City officials say suggestions that the city is pulling the $27 million figure out of thin air for political benefit is ridiculous. Girard points out that before Dyer, the city wasn't in the business of long-range forecasting; thus it tended to be surprised by tough economic times. She says that, at least in the two years she's worked at City Hall, the administration has tried to forecast budgets realistically.
Ironically, she credits last year's hurricanes for the deficit-turned-$8 million surplus. For instance, the parks and recreation department shut down parks at night after the storms hit, saving the city $2 million in electricity and other unspent maintenance costs. Elsewhere, cleanup costs came out of emergency funds, not the general fund. Had that money come out of the general fund, she says, there's no way the city would have ended up in the black. The city is also filling vacancies very cautiously, Girard says, and encouraging department heads to be creative in finding ways to come in under budget.
The bigger issue here – not just for the cops, and not just because the union is calling the mayor a liar – is determining the true state of the city's finances, and more specifically, what the city council will do when budget meetings commence this summer.
Commissioner Phil Diamond, one of the council's staunchest budget hawks, says the silver lining is that the city has begun to review its budget earlier than ever before, which means commissioners will have more time to find solutions.
Regardless of the police union's assertion that Dyer has been hiding money for political gain, it's undeniable that a combination of massive increases in health insurance costs and a bear stock market – which forces the city to cover more of its pension costs out of the general fund in already lean times – has made budget season more tense in Orlando, as it has in municipalities across the country. But here, with so many downtown revitalization projects in the offing, Dyer and his backers have a perception problem.
For instance, commissioner Patty Sheehan says that since talk of a tax increase has surfaced, some critics have told her that the city would be in better shape had it not handed out incentives to already rich developers for downtown projects. But that's not true, she says. Those dollars came from the downtown CRA, a special taxing district that funds the renovation of blighted areas. By statute, that money can't be diverted into the general fund. Even if the city wanted to do that, the CRA has no money on hand. The $3.5 million it gave to developer Cameron Kuhn last year was loaned to the CRA by a city banking fund. Right now, the CRA's incentives are almost exclusively tax breaks that will surface only in the future, as property values increase. So whether or not you agree that giving Kuhn or any other developer money up front was a good idea – and certainly, many don't – it didn't directly impact the city's current crisis.
That's a distinction that many residents simply don't make. Eventually, it all comes back to the same problem: "If there was a lot of money going around," Sheehan says, "we wouldn't be here."
There are a few ideas floating around. Commissioner Vicki Vargo wants to get more money out of OUC by changing an accounting formula that she thinks enables the utility to shield some of its income. In other cities, she says, municipally owned utilities pay the city a percentage of their gross revenues, whereas OUC pays a percentage of its net revenue. This year, OUC will give the city 7.5 percent of its nearly $699 million budget, or just over $52 million. That's a smaller percentage than other state municipalities, but OUC says it's not an apples-to-apples comparison.
While OUC may have cash in reserve – money Vargo would like to see turned over to City Hall – the utility says that's necessary in case of an emergency, such as if a power generator goes out during peak season. Either way, OUC says donating more to the city – which is currently studying ways to combine OUC's water utility with the city-run sewer department – could result in rate hikes. The city dismisses that possibility.
OUC board member and former mayoral candidate Tico Perez sees it differently. He says, "It doesn't make a lot of sense to me." Trying to soak OUC this year is a short-term solution, he explains, and "short-term decisions got the city where it is today. They need to take a look at themselves. It's like saying, 'I overspent my credit card, so my brother needs to sell his second car and give me money.'"
That said, Perez adds that OUC is willing to work with the city to a point. However, OUC's in a better financial situation than the city because it planned for the long term, and Perez feels it shouldn't be penalized because the city failed to do the same.
At the same time, OUC is owned by the city, and flush with cash, so it seems an immediate fix to the budget problem. Dyer says his staff is looking into OUC's revenues and reserves, but it's too early to tell how much the city will want.
Some city officials have pointed to Camp Down as a symbol of OUC's wealth. The camp is a 26-acre private park – meaning you can't go there – that is owned by OUC and used exclusively by its board members and staffers. In an Orlando Sentinel story, Vargo estimated that Camp Down and other OUC land holdings could be sold off and net the city $40 million.
In a recent e-mail, Vargo asked her constituents for feedback on possibly reducing or eliminating $6 million of the city's discretionary funding. Although she says explicitly that's she's not proposing any cuts – at least not yet – her e-mail mentioned some very popular projects, including the Orlando Science Center, United Arts of Central Florida, a pre-K partnership, the Economic Development Commission, and bonuses to city employees to encourage longevity. It seems unlikely that the city would drastically cut its funding for any of these, except perhaps the longevity bonuses.
More abstractly, Diamond says the city should commit a larger chunk to its pension fund when things are good, so that when the stock market tanks, it doesn't have to scramble to meet its obligations. As for a potential tax increase, even upping the tax rate one mil – in 2001, the council cut the rate by about half a mil – would generate about $13 million more a year, about half of what the city needs. It's unclear whether the city council has the votes for a tax increase. Tentatively, three commissioners have come out for it, and three against, which means it comes down to Dyer, who has so far been noncommittal.
"At this point, I couldn't speak to specific budget options until I hear final recommendations from our `management, budget and accounting` department, but I can say that a millage rate increase would be one of the last options we would explore to resolve the projected deficit," Dyer wrote.
Without the tax increase, however, the city's going to have to cut something. Or find money somewhere.
In the meantime, the mayor keeps getting pounded by the police union, which Sheehan thinks is Dyer's biggest problem. "He's allowing the union to run the debate and to frame the debate, and he's not responding correctly," Sheehan says. "I'm not hearing a strategy at all on how to deal with the shortfall. There are some good things happening, but it's all getting lost in this mire of muck."