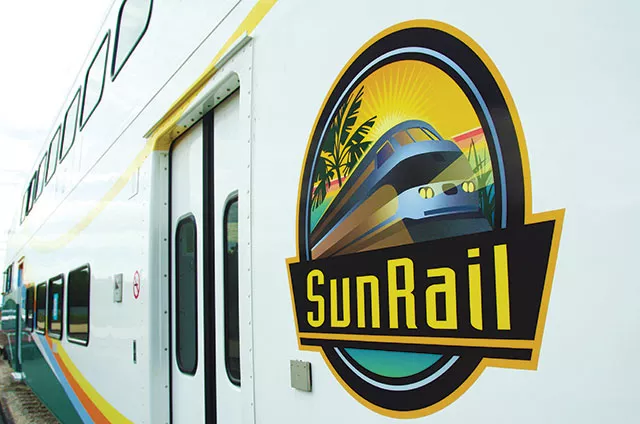 Photo courtesy of SunRail
It's only been a couple of months since SunRail – the Orlando area's first commuter-rail line – started its passenger service from Sand Lake Road to DeBary. Our verdict: We love it. It's convenient, it's clean and it's moderately on time (it definitely beats the bus on that score). For those of us who use it regularly (including this writer, who takes it from Maitland to Orlando, then bikes from the station to the Orlando Weekly office in Colonialtown), the positive outweighs the negative on this venture. That's not to say that SunRail is perfect. It's not. But fortunately, it's also a work in progress. According to plans for SunRail's second phase, the rail service will expand in 2016, adding stops as far north as DeLand and as far south as Poinciana. U.S. Rep. John Mica has even suggested that there should be future expansions, perhaps through Apopka and into Lake County.
Those kinds of changes are pretty far off (and they're also expensive), but in the meantime, we've got some suggestions for smaller changes that could happen right now to make SunRail a better, smarter and more user-friendly experience.
1. Make more room for bicycles and wheelchairs
For a commuter train that's supposed to encourage Orlandoans to use different forms of transportation to get around town, there's surprisingly little room designated for bicycles on the SunRail. There are just two spots for bikes downstairs in each car, and there are more cyclists than that using the train at any given time. If there were more bike-friendly spaces on the train, you could attract even more people to use it – after all, just about anywhere you get off a SunRail train, there's really no easy way to get to your ultimate destination. If you're in Winter Park or downtown Orlando, you can get around on foot. But some of these stations drop you off in a parking lot. You'd need a bike, at least, to get anywhere from there. We asked a polite conductor what would happen if more cyclists started to use the train; he told us that if the train became too crowded, some cyclists wouldn't be allowed to ride the train because their bikes would take up too much space in the aisles.
We also couldn't help but notice that, while SunRail is fully wheelchair accessible and has accessible restrooms, there aren't very many designated wheelchair spaces, either.
2. Increase carrying capacity
The SunRail stations opened to paying customers May 19, and since then there's been an average of 4,100 daily commuters riding the rails. But each SunRail train only has two passenger cars, and each car has a carrying capacity of only 300 people. So the trains fill up quickly, and sometimes it's standing room only during the busiest times of day. SunRail briefly added a third car to its busiest trains to help accommodate the traffic, but then they quickly revoked it, because the equipment isn't supposed to be used until 2016, when the service expands. It was the worst tease ever.
3. Straps for the straphangers
Has anybody noticed that there are no fucking ceiling straps or upper-level horizontal handrails on the SunRail? When it is standing room only on a SunRail car (see point No. 2), passengers need something overhead to hang onto. They have straps on the monorail at the Orlando International Airport, which moves slowly, is far less crowded and only carries passengers for about a minute at a stretch. Can we please have something to hold onto, besides the seats around us, so we don't bump into our fellow passengers every time the train lurches forward or comes to a stop?
4. Give us parking solutions at every station
SunRail was designed to be a commuter train, so it's oddly inconvenient that only seven of the 12 stations (Sand Lake Road, Maitland, Altamonte Springs, Longwood, Lake Mary, Sanford and DeBary) have on-site parking available. That's because, save for Sand Lake Road, the stops at the south end of the train's reach are considered "destination" points, not origination points. In other words, SunRail makes it easy for people who live in the suburbs to use the train to get to work. People who live in the city and want to use the train to depart from, say, south of downtown or Winter Park, have to either pay to park at a private garage or plan to come back in a couple of hours to move their cars so they don't get ticketed.
New parking garages cost around $20,000 per space (or more) to build, and Charles Ramdatt, Orlando's deputy public-works director, told the Sentinel recently that the city is encouraging people who live in Orlando to find alternative ways to get from home to the train. Such as cycling. But that actually brings us back to point No. 1 in this story – there's not a lot of room for bikes in the train. "It's just not sustainable to rely on the automobile," Ramdatt said when discussing the parking situation with the Sentinel. Exactly. That's why this train needs to be more convenient for more people to use to get to and from the city.
5. Add service on nights and weekends ASAP
OK, we knew that night and weekend service would not be available right away when SunRail was rolling out. But not even offering limited service on nights or weekends seems short-sighted. It could be a significant boon to businesses, restaurants and bars, not to mention the hospitals, the Orlando Science Center and downtown Orlando and Winter Park. It also limits this train's usability primarily to office workers who keep a traditional 9-to-5 schedule. But Orlando's economy is a service economy. Tons of people work shifts that end well after SunRail shuts down for the night or weekend. Some of those people don't own vehicles to get to and from work. They're going to have to continue to rely exclusively on cars and buses, but it sure would be nice if SunRail included them in its vision, too.
There's a petition afoot now on Change.org to ask Orlando Mayor Buddy Dyer to help SunRail "reach its full potential" by running the trains on weekends and up to midnight on weekdays. So far, it has more than 1,600 signatures from people who consider themselves "enthusiastic SunRail supporters" but admit they are disappointed by the limited hours.
6. The student discount should apply to college students
The SunRail student discount option offers 50 percent off a ticket to students ages 7 to 17. And that's it. We'd like to point out that there are plenty of 18-year-olds still in high school, not to mention the droves of college students who are always looking for more affordable ways to do things (college tuition isn't cheap, after all). The student discount should apply to students of all ages, not just minors.