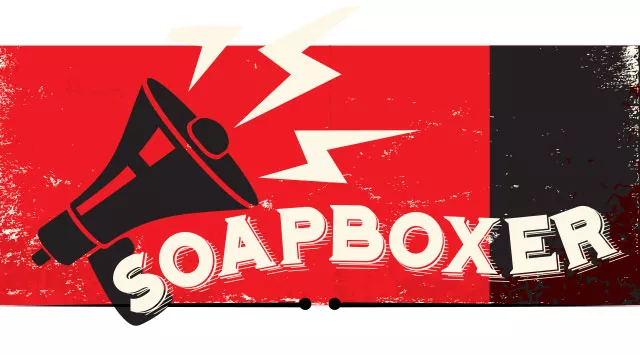 Here's what I know about Lisa Lopez: She's 43. She has three teenagers and a grandson under her care. For the last two years, she's worked part time in an Orlando-area Walmart deli. She wants to work full time. In fact, she says Walmart promised a full-time job after 90 days, but that never happened. She makes $9.10 an hour, no vacations, no benefits. She's on food stamps. She recently took a second job in retail.
She has no health insurance. She hasn't seen a doctor in years. She recently developed a severe swelling from a tooth infection but had to work anyway. Walmart, she says, only allows three unexcused absences every six months. After that, employees get in trouble. She doesn't get paid sick leave. Here's what I don't know: Whether she's a good worker, competent and reliable enough to warrant a promotion. She says her performance reviews were excellent, at least until late last year. I've no reason to doubt her, but also no way to verify her story.
On Thanksgiving, with television news cameras rolling and then-Congressman-elect Alan Grayson by her side, Lopez went on a Black Friday strike and walked out of her store. She did so, she says, because Walmart had cut her hours. This was one of 100 or so such events that Thursday and Friday, each protesting low wages, lack of benefits and Walmart's longstanding opposition to employee organizing. (The protests didn't seem to affect sales.)
Three times in the next few months, Lopez was called into her manager's office and written up. It was mostly small stuff, she says. Once, she cut her finger and was cited for recklessness. Another time she was chastised for wearing earrings. Lopez believes Walmart was retaliating. On Feb. 28, six members of the group OUR Walmart, an arm of the United Food & Commercial Workers International Union, marched to the front of Lopez's store and demanded the company stop "harassing" her. It worked, she says. Or, rather, it worked for her.
On March 22, Walmart filed a lawsuit in Orange County court against OUR Walmart, the UFCW, UFCW coordinator Alan Hanson, the activist group Central Florida Jobs With Justice, CFJWJ director Denise Diaz and two former employees who had participated in OUR Walmart protests. According to the lawsuit, these activists repeatedly trespassed onto Walmart property, threatened managers, took pictures of a store with their cell phones, defaced store property and, just before Halloween, "confronted [a] store manager and handed him a rotten pumpkin."
The company demanded a permanent injunction prohibiting any future protests on its property. Without that injunction, Walmart feared that it would suffer "a loss of customer goodwill." Walmart hasn't ruled out similar lawsuits in other states.
"Their illegal trespassing has made some of our customers uncomfortable, has disrupted our associates' work and, in many cases, we've had to call police to get them to leave," Walmart spokesman Dan Fogleman said in a statement.
"They're really exaggerating. They've really blown it up," Diaz says of the allegations. The company's real goal, she says, is "to stop us from protesting their store. We've been really effective. We are building support for their workers and telling their stories."
Lopez wasn't named in the suit. (The lawsuit did say, in reference to that Feb. 28 incident, that she'd been "disciplined for misconduct.") Walmart, she surmises, would rather lop off the proverbial head of the snake. "They're getting sued because they're helping associates want better changes at Walmart – better pay, better benefits," Lopez says. "They're the main people. [Walmart feels that] if we don't have them, they can stop us."
I asked Lopez why, if things are so bad, she still works there. She likes her co-workers, she replied. But something has to give. "If there were changes, I would stay. If I could move up, I would stay. If I could get 40 hours, yes."
Walmart, by the way, earned $15.7 billion in profit in 2011.
Follow Jeffrey Billman on Twitter: @jeffreybillman