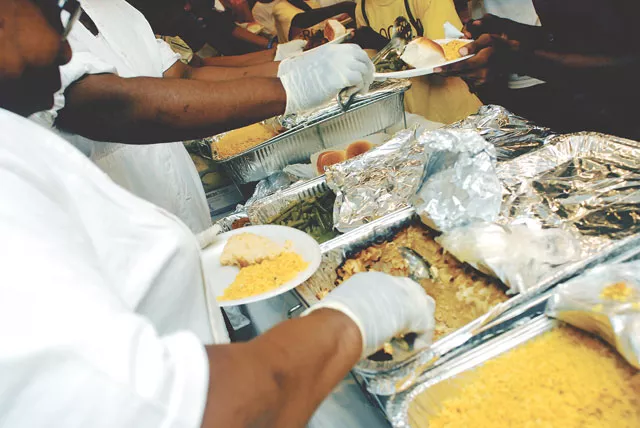 Byron Hurt wastes no time picking a fight. His new documentary, Soul Food Junkies, begins with an affectionate roll call of his father's favorite foods: ribs, ham hocks, mac & cheese. But no sooner have the credits rolled than he's asking the loaded question, "Is soul food a sacrament or a sin?" By framing the topic not simply in a historical context or as a question of health, but as a metaphysical choice, a form of addiction or a knowingly perpetrated system of apartheid, as he does in this hourlong film, Hurt transforms what could be a ho-hum food documentary into a polemic.
Soul Food Junkies is anchored firmly to the personal with the recurring thread of Hurt's own family, a microcosm of the black experience. Hurt was motivated to look deeper into the food he grew up with when his father died of pancreatic cancer – but the news that fried, salty, fatty food isn't healthy is far from groundbreaking, and voice-over questions such as "Is soul food good or bad for you?" strike a too-simplistic note.
Airing as part of PBS' Independent Lens documentary series, Soul Food Junkies offers a rich slate of food experts, from vegan soul food chef Bryant Terry to writer Lolis Eric Elie (Treme, Smokestack Lightning) to sustainability activist Will Allen and at least a dozen black professors, activists and doctors. Once Hurt's portfolio of talking heads digs into some of the myths surrounding the slave diet and the ways that traditional Southern dishes evolved from the diets of the slaves cooking for white families, the film catches fire. Jessica Harris, an African-American professor and food historian, intones, "The hand of the African in the pot transformed the taste of the pot." Or, as, Marcia Weaver (a white woman identified only as "Mississippi resident") puts it, "Just have to face that fact: Soul food didn't come here from the Caucasian parts of our world, it came from Africa."
Politics enter the picture when the film moves forward to the civil rights era, when the Black Panthers and the Nation of Islam promoted healthy eating as part of a program of resistance. Comedian Dick Gregory, radicalized in the '60s, declares, "Soul food? They should call it death food, because it'll kill you." (He boasts that he doesn't eat anything that "farts, doo-doos, pees or screws.")
Soul Food Junkies begins to explore the current political ramifications of the African-American diet about two-thirds of the way in, and this is where it falters. Not that the ideas raised aren't thought-provoking – the American food system is accused of both apartheid and slow, intentional genocide – but none of these concepts are provable, or even really believable. Grocery gaps in low-income areas (or, to use the more inflammatory term, "food deserts") may be inadvertently accomplishing that slow genocide, but to assume that there is an overt racist conspiracy to murder black people by deliberately denying them access to healthy food is questionable.
The ritual aspects of soul food, the familial connection and celebration of heritage, are well-observed, and the story of Hurt's family is affecting and universal. Hurt made his name by questioning the moral fiber of the once-community-oriented, now-blinged-out world of hip-hop in his last documentary, Hip-Hop: Beyond Beats and Rhymes, and Soul Food Junkies makes a stab at treading similarly risky ground, but ultimately it asks a lot of questions it isn't able to answer. When on safer terrain, as in its finely examined historical investigation of Southern foodways, Soul Food Junkies excels.
"Soul Food Junkies"
airs Monday, Jan. 14
PBS