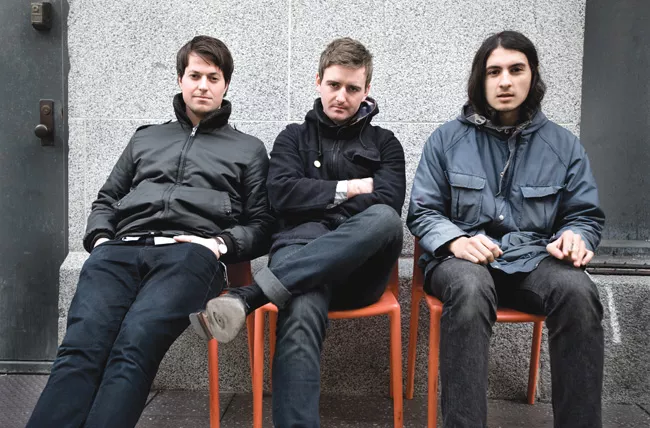 Weekend
with Surfer Blood, Band in Heaven, Telethon, Britt Daley, the Pauses, Stockholm
7 p.m. Saturday Sept. 10 Firestone Live
407-872-0066
firestonelive.net
$13-$15
When shoegaze introduced foggy sonics into the popular music lexicon, an entire religion was born. Befitting their San Francisco blood, dissonance-casting trio Weekend is one band that appreciates the finer points of fog.
Although its members' backgrounds are in punk and hardcore, Weekend convened to explore texture and melody in deeper ways, and experiencing one of the genre's prototypes in action was formative.
"[Bandmate] Kevin [Johnson] and I saw My Bloody Valentine when they were on their reunion tour and that was a huge influence on us, just because the core of the music is really gorgeous and lush and dreamy, but the live show was so violent," says frontman Shaun Durkan. "We really fell in love with that idea, pushing and pulling as far as the listener's emotional connection with the music.
"I think it's about playing with expectations. You can sort of dress up really sweet content in an abrasive outfit, and I think that's definitely more dynamic and more intriguing than a sweet song would be off the bat. I think it's about keeping people intrigued and involved with the music. And I think a lot of that depends on the push and pull between shocking the listener and luring him in."
Late last year, Weekend made their full-length debut with Sports, one of 2010's most sonically electrifying albums thanks to its noise-blasted post-punk that plays like dark melodies besieged by power saws. "The goal of Sports was to basically present this behemoth," Durkan says.
Making Weekend immediately attractive is that they took cues from some of the choicest vintages of the alternative-rock canon. "When we first started the band, our influences were really obvious and we never made it a point to sort of hide those," Durkan says. "Our big milestone records are [The Jesus & Mary Chain's] Psychocandy, [My Bloody Valentine's] Loveless and [Joy Division's] Unknown Pleasures, stuff like that. We sort of started in that direction, but I think over the past two years we've been honing in [on] our own thing, I'd like to think. Kind of [keeping] the spirit of all those old records but slowly morphing into its own thing."
Despite their love of intense sonics, however, their musical design has a fundamental melodic counterbalance. "I think it'd be easy to lump us into some sort of category with A Place to Bury Strangers or whatever," Durkan says. "But I think there's something much more emotional [and] sort of vulnerable about our music. I don't necessarily think of us as, like, a rock band. Our sound more aligns with the Cure or something. Kind of like punk music with a vulnerability to it." And, in fact, glimpses of their newest music pulls back the blistering haze to reinforce this edge more openly and lucidly.
But noise junkies need not fear – their live performances are still committed to volume and velocity. "It's everything that the record has; it's just a little more raw," Durkan promises. "I guess a little bit more of a punk rock show. Loud and punk and fast."