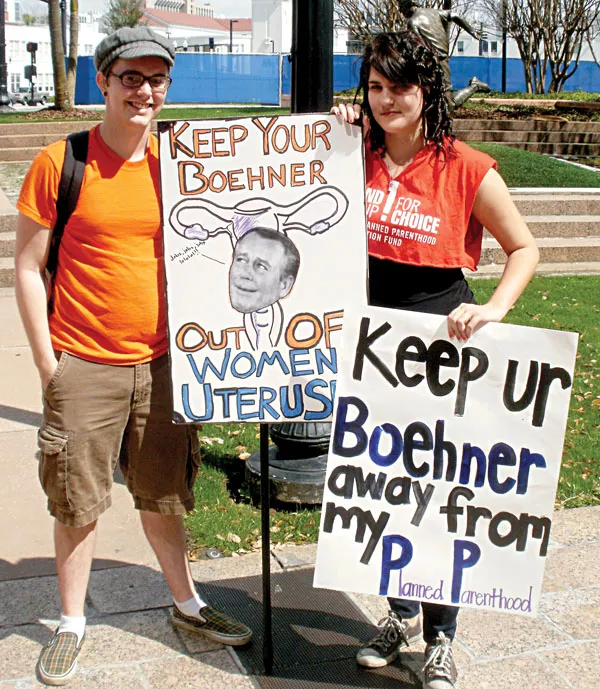 Photo from Planned Parenthood
fighting words: Two Orlando protesters send a strong message at a February Planned Parenthood rally against federal cuts to women's health care, but the real battle is closer to home
"Keep your Boehner away from my PP," read one sign held outside of U.S. Sen. Bill Nelson's Robinson Street office at a Planned Parenthood-led protest on Feb. 25. The somewhat comical - and suggestive - call to arms was in direct response to the U.S. House of Representatives' legislative assault on Title X funding, which includes money allotted to Planned Parenthood for non-abortion-related health services, the preceding week. Participants in the rally were hoping to garner some public support (or honks from passing motorists) and send a message to Nelson and U.S. Sen. Marco Rubio that politically transparent attacks on women's reproductive health would not go unnoticed, even though Florida's Planned Parenthood affiliates don't receive any Title X funding. They were there on principle.
"This false rhetoric is obscuring the facts," said Sue Idtensohn, Planned Parenthood of Greater Orlando president and chief executive officer.
But the real fact is that the war on abortion is far more virulent in Tallahassee than it is in Washington, D.C., with a record 18 anti-choice legislative volleys currently clogging up the capitol pipeline. That puts Florida on a list with West Virginia (which has 34 such bills), Texas, Indiana and Montana as the top five states working behind the scenes to chip away at women's health while big-ticket budget issues like Medicaid reform and teacher merit pay grab the headlines. Meanwhile, legislators are also proposing massive cuts on family-planning services for Florida's poor population, a move certain to increase unwanted pregnancies.
"It doesn't make sense to me how legislators would want to restrict access to abortion while restricting funds to provide contraception, when we know that preventing unintended pregnancies prevents the need for abortion," says Stephanie Kunkel, executive director of the Florida Association of Planned Parenthood Affiliates. "It seems to be a very backwards approach to reducing abortion."
While it may just seem like the same battle in a different year - many of the proposed bills are derived from legislative attempts from previous sessions - Kunkel, who is charged with arguing Planned Parenthood's case in committee hearing after committee hearing, says this year's onslaught is moving at a breakneck pace. Typically, the abortion drumbeat waits for the end of session; this year, bills have been sailing through committee early and fast. By the time the "hanky drops" at the end of the session in early May, any one of the following bills has a better chance of passing than it ever has before. The sneak attack on women in Florida is 
well underway.
HB 97/SB 1414 - Health Insurance
State Rep. Matt Gaetz, R-Fort Walton Beach, and State Sen. Stephen Wise, R-Jacksonville, are attempting to make clear that there's absolutely no gray area on an issue where the gray area has already been taken care of. These conjoined bills basically restate the Hyde Amendment, a federal legislative provision barring public funding for abortion procedures, but do so by attaching a caveat that no insurance plans resulting from the insurance exchanges created by the federal Affordable Care Act will cover elective abortions. The trouble is in the fine print: cases of rape, incest or life-threatening conditions for the mother may be exempt, but make no mistake - the bill is an attempt to codify limits on abortion by not including non-life-threatening cases for the mother or fetal injury. If there were any doubt of its intent, just ask the bill's author. "Today we struck a blow for the pro-life movement," Gaetz cheered when the bill passed through a committee on March 16, according to The Florida Independent.
HJR 1179/SJR 1538 - Abortion/Public Funding/Construction of Rights
As if to further the same argument, only on a constitutional level, State Rep. Dennis Baxley, R-Ocala, and State Sen. Anitere Flores, R-Miami, are seeking to place an amendment on next November's ballot forbidding any public funding of abortion "except as required by federal law to save the life of the mother." Even if the federal law were to be interpreted to allow abortion coverage in cases or rape or incest - as the Hyde Amendment does - this constitutional amendment would supercede that federal law, meaning that in addition to further restricting Medicaid coverage of abortion, any public employee with a state insurance plan will have no option for abortion coverage. The state is reducing your federal rights.
HB 1397/SB1748 - Abortions
While the rest of the state undoes its belt and enjoys the fruits of Gov. Rick Scott's deregulation manifesto, State Rep. Rachel Burgin, R-Riverview, and State Sen. Flores have set forth a complicated rubric for abortion providers that surpasses standard reasoning. Planned Parenthood is calling the bill Targeted Regulation of Abortion Providers, or "TRAP." Clinics must advertise that they can't perform third-trimester abortions, practicing physicians will be required to attend three-hour ethics classes and improper disposal of "fetal remains" is a first-degree misdemeanor (up from second degree). The bill goes on to expressly forbid doctors from telling a pregnant patient not to take certain medication, as it might cause a miscarriage, because said patient could then take that medication and have a miscarriage - and it would be the doctor's fault. Also, all abortions performed would have to be reported to the governor and the leader of each legislative body.
HB 1127/SB 1744 - Abortions
Even though this exact legislation was vetoed last year by political balance-beam walker Charlie Crist, State Rep. Elizabeth Porter, R-Lake City, and State Sen. Ronda Storms, R-Brandon, are once again trying to force women in their first trimester (or any trimester) to view an ultrasound of their fetuses prior to an abortion procedure, or at least sign a waiver saying that they refuse to look at it. What's more, the ultrasound must be performed by the same doctor who will perform the abortion and said doctor is required to explain the various stages of fetal development to the woman in detail. None of this is free, mind.
HB 1247/SB 1770 - 
Parental Notice of Abortion
Again, this law already exists, except State Rep. Kelli Stargel, R-Lakeland, and State Sen. Alan Hays, R-Umatilla, don't think its limitations are strong enough. Florida already requires a 48-hour waiting period for parental notification in the case of minors attempting to get abortions, but this bill gives the court three days (up from two) to deliberate on whether to afford a minor a waiver to proceed with her abortion without going through the motions. The "overall intelligence" and "ability to accept responsibility" of the minor will be determined by the court, worryingly.
HB 321/SB 1948 - 
"Pain-Capable Unborn Child Protection Act"
Florida wants to be just like Nebraska, where fetuses beyond 20 weeks of gestation are considered capable of feeling pain, and therefore unlawful to abort. State Rep. Carlos Trujillo, R-Miami, has teamed up with State Sen. Storms to make Florida hurt, too. Here's the clincher: Written into the proposed law are possible procedures for patients to take the abortion doctors to court for civil damages, procedures that include clearing the courtroom for the sake of anonymity of the "victim" (the prospective mother). Ergo, abortion doctors are criminals. The deeper implication is that Florida women, like Danielle Deaver of Nebraska who recently found out that her fetus was not viable at 22 weeks and still had to carry it to natural birth, will be similarly, mortifyingly stuck.
HB 501/SB 196 - Choose Life License Plates
A disturbing red herring, this one. Since Florida became the first of 26 states to approve specialty Choose Life license plates in 1999 - raising more than $12 million for the truth-challenged realm of crisis pregnancy centers in Florida - the money has been circulated through county offices. This bill, spearheaded by State Sen. Mike Fasano, R-New Port Richey, and State Rep. Dennis Baxley, R-Ocala, would instead push the revenues through a single company, Choose Life Inc., a vague Ocala nonprofit 
that, according to tax records, handled only 
$12,000 in revenues in 2009. Fasano's apparent intent was to remove the 70-30 percent cap from the statute (30 percent was previously marked for adoption-related counseling, advertising and marketing) so that more pregnant women could be assisted - or so there would be fewer limits on how the money could be spent. We'll see if legislators actually listened, or if the money will go to expanding the Choose Life campaign nationwide.
HB 747/SB 1760 - Infants Born Alive
A reactionary - and repeat - effort to ensure that fetuses (or "babies") that survive abortion procedures are properly cared for by health care professionals. State Rep. Scott Plakon, R-Longwood, and State Sen. Stephen Wise, R-Jacksonville, are pushing the plan following headlines of botched abortions in Pennsylvania and Hialeah.
SB 1094 - 
Offenses Against Unborn Children
Without a matching House component, this Fasano bill does little more than raise the heat on an already tempestuous issue: fetal personhood. Under the bill, Fasano would like to see the already offensive "viable fetus" terminology utilized in accepted Florida vehicular homicide statutes altered to read to "unborn child." It may have no legislative bearing, but its point is clear: Women matter less than the fetuses they carry.
HB 415 - Abortion
It wouldn't be a legislative session without the cosmic reappearance of grandstanding State Rep. Charles Van Zant, R-Keystone Heights, and his epic omnibus attempt to make Florida the leader in the unavoidable federal lawsuit to overturn Roe v. Wade. In 54 lengthy pages, Van Zant makes his futile case, steamrolling over statutes with wild-eyed abandon. It's the inevitable Hail Mary of every spring in Tallahassee, the statement of all statements. Thankfully, it hasn't received enough traction to become a logical reality. At least not yet.