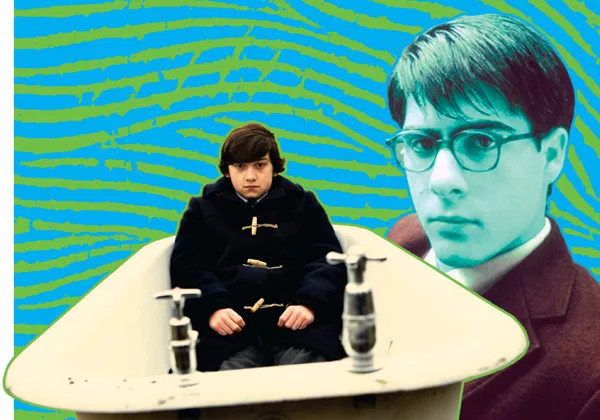 Richard Ayoade has already made a name for himself in the U.K. with his antics on TV, playing the über-square Moss on The I.T. Crowd. He's also partially responsible for creating the brilliantly daft Garth Marenghi's Darkplace. Ayoade's feature debut as a filmmaker, Submarine, isn't of quite the same ilk. It's funny, but in adapting Joe Dunthorne's coming-of-age novel, Ayoade has opted to make something more melancholy and sincere than his work on the small screen.
Oliver Tate (Craig Roberts) is an erudite Welsh teen newly fascinated with fickle classmate Jordana (Yasmin Paige), a shot of color in his grey seaside town. Their budding romance forms against the backdrop of his parents' (Sally Hawkins and Noah Taylor) eroding marriage. When Tate's mother's old flame (Paddy Considine) returns to town, the shake-up forces our prying protagonist to reevaluate his own romantic integrity.
Ayoade takes a quirk-laden approach to capturing young love as both flurry and folly, and while the comparisons to Wes Anderson's Rushmore are unavoidable, Ayoade's direction isn't nearly as hermetic as Anderson's. This is a movie very much made within Oliver's own mind; it's as aloof and earnest as his behavior, and the fact that the film exists in the character's own bubble of eccentricity rather than the filmmaker's helps to keep the twee touches (chapter titles, fourth-wall-breaking flourishes and the like) from capsizing the genuine matters of the heart.
Roberts' performance is a perfectly calibrated fusion of self-admitted affectations, deadpan delivery and a discreet yearning for both a stable home life and an idyllic love life. Paige is a fine foil, evasive and delicate in all the right ways. Among the adults, Taylor gives good sulk while Considine dons a mullet and becomes an amusingly spacey target for Oliver's newfound frustrations.
Quietly standing out, though, is Hawkins, who nimbly conveys midlife disappointment and temptation beneath a meek demeanor. Hawkins also played Roberts' mother in Cary Fukunaga's recent adaptation of Jane Eyre, but the sense of overlapping neuroses and subdued sympathies between the two here (not to mention their expanded screen time) anchor the screenplay's idiosyncratic tendencies.
Top that off with an assembly of sweet (and bittersweet) songs by Alex Turner of the Arctic Monkeys (whose music videos Ayoade has directed), and you have not only a confident directorial debut, but also a clear-headed capsule of teenage hopes and anxieties. The film ends with a tender moment between two characters on a beach, as each decides whether they're looking into the face of someone willing to hold their hand and venture into the depths of whatever lies ahead. At worst, Submarine feels familiar; at best, it feels true.