Two weeks ago, a desperate plea from a small Central Florida government was entered into the Congressional Record.
"Current staffing levels are not sufficient to meet this emergency," read the letter from Osceola County Manager Donald Fisher to the state Health Department. "County resources are exhausted, and funds are not readily available to respond to this disaster. Lives are at stake."
Osceola County needs close to a million dollars to fight what the World Health Organization called a "global public health emergency" – the Zika virus. U.S. Sen. Bill Nelson, D-Florida, read parts of Osceola County's letter on the Senate floor as he tried to convince his colleagues to vote on a bipartisan proposal co-sponsored by himself and U.S. Sen. Marco Rubio, R-Florida, with the backing of the Obama administration, to secure $1.9 billion in funding to contain and eradicate the virus. Funds are needed both to contain the spread of the striped-legged Aedes aegypti mosquito and to test and treat citizens.
The mosquito-borne virus causes relatively mild symptoms (including fever, headache, red eyes, skin rash and joint pain) that only develop in 20 percent of those infected. The virus, which can be sexually transmitted, has also been linked to Guillain-Barré syndrome, a severe neurological disorder that causes temporary paralysis. But perhaps the most devastating effects of the Zika virus are for infected pregnant women. The virus reportedly causes fetal birth defects such as microcephaly, a condition in which a baby is born with a smaller-than-average head and can suffer associated brain development deficits, and in dire cases, death.
The Senate ultimately did not approve Nelson and Rubio's proposal, instead counter-proposing a $1.1 billion package. After much wrangling, the Republican-controlled House of Representatives agreed to a $622.1 million package, combining $352.1 million from an Ebola fund with $270 million from a Department of Health and Human Services administrative fund and arguing the $589 million in Ebola funds the White House repurposed for Zika would carry the country through September.
"Even though the problem has been steadily getting worse, Congress has refused to treat it with the urgency that I believe it deserves," Rubio said last week to USA Today. "So I urge the American people to make next week a tough one on those who are home from Congress, who have refused to take meaningful action to confront Zika. They need to hear from you."
Both chambers still need to agree on a proposal, but in the meantime, Florida is now on the front line of the battle against the virus.
In the three months since Gov. Rick Scott declared a health emergency in counties that had the virus, Florida has developed a Zika hotline and Scott himself traveled to the Capitol to push for federal emergency funds, telling Congress to prepare for Zika with the same urgency you would prepare for a hurricane. As of May 26, Florida has 122 cases of people who caught the virus abroad, which doesn't include the 36 pregnant women with Zika that the state Health Department is monitoring.
Photo by Monivette Cordeiro
Different species are bred in containers at the lab.
But although Florida is no stranger to defeating outbreaks of mosquito-borne diseases like dengue or chikungunya, it's coming into this summer's Zika battle missing a weapon or two, mainly because of the lack of federal and state money. And Florida isn't alone – experts say the rest of the U.S. is not ready either.
Kelly Deutsch and her employees spend their working hours finding and dumping the most obscure breeding places for the Aedes aegypti mosquito in Orange County.
All it takes is two tablespoons of stagnant water, and anything – a bottle cap, a birdbath, an old tire, a bucket, a pet's forgotten water dish, a storm drain, even an empty chip bag discarded by the roadside – can become a place for the mosquito to lay its eggs. The larvae hatch in about five days if the weather's warm. Deutsch, acting manager for the Orange County Mosquito Control Division, says there are roughly 40 species of mosquito in Central Florida, but the Aedes aegypti, responsible for Zika and other mosquito-related illnesses, is one of the most difficult to control.
They like to feed on people. Unlike other mosquitoes, they bite during the daytime, indoors and outdoors. Zika passes to a mosquito when it bites a person infected with the active virus; then the mosquito spreads the virus to the next person it bites, acting as a vector. The Orange County Mosquito Control can spray pesticides to control the mosquitoes, but Deutsch says fogging down a neighborhood is most effective at dusk because the chemical used is broken down by sunlight.
"We can't spray our way out of this one," she says. "We need boots on the ground and until we eliminate the source of water where these mosquitoes are coming from, they're just going to continue to develop. ... The best control measure is to get rid of the habitat, and you don't have to worry about any insecticides at all."
Unlike poorer areas of Latin America, Florida enjoys the widespread use of air conditioning and screens, which mostly keeps these mosquitoes out of homes. But Florida, especially Orange County, also enjoys a slew of tourists visiting from all over the world who can bring the virus with them. Central Florida is also getting increased migration from Puerto Rico, a U.S. territory. In the midst of its financial crisis, the island has recorded more than 1,100 cases of Zika, one microcephaly case, seven cases of Guillain-Barré and one death associated with the virus, according to the Associated Press.
Deutsch says she plans to add more temporary staff in the coming weeks. Going door to door telling residents to turn over any containers of standing water on their properties is not difficult, but it's time-consuming. With a budget of $2.17 million, Deutsch can reasonably spend more on help in Orange County, but for a mosquito-control program like Osceola's, with a budget of less than $500,000, extra funds are scarce, says Osceola County Mosquito Control director Terry Torrens.
Photo by Monivette Cordeiro
Pinned specimens at the Orange County Mosquito Control Division lab.
Torrens says since Scott declared a health emergency in February, her department has been under an inordinate amount of pressure from the public concerned about Zika. Larvicide staff now goes to residential areas, conducting sweeps in response to service calls, which has hampered their ability to eliminate larvae. Torrens says the state Health Department asked Florida's mosquito control districts to submit funding requests for items they needed as they wait for federal funds. Torrens submitted an $889,000 request, asking for, among other things, $100,000 for aerial spraying, $200,000 for temporary staff and $200,000 for spray trucks.
Mara Gambineri, a spokeswoman for the state Department of Health, says many mosquito control districts submitted funding requests to the department's incident management team.
"The department is currently using existing funds to manage Zika preparedness and response, and we are exploring other funding opportunities," she says in an email.
Recently, Florida budgeted about $2.66 million to distribute to the control districts through the state Department of Agriculture and Consumer Services. Torrens says as a small program, she gets about $30,000 in additional funds.
"We need to have money in the bank to get our army ready for the summer," she says. "Funds are supposed to be coming, but we don't know when. If this were a hurricane or a flood, the resources would already be here. Right now, we're trying to hold down the fort until the relief forces arrive, which is hopefully sooner rather than later because it's getting interesting out there."
Florida has 61 mosquito control programs, with some run by the counties and others run as special taxing districts. The New York Times reported in April that Miami-Dade County spent $1.8 million on its mosquito control program with a population of almost 3 million people, while Lee County spent $16 million and has a population of about 660,000 people. Ahead of the rest of the state, the Florida Keys Mosquito Control District is trying to get a plan approved by voters and the U.S. Food and Drug Administration to allow the use of genetically modified mosquitoes against Zika. Not every county in Florida has a program, and this varied response to mosquito control has led a group of medical experts meeting in Atlanta to say the U.S. is not ready for the Zika virus.
"One of the problems in the United States is that we have a patchwork of mosquito control programs that are generally run at the county level," Scott Weaver of the University of Texas Medical Branch told NBC News at the beginning of May. "We have nothing at the national level other than advice from the [Centers for Disease Control and Prevention] and most states do not even coordinate their programs at the county level very well. Some very poor communities have virtually nothing available."
When a Zika outbreak hit El Salvador, health officials asked the country's women not to get pregnant until 2018. But they'll have a hard time following that advice because of that county's severe abortion restrictions and "a massive unmet need for contraception and sex education," according to Time magazine.
The Centers for Disease Control and Prevention have not given U.S. women the same advice, but it's a debate looming in the background. The Zika bill passed by the House Republicans includes Hyde Amendment language, which bans federal funding for abortions, with a few exceptions. In Florida, House Bill 1411, which increases restrictions on abortion clinics, will go into effect July 1.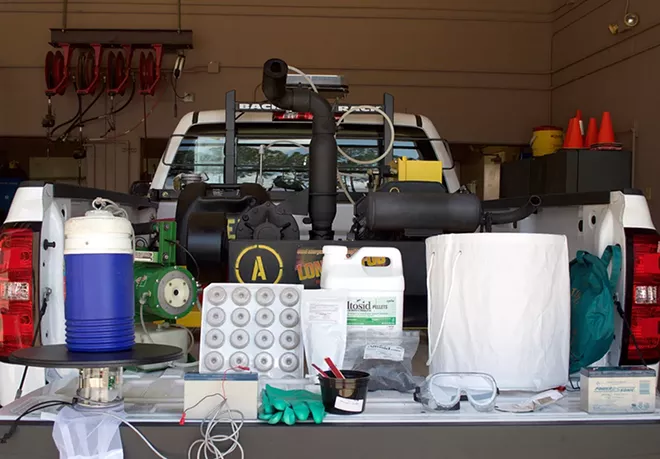 Photo by Monivette Cordeiro
A county truck loaded with mosquito abatement supplies.
HB 1411 also blocks Planned Parenthood clinics in the state from receiving nearly $200,000 in Medicaid reimbursement for services like cancer screenings, STD tests and contraception. The federal government has notified the state that it has an obligation to reimburse any willing provider. The situation gets more serious when you combine this law with Florida's recently blocked 24-hour waiting period and the fact that almost 60 percent of pregnancies in Florida are unintended, according to the Guttmacher Institute. Laura Goodhue, executive director of the Florida Alliance of Planned Parenthood affiliates, says the organization provides contraception services to about 43,000 patients statewide, including about 3,000 served through Title X and county health programs. The Florida Department of Health offers contraception and family planning services on a sliding-scale fee, and people at or below the poverty line are served for free, according to the department's website.
"Planned Parenthood has always been there to help patients with high-quality health care," Goodhue says. "But when the state takes action to discourage people from going to the provider of their choice, that has consequences."
Then there's Florida's health insurance rate. A recent report from the Associated Press found 29 counties, mostly in Central and South Florida, have "uninsured rates of at least 20 percent or higher, according to 2014 data released by the Census Bureau."
Gambineri, from the state Department of Health, says uninsured people who suspect they have Zika can contact a health provider. "If a person meets testing criteria, the provider will work with the Department of Health to have their specimen tested – regardless of insurance status," she says in an email. "All people who meet the testing criteria are eligible for a Zika test." Gambineri says the department currently has 6,234 tests to test for active Zika virus, and 1,918 tests to test for Zika antibodies, to see if a person has ever been infected with Zika.
In an interview, Nelson says Congress acted irresponsibly by only approving about half the funds requested for the Zika crisis projected to spread through the entire southern U.S.
"They'll get serious when moms in their states start having these babies with these terrible deformities," he says. "That is such a tragedy for the family and such a huge cost to our society at large, to take care of children that are that badly ill."
Nelson says the state's insurance rate and recent HB 1411 restrictions could impact how the virus spreads through poor communities in Florida and Puerto Rico, but he believes the federal courts will strike down the new abortion restrictions. Florida could help 1 million people get health insurance just by choosing to expand Medicaid, which state officials have refused to do, Nelson says.
"The only other thing you can do, other than put on long sleeves and not go outside, which is impossible in our lifestyles, is spend a lot of money on mosquito control," he says. "That's what Osceola County's desperate plea is for. We have 67 counties in Florida. All of them need funding for mosquito control."