Brunch is many things to many people. It can be a sloppy affair, bolted in hopes of forestalling a hangover; it can be a lovely, proper Mother's Day meal. It can be a chance to fill in the squad on last night's exploits, or to rehash them if you were all out together. It's a low-key way to try a new restaurant, a chance to catch the game with superior munchies, or a way to soak up the gorgeous Florida weather and cap off your weekend in style.

But when it comes down to it, brunch is just breakfast plus lunch – plus booze. What could be better than that?


Page through to discover seven different kinds of brunch.
Relax and Rejuvenate
Comfy hangs and old friends you can count on
The ideal brunch experience is one in which you're as comfortable as if you were on your own couch – except that there are people bringing you delicious food and drinks. That's why our allegiance will forever be pledged to the giants of Orlando brunch, well-established and welcoming spots that you can count on these places to do you right. Orlandoans can't get enough of the cheddar grits with shrimp and andouille sausage at Dexter's Thornton Park (808 E. Washington St., 407-648-2777, dexwine.com), the raspberry-and-brie stuffed french toast at the Briarpatch, (252 N. Park Ave., Winter Park, 407-628-8651, thebriarpatchrestaurant.com), and the fan-favorite crab cake-and-avocado eggs Benedict at White Wolf Café (1829 N. Orange Ave., 407-895-9911, whitewolfcafe.com) – classics all.
At Maxine's on Shine (337 N. Shine Ave., 407-674-6841, maxinesonshine.com), comfort-food faves like biscuits and gravy, omelets and eggs Benedict are turned up to 11. The brie, shrimp and bacon omelet may not be kosher, but damn is it decadent. The eggs Benny incorporate a fried green tomato for maximum Southernness. And the hash, far from being fried canned corned beef topped with a fried egg, is a rib-sticking, luscious mess of Irish stout-braised brisket, crowned with jalapeño aioli and a pair of poached eggs.
On the drinks front, Maxine's has a staggering beer selection (not always easy to find at brunch) as well as three different sizes of mimosas, made with six different kinds of juice. (Try the pomegranate.) And then there's the aptly named Warnin' in da Mornin': a spicy bloody mary with a beer float, a bacon swizzle stick and a skewered garnish of smoked shrimp and olives. Eye-opener!

GET BALLSY: Places where the game is as important as the menu
HAIR OF THE DOG: Boozy brunches for the fun bunch
ALL YOU CAN EAT: Because sometimes you just can't make up your mind
FINE DINING: Chefs turn out their Sunday best
CATCH A BREEZE: Feel the sun on your shoulders and the wind in your hair
86 THE BOOZE: Not everyone wants booze for breakfast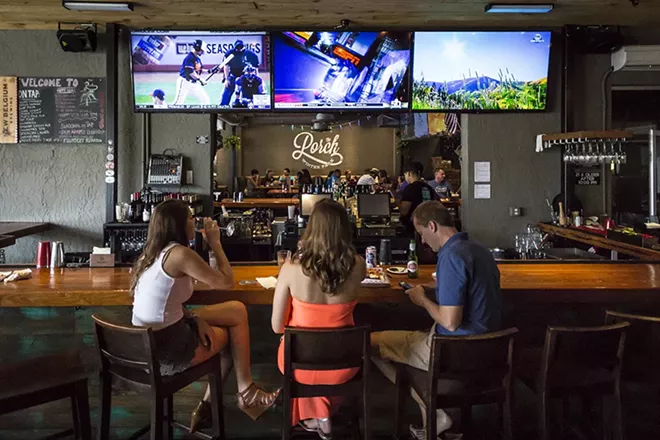 Photo by Rob Bartlett
The Porch
Get Ballsy
Places where the game is as important as the menu
Let's just kill the old trope of the football-obsessed guy and his maxi-dress-clad girl who simply insists on eating out for every meal, shall we? Women make up more than 45 percent of the NFL's 150 million-strong American audience. And speaking anecdotally, we know just as many men Instagramming their plates at the hot boîte of the month as women – if not more. So rather than paint the sports-centric brunch as some kind of compromise between stereotypes, let's call it what it is: the best of both worlds.
Most restaurants have a TV screen or three these days, but the ones we mention here have a real focus on making sure you see whatever game, match, race or bout you have your heart set on – and they want to keep your tastebuds as happy as possible, too.
The Porch (643 N. Orange Ave., Winter Park, 407-571-9101, theporch winterpark.com) switched over from an à la carte brunch menu to all you can eat, and it's doing well for them – all the usual suspects for $19.95, plus the option to add bottomless mimosas for another $10. They turn on the sound for big games, but on an average Sunday it's just on for the first game of the day; after that a DJ takes over. Packers vs. Bears plus a made-to-order omelet? Yes please.
Another local option is Avenue Gastrobar (13 S. Orange Ave., 407-839-5039, avenuegastrobar.com). The sleek and cozy downtown bar has a real commitment to its menu – they even take part in the Downtown Orlando Partnership's newly launched Downtown Orlando Food Tours – and it shows in game day-ready items like their tomato toast (grilled tomato and smoked cheddar on sourdough toast) and waffle wings (wings fried in cornmeal waffle batter and drizzled with syrup and powdered sugar). In this long, narrow room, mirrored on one side and lined with TVs on the other, it's pretty much impossible to get a bad seat.
While it's a big old national chain and we try to focus on local business, there is no denying the appeal of the new game-day menu and the plethora of screens at I-Drive 360's Yard House (8367 International Drive, 407-351-8220, yardhouse.com) – pork poutine with fried egg and crispy sage; lobster and crab omelet with fontina cheese and lemongrass beurre blanc; and a cocktail menu including a spicy mango caipirinha and a sriracha ginger bloody mary are just a few of the offerings at this upscale sports bar.
Also, Swine & Sons (595 W. Fairbanks Ave., Winter Park, 407-636-7601, swineandsons.com) has just announced private football viewings – if you're feeling flush, pull together a group between 10 and 40 and order catering like their breakfast biscuit sandwiches, fried chicken waffle-wiches, or go whole hog and order a whole pig, porchetta-style.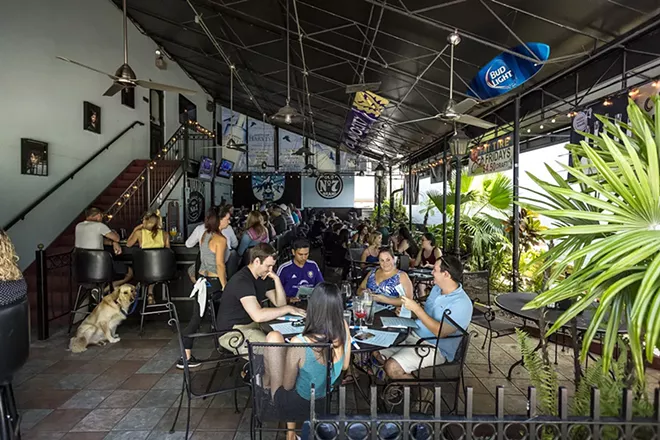 Photo by Rob Bartlett
Hammered Lamb
Hair of the Dog
Boozy brunches for the fun bunch
For some people brunch isn't an appointment they drag themselves out of bed for; it's a denial that the weekend is going to have to end at all. For these people, the emphasis is on the "boozy" part of the boozy brunch.
Tastes vary, of course. The bottomless mimosa is a brunch classic, and restaurateurs from the ultra upscale to the almost divey know it. Just a few places playing along are the Boheme at the Grand Bohemian, Soco in Thornton Park, Kasa Restaurant and Bar, Avenue Gastrobar, Sideshow on Wall Street Plaza, Santiago's Bodega and Two Chefs Seafood Oyster Bar.
And then there's the bloody mary bar, a relatively newer invention but one that's taken brunch by storm. Especially outstanding bloody mary bars can be found at Marlow's Tavern, the Porch (Saturday only), Hamilton's Kitchen in the Alfond Inn, and Teak Neighborhood Grill (take note: Theirs is closed during NFL games).
The bloody mary bar at the Hammered Lamb (1235 N. Orange Ave., 407-704-3200, thehammered lamb.com) is said by some to be the largest in Orlando – and in terms of ingredient choice, that seems true. The Lamb's brunch menu is pretty basic – bowls, burritos, biscuits and the like; their BLT plus sunny-side-up egg can't be beat – but they have that bloody mary bar and one of the best patios in town. And it's dog-friendly, so it's no wonder it's packed every weekend with happy people and their pooches taking in the breeze (and a hair of the dog that bit them).
A few places put a twist on those brunch classics – like TR Fire Grill (after extensive testing at a now-closed Lee Vista location, the permanent Winter Park restaurant opens Sept. 30 at the Ravaudage complex) which serves both a mimosa and a bloody mary sampler alongside brunch plates like lemon ricotta pancakes and "morning meatloaf," featuring green chile sauce, sunny-side-up eggs and jalapeño hollandaise.
There's a growing contingent of restaurants going above and beyond the mimosa – the specialty cocktail list, usually found on a higher-end menu, is proof that even gourmands need a hair of the dog some Sunday mornings. At Slate (8323 W. Sand Lake Road, 407-500-7528, slateorlando.com), a tidy little cocktail menu is surprisingly refreshing, especially the Morning Aperitivo: Aperol, lemonade, Bittermen's Boston Bittahs and bubbles. (The menu is to die for as well, making the drive down to Dr. Phillips more than worth it.) Both the Osprey Tavern, a newer spot blooming in Baldwin Park (4899 New Broad St., 407-960-7700, ospreytavern.com) and Cask & Larder (565 W. Fairbanks Ave., Winter Park, 321-280-4200, caskandlarder.com) have the Corpse Reviver on their exquisite brunch specialty cocktail lists; a more apt weekend-morning quaff may not exist.
Photo by Rob Bartlett
Segafredo Cafe
All You Can Eat
Because sometimes you just can't make up your mind
All-you-can-eat brunch buffets run the gamut from high end to low end, but they have in common an embarrassment of riches. When you don't feel like making decisions or you just want to shake off all limits, you can always queue up at Sideshow, the Porch, Hamilton's Kitchen, Kasa Restaurant & Bar or the Boheme.
Segafredo Café (1618 N. Mills Ave., 407-930-6568, segafredocafe.com) is probably the newest of the AYCE brunch bunch: Slotted neatly into Mills Park, it's outgrown its espresso-bar-only reputation to build steam as a chic weekend hang. The line of shining chafing dishes and trays is replenished regularly with eggs, hash browns, fresh fruit, pastries, quiche – all the usual suspects, plus an omelet station.
There's also a build-your-own bloody mary bar and unlimited mimosas for $5 (!), but the true star is their rooftop patio. Once the weather calms down a bit, those umbrella tables are going to be a key spot to catch a brunch breeze.
The name that comes up the most when talking brunch in Orlando, though, is Santiago's Bodega (802 Virginia Drive, 407-412-6979, santiagosbodega.com). Brunch at Santiago's isn't just a chance to sit down and gorge – it is a spectacle.
With boisterous tables crowding the dimly lit but massive all-you-can-eat buffet (which includes pasta and other comfort food reimagined Santiago's style, typical fixings like biscuits and gravy and bacon, and elite enticements like leg of lamb, prime rib and giant crab legs), the endless graze is startlingly social. The buzzy noise level adds spice that more reserved brunches lack.
You don't even have to leave your table if the buffet intimidates you. Servers refill bottomless mimosas or sangria until you beg no more, and they'll take your order for a custom omelet or, if you're in the know, for their memorable and stellar French toast, which beckons fans back nearly as much as the party that's always served on the side at Santiago's Bodega.
Photo by Rob Bartlett
Cask & Larder
Fine Dining
Chefs turn out their Sunday best
For an à la carte chef's experience, turn to the higher-end restaurants. They play the brunch game too, but this isn't the place to find a mountain of scrambled eggs and hash browns; they put out plates just as creative and thoughtfully prepared as anything they do after dark.
Critics' darlings like Artisan's Table, the Osprey Tavern, Smiling Bison and Txokos are all in the brunch bunch. At chef Greg Richie's Soco (629 E. Central Blvd., 407-849-1800, socothorntonpark.com), find crispy duck confit potato cakes, Southern-fried quail and waffles, and fresh buttermilk biscuits and gravy with crispy pork belly alongside a lengthy "brunch libations" menu (which includes a bottomless mimosa option).
Scratch (223 W. Fairbanks Ave., Winter Park, 407-325-5165, scratchtapas.com) serves Sunday brunch including dishes like ham risotto, brioche french toast and kouign-amman mixed in with their usual menu; they also offer "brinner" from 6-10 p.m.
James and Julie Petrakis' Cask & Larder has been a brunch standout since they began offering it; now their Ravenous Pig (1234 N. Orange Ave., Winter Park, 407-628-2333, theravenouspig.com) also boasts a Saturday brunch service, partially so that chef James can get back into the kitchen. His take on bacon and eggs goes beyond the traditional morning meat-and-three: Zippy arugula chimichurri covers a half-inch-thick slab of crisped pork belly, crumbled queso fresco and a hash of Peruvian purple potatoes. The Croque Madame sandwich is salty-sweet at its brunchy best, a crunchy, sweet, caramelized croissant filled with a wiggly fried egg, ham, melted Gruyere and bèchamel.
Over at Cask & Larder (565 W. Fairbanks Ave., Winter Park, 321-280-4200, caskandlarder.com), the brunch selection is wide and varied – fried green tomato poutine, banana beignets with candied bacon, and a St. Johns catfish po'boy are just a few of the Southern twists the menu has to offer – but the Nashville hot chicken and waffles is the crowd-pleaser. Perfectly crunchy, spicy-sweet fried chicken over cornbread waffle quarters, served with dill crème fraîche and smoked honey ... lord have mercy.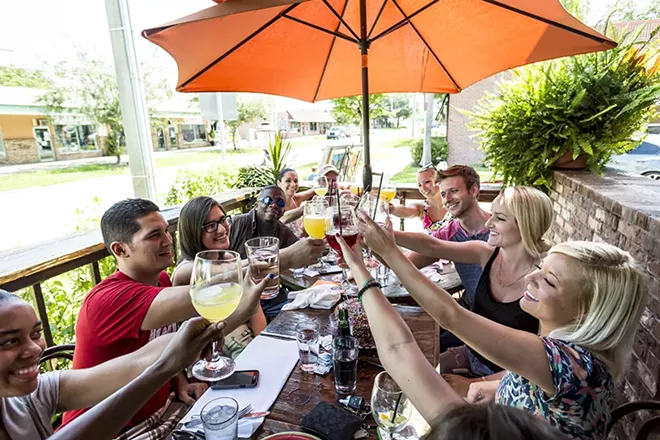 Photo by Rob Bartlett
Santiago's Bodega
Catch a Breeze
Feel the sun on your shoulders and the wind in your hair
Not all, but many of the brunches we've already described happen in restaurants with stellar outdoor settings. We called out Segafredo's rooftop, but they also have cool comfy couches and tables on the patio that surrounds two sides of the lounge. Likewise the all-you-can-eat buffet brunch at Santiago's Bodega; the rooms inside are cool and easy on the eyes, but the brick patio outside is an altogether rowdier affair if you're in the party mood. And we recommended the Hammered Lamb for their huge bloody mary bar, but we'll reiterate: Their shady, dog-friendly patio just across from Lake Ivanhoe has some of the best views and vibes of any in the city.
Other outstanding outside brunches: 310 Lakeside (on the picturesque shore of Lake Eola), Barnie's Coffeekitchen in Winter Park (chef Camilo Velasco outdoes himself with every plate), Cocina 214 (upscale Texas-style Mexican breakfast on a very shady patio), Hamilton's Kitchen at the Alfond Inn (a la carte farm-to-table creations from a very skilled kitchen, a build your own mary and mimosa bar and, yep, a sunny patio surrounded by pretty plantings), and last but not least, we can't forget the ultra-homey neighborhood vibe that permeates the patio at 903 Mills Market (they serve their breakfast menu until 4 p.m. on weekends; beer and wine are available). It's a perfectly Lazy Sunday.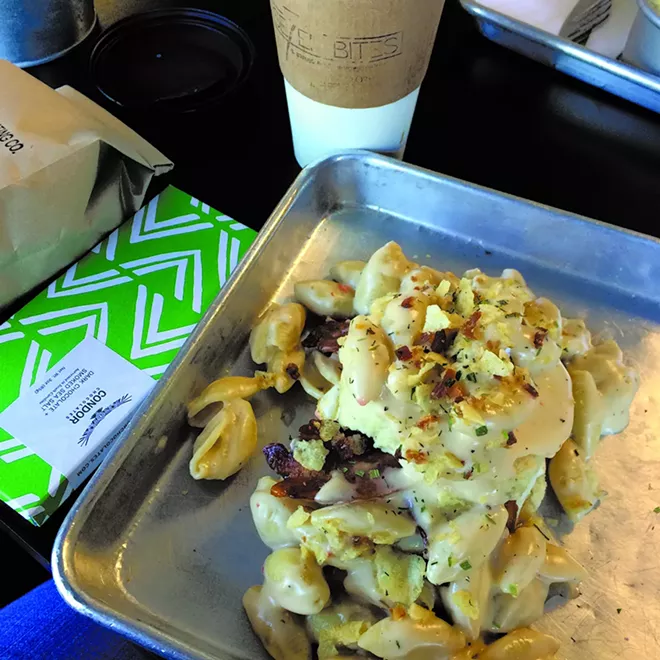 Photo by Jessica Bryce Young
86 the Booze
Not everyone wants a boozy brunch – maybe you're an abstainer (or your brunch companion is); maybe after last night even a whiff of champagne from another table's mimosas would make you hurl. Whatever the reason, there's no need to deny yourself a delicious weekend treat. Here are three spots where all of the decadence is on the plate, and hot coffee is the beverage of choice.
Se7en Bites Bake Shop
207 Primrose Drive, 407-203-0727, facebook.com/se7enbites
You may be sacrificing your aorta to save your liver here, but the food is so over-the-top delectable, that hey, at least you'll die happy. You really can't go wrong at Se7en Bites (unless you ask for "something light"); chef-owner Trina Gregory-Propst and her team serve savory and sweet with equal attention to detail. How about the 7th Trimester: a buttermilk garlic biscuit stuffed with an over-medium egg and chewy-crisp bacon, tumbled with a load of five-cheese mac and cheese, then topped with a potato chip-bacon crumble? Or the Southern biscuit, served with baked egg in ham, pimiento cheese, bacon and cheddar-chive grits? Or Chef Trina's signature dish: the salted caramel dark-chocolate pecan hand pie? Like we said, at least you'll die happy.
Christo's Cafe
1815 Edgewater Drive, 407-425-8136, facebook.com/christoscafeorlando
Christo's is classic Orlando. The diner has renovated and expanded slightly, but the unassuming College Park hangout has served hung-over citizens for decades and we hope it will for years to come. They often have weekend brunch specials – like a smoked sausage-and-pepper scramble, banana-walnut pancakes or eggs Florentine with grits – but we almost always go for the Greek omelet: three eggs, sliced gyro meat, feta, tomato and onion. Ask for sour cream on the side and feel the rejuvenating nap begin to take you over even before you slide out of your booth.
Keke's Breakfast Café
multiple locations, kekes.com
Yes, it's a chain, but don't hate – Keke's serves breakfast every day and they know what they're doing, so trust the experts. The savory selections are legit – only an evil genius could have come up with the buffalo chicken omelet (sliced chicken breast with Franks Red Hot Sauce, American cheese and ranch dressing – USA!). But it's on the sweet side of the menu that they outdo themselves, like the banana split waffle (bananas, pineapple, glazed strawberries, chocolate fudge syrup and pecans) or the piña colada stuffed french toast (pineapple, coconut and cream cheese, topped with powdered sugar).
Donut King
3716 Howell Branch Road, Winter Park, 321-316-4817, thedonutking.com
If you're thinking "Pfft, doughnuts … big deal," you've clearly never ben to Donut King. Fans who used to drive all the way to Minneola to hit the 24-hour drive-through cheered when the King opened a location in Winter Park to serve locals their justifiably revered creations. Donut King's fresh, hot dunkers come in the usual varieties – frosted, cake, jelly, a glazed that blows away Krispy Kreme – as well as specialty flavors like Death by Chocolate, red velvet with cream cheese frosting, Key lime, maple bacon, various cookie or candy toppings (Heath Bar, Oreo, M&Ms, even Sour Patch Kids), and a credible version of the beloved cronut. If you absolutely need protein in the morning, try an egg-and-cheese on cronut sandwich.