Page 2 of 7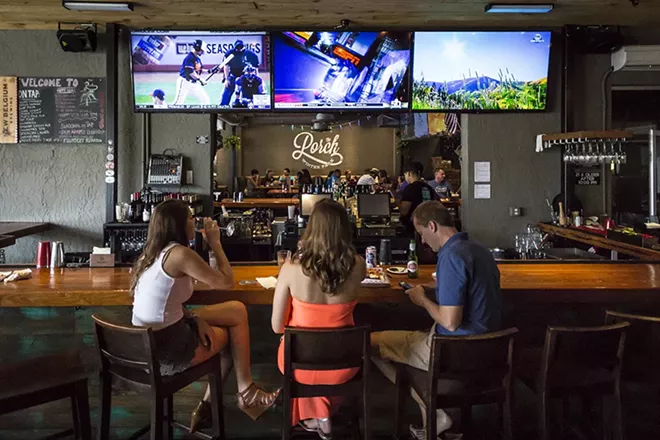 Photo by Rob Bartlett
The Porch
Get Ballsy
Places where the game is as important as the menu
Let's just kill the old trope of the football-obsessed guy and his maxi-dress-clad girl who simply insists on eating out for every meal, shall we? Women make up more than 45 percent of the NFL's 150 million-strong American audience. And speaking anecdotally, we know just as many men Instagramming their plates at the hot boîte of the month as women – if not more. So rather than paint the sports-centric brunch as some kind of compromise between stereotypes, let's call it what it is: the best of both worlds.
Most restaurants have a TV screen or three these days, but the ones we mention here have a real focus on making sure you see whatever game, match, race or bout you have your heart set on – and they want to keep your tastebuds as happy as possible, too.
The Porch (643 N. Orange Ave., Winter Park, 407-571-9101, theporch winterpark.com) switched over from an à la carte brunch menu to all you can eat, and it's doing well for them – all the usual suspects for $19.95, plus the option to add bottomless mimosas for another $10. They turn on the sound for big games, but on an average Sunday it's just on for the first game of the day; after that a DJ takes over. Packers vs. Bears plus a made-to-order omelet? Yes please.
Another local option is Avenue Gastrobar (13 S. Orange Ave., 407-839-5039, avenuegastrobar.com). The sleek and cozy downtown bar has a real commitment to its menu – they even take part in the Downtown Orlando Partnership's newly launched Downtown Orlando Food Tours – and it shows in game day-ready items like their tomato toast (grilled tomato and smoked cheddar on sourdough toast) and waffle wings (wings fried in cornmeal waffle batter and drizzled with syrup and powdered sugar). In this long, narrow room, mirrored on one side and lined with TVs on the other, it's pretty much impossible to get a bad seat.
While it's a big old national chain and we try to focus on local business, there is no denying the appeal of the new game-day menu and the plethora of screens at I-Drive 360's Yard House (8367 International Drive, 407-351-8220, yardhouse.com) – pork poutine with fried egg and crispy sage; lobster and crab omelet with fontina cheese and lemongrass beurre blanc; and a cocktail menu including a spicy mango caipirinha and a sriracha ginger bloody mary are just a few of the offerings at this upscale sports bar.
Also, Swine & Sons (595 W. Fairbanks Ave., Winter Park, 407-636-7601, swineandsons.com) has just announced private football viewings – if you're feeling flush, pull together a group between 10 and 40 and order catering like their breakfast biscuit sandwiches, fried chicken waffle-wiches, or go whole hog and order a whole pig, porchetta-style.