Page 3 of 7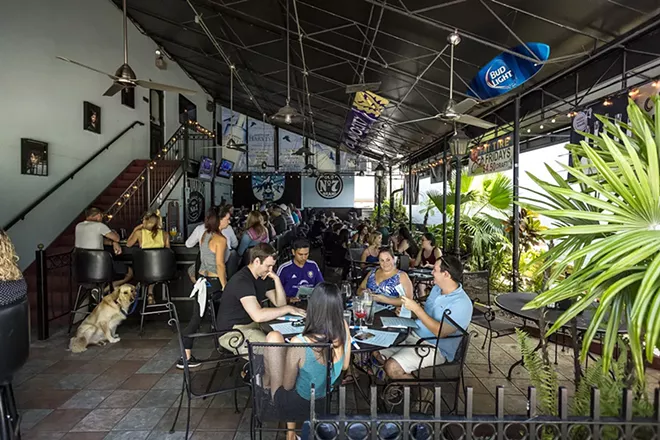 Photo by Rob Bartlett
Hammered Lamb
Hair of the Dog
Boozy brunches for the fun bunch
For some people brunch isn't an appointment they drag themselves out of bed for; it's a denial that the weekend is going to have to end at all. For these people, the emphasis is on the "boozy" part of the boozy brunch.
Tastes vary, of course. The bottomless mimosa is a brunch classic, and restaurateurs from the ultra upscale to the almost divey know it. Just a few places playing along are the Boheme at the Grand Bohemian, Soco in Thornton Park, Kasa Restaurant and Bar, Avenue Gastrobar, Sideshow on Wall Street Plaza, Santiago's Bodega and Two Chefs Seafood Oyster Bar.
And then there's the bloody mary bar, a relatively newer invention but one that's taken brunch by storm. Especially outstanding bloody mary bars can be found at Marlow's Tavern, the Porch (Saturday only), Hamilton's Kitchen in the Alfond Inn, and Teak Neighborhood Grill (take note: Theirs is closed during NFL games).
The bloody mary bar at the Hammered Lamb (1235 N. Orange Ave., 407-704-3200, thehammered lamb.com) is said by some to be the largest in Orlando – and in terms of ingredient choice, that seems true. The Lamb's brunch menu is pretty basic – bowls, burritos, biscuits and the like; their BLT plus sunny-side-up egg can't be beat – but they have that bloody mary bar and one of the best patios in town. And it's dog-friendly, so it's no wonder it's packed every weekend with happy people and their pooches taking in the breeze (and a hair of the dog that bit them).
A few places put a twist on those brunch classics – like TR Fire Grill (after extensive testing at a now-closed Lee Vista location, the permanent Winter Park restaurant opens Sept. 30 at the Ravaudage complex) which serves both a mimosa and a bloody mary sampler alongside brunch plates like lemon ricotta pancakes and "morning meatloaf," featuring green chile sauce, sunny-side-up eggs and jalapeño hollandaise.
There's a growing contingent of restaurants going above and beyond the mimosa – the specialty cocktail list, usually found on a higher-end menu, is proof that even gourmands need a hair of the dog some Sunday mornings. At Slate (8323 W. Sand Lake Road, 407-500-7528, slateorlando.com), a tidy little cocktail menu is surprisingly refreshing, especially the Morning Aperitivo: Aperol, lemonade, Bittermen's Boston Bittahs and bubbles. (The menu is to die for as well, making the drive down to Dr. Phillips more than worth it.) Both the Osprey Tavern, a newer spot blooming in Baldwin Park (4899 New Broad St., 407-960-7700, ospreytavern.com) and Cask & Larder (565 W. Fairbanks Ave., Winter Park, 321-280-4200, caskandlarder.com) have the Corpse Reviver on their exquisite brunch specialty cocktail lists; a more apt weekend-morning quaff may not exist.