Page 7 of 7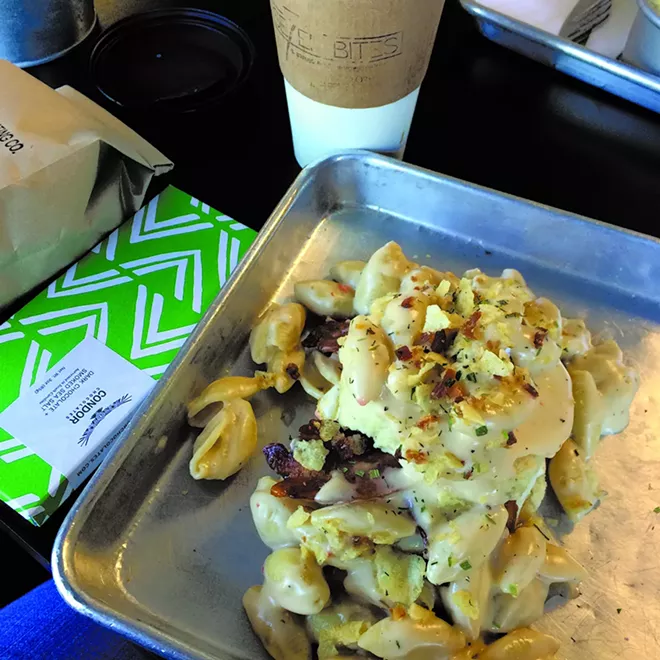 Photo by Jessica Bryce Young
86 the Booze
Not everyone wants a boozy brunch – maybe you're an abstainer (or your brunch companion is); maybe after last night even a whiff of champagne from another table's mimosas would make you hurl. Whatever the reason, there's no need to deny yourself a delicious weekend treat. Here are three spots where all of the decadence is on the plate, and hot coffee is the beverage of choice.
Se7en Bites Bake Shop
207 Primrose Drive, 407-203-0727, facebook.com/se7enbites
You may be sacrificing your aorta to save your liver here, but the food is so over-the-top delectable, that hey, at least you'll die happy. You really can't go wrong at Se7en Bites (unless you ask for "something light"); chef-owner Trina Gregory-Propst and her team serve savory and sweet with equal attention to detail. How about the 7th Trimester: a buttermilk garlic biscuit stuffed with an over-medium egg and chewy-crisp bacon, tumbled with a load of five-cheese mac and cheese, then topped with a potato chip-bacon crumble? Or the Southern biscuit, served with baked egg in ham, pimiento cheese, bacon and cheddar-chive grits? Or Chef Trina's signature dish: the salted caramel dark-chocolate pecan hand pie? Like we said, at least you'll die happy.
Christo's Cafe
1815 Edgewater Drive, 407-425-8136, facebook.com/christoscafeorlando
Christo's is classic Orlando. The diner has renovated and expanded slightly, but the unassuming College Park hangout has served hung-over citizens for decades and we hope it will for years to come. They often have weekend brunch specials – like a smoked sausage-and-pepper scramble, banana-walnut pancakes or eggs Florentine with grits – but we almost always go for the Greek omelet: three eggs, sliced gyro meat, feta, tomato and onion. Ask for sour cream on the side and feel the rejuvenating nap begin to take you over even before you slide out of your booth.
Keke's Breakfast Café
multiple locations, kekes.com
Yes, it's a chain, but don't hate – Keke's serves breakfast every day and they know what they're doing, so trust the experts. The savory selections are legit – only an evil genius could have come up with the buffalo chicken omelet (sliced chicken breast with Franks Red Hot Sauce, American cheese and ranch dressing – USA!). But it's on the sweet side of the menu that they outdo themselves, like the banana split waffle (bananas, pineapple, glazed strawberries, chocolate fudge syrup and pecans) or the piña colada stuffed french toast (pineapple, coconut and cream cheese, topped with powdered sugar).
Donut King
3716 Howell Branch Road, Winter Park, 321-316-4817, thedonutking.com
If you're thinking "Pfft, doughnuts … big deal," you've clearly never ben to Donut King. Fans who used to drive all the way to Minneola to hit the 24-hour drive-through cheered when the King opened a location in Winter Park to serve locals their justifiably revered creations. Donut King's fresh, hot dunkers come in the usual varieties – frosted, cake, jelly, a glazed that blows away Krispy Kreme – as well as specialty flavors like Death by Chocolate, red velvet with cream cheese frosting, Key lime, maple bacon, various cookie or candy toppings (Heath Bar, Oreo, M&Ms, even Sour Patch Kids), and a credible version of the beloved cronut. If you absolutely need protein in the morning, try an egg-and-cheese on cronut sandwich.