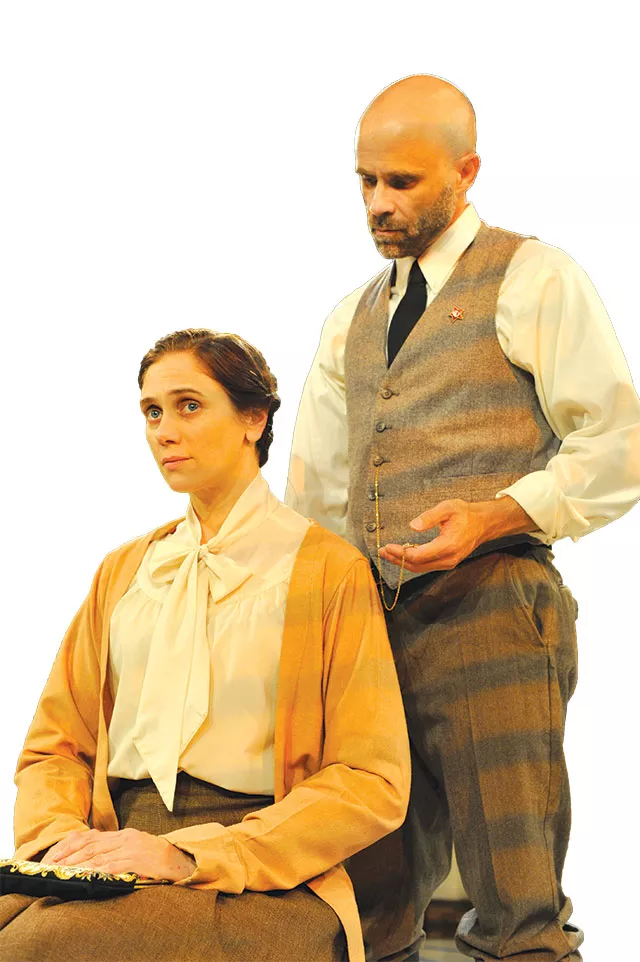 THE LETTERS
through Sept. 21 | Mad Cow Theatre, 54 W. Church St. | 407-297-8788 | madcowtheatre.com | $35.75
No matter what your job, nobody likes getting summoned to a higher-up's office. Whether you work for a mom-and-pop or a multinational megacorp, the words "the boss wants to see you" can send shivers up your spine. Either you're about to get an attaboy along with an armload of additional tasks, or a dressing-down for something you probably didn't even do. At least the worst most firms can do is fire you; imagine how much worse it is for Anna (Jennifer Christa Palmer), a loyal midlevel Soviet bureaucrat and the unlikely heroine of John W. Lowell's The Letters, running now through Sept. 21 at Mad Cow's Zehngebot-Stonerock Theatre.

From the second Anna enters at the top of this taut two-hander, we can tell by her haunted eyes that she'd rather be downstairs doing her job redacting documents, or indeed anywhere else, than in the office of the Ministry of (dis)Information's imperious Director (Brian Brightman). Her fears turn out to be well-founded; a co-worker has illicitly copied libidinous love letters by an unnamed composer, and recovering them is literally a matter of life and death. (The plot is inspired by Tchaikovsky's explicitly homosexual correspondence, held secret for decades in Russian archives.) Anna doesn't know if she's about to be promoted or punished, and the question remains open until the closing moments, as the pair engage in a nail-biting match of high-stakes verbal speed chess.

The Letters is set in 1931 Russia, but beyond the old telephones on Lisa Buck and Frank Siano's set and the odd turnip-based turn of phrase, there's nothing dated or archaic about it, making the preshow newsreel of Soviet history almost extraneous. Blake Braswell, in his Mad Cow directing debut, smartly dispenses with the Russki accents; Brightman instead speaks with intimidatingly clipped diction, which drops when his friendly facade is fractured by flashes of rage. Pacing is equally expert, starting with an excruciatingly quiet opening – which Palmer pulls off with aplomb – and methodically mounting until the climactic crescendo, like a tightly wound trap snapping shut.

This show has obvious parallels to The Receptionist, which I co-produced with Empty Spaces at Orlando Shakes last month. Both involve apparatchiks in totalitarian societies suspected of treason, and both touch on currently relevant themes of privacy and paranoia in a world of omnipresent official observation. With no disrespect to my own production, I found Mad Cow's take on the subject to be terrifically gripping for every one of its scant 75 minutes, and equally contemporary in spite (or perhaps because) of its historical context. Thanks to Braswell's disciplined direction and Brightman and Palmer's finely focused performances, this Cold War thriller couldn't be any more tense if Hitchcock hid a ticking briefcase beneath the mahogany desk.