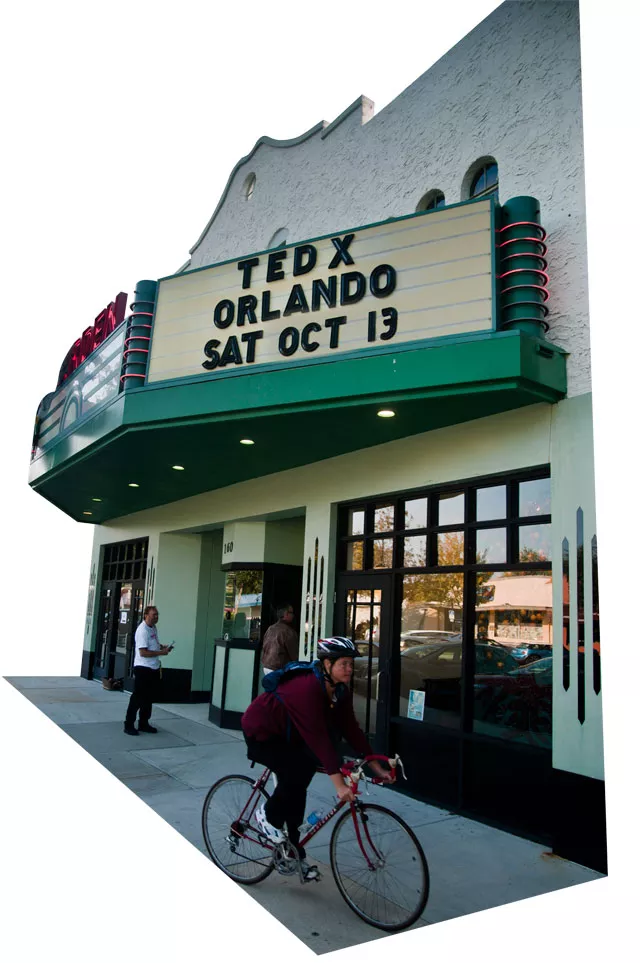 The connectivity of modern society has become such a given that it's difficult to imagine a world where you don't know everything about the people around you. Almost faster than you can type a name into Facebook's search engine, the site pulls up potential results and then, by the grace of lax privacy settings, you can instantly glean the life story of complete strangers. And yet, just knowing the "likes" of new acquaintances and pseudo-friends doesn't guarantee you'll find anyone who shares your own.
After software engineer Dave Casey moved to Orlando from Seattle, he had difficulty meeting people who shared his common interests. Troubled by this, his wife, artist Jenny Casey, sought to organize a monthly event that offered anyone seeking intellectual discourse a regular opportunity to meet other thoughtful people. And thus, TEDxOrlando came to be, holding its first major event in 2010 and supporting a monthly meet-up of active thinkers and TED enthusiasts.
TEDx conferences are independent satellites of the now 25-year-old annual TED conference, the enormously popular gathering of charismatic intellectuals presenting their musings on a single topic – or, as they bill it, "Ideas Worth Spreading." Some TED talks are academic. Others are inspiring. The best are both. But for this migrant couple seeking a like-minded circle in Central Florida, TED is also something that brings people together.
"It's something that I can do with Dave," Jenny says. "Sometimes it introduces more tension into our relationship, but it's still fun to do something together. I'm also a very introverted person, and Dave and I live quite far out in the country, so it's been a way for me to kind of have some human interaction and kind of create a bit of a community around me and feel like a part of the world."
TEDx conferences, which take place in more than 140 different countries and must follow strict guidelines set out by the TED organization, typically feature regional speakers. For the next TEDxOrlando event, the Caseys hope to best the previous year's conference with their new lineup of speakers, which includes a SeaWorld zoologist, a gardening magazine publisher and a disc jockey, to name a few.
"We tend to get two responses: Either it's, 'Oh, I love TED!' or 'Who's TED?'" Dave says. "We try really hard to maintain that bar, filtering and finding people who we think are going to be worth watching."
Dave phrases his personal criteria for judging the quality of TEDxOrlando speakers in the form of a question: Was it worth the drive? And this departure from TED's near-ubiquitous slogan is one of a few ways that TEDxOrlando differs from typical TED events.
For one, Jenny forgoes the application process for attendees, electing instead that speakers engage with a self-selecting audience. Tickets are $75 on a first-come, first-served basis. (The TED organization, which has faced criticism for being elitist, requires that audience members either be invited or qualify to attend – plus coming up with the $4,000 price of admission. Essentially, to see the big show, you must have both demonstrated smarts and deep enough pockets to rub elbows with other TEDgoers.)
Another departure from the traditional 18-minute TED talk: Orlando's talks are mostly under 12 minutes. This allows the flow of ideas to shift more quickly and eliminates the stress of any talk going on for longer than the audience is engaged by it.
The Caseys worked with this year's speakers for months, involving late rehearsals and surprising thought evolutions. Although TED throws the bulk of its weight behind the ideas that come from its stages, it's the person behind the idea who Jenny thinks should be the real point of interest.
"Part of the process of developing the talk is trying to move the speaker to the point where they're going to connect intimately with the audience," Jenny says. "We are trying to provide a talk that sort of encapsulates a really intriguing idea. But the presentation is really about … a chance to connect with the person who has that idea."
This distinction is perhaps the most poignant when considering the looming question many have regarding TED-mania: What happens when we run out of things to say? Jenny's answer is as honest as it is ominous: We stop talking. The TED brand and its progeny may not always have a place in popular society. But tell that to a diehard TEDhead, and you might as well be talking to the wall.
TEDxOrlando
1-6 p.m., Saturday, Oct. 13
Garden Theatre
160 W. Plant St., Winter Garden
407-877-4736
tedxorlando.com
$75
2012 TEDxOrlando Speakers
Chris Castro: humanitarian
co-founder of UCF's IDEAS; youth delegate for the National Wildlife Federation; recipient of White House Champions of Change award
Ian Cole: strategist, marketer and maker
vice president at Starwood Vacation Ownership; co-organizer of Orlando Mini Maker Faire; active in Longwood hackerspace FamiLAB
Scott Gass: zoologist
director of Zoological Communications and Interpretation at SeaWorld; avid snorkeler
Jonathon Gosier: software developer
senior TED fellow; founder and product director at MetaLayer.com; designer and inventor
Wae Nelson: publisher and horticulturalist
former aerospace engineer; publisher of Florida Gardening magazine; advocates biochar, a technique that enriches soil and sequesters carbon
Mary Nichols: radio, mixtape and club DJ
writer on music of the African diaspora; founder of syndicated Fuse Box Radio Broadcast
Amy O'Rourke: gerontologist, entrepreneur
advocate for the elderly and their families
Amy Selikoff: teacher, athlete
teaches seventh grade; competes in roller derby
Eddie Selover: marketing communications expert
organizer and host of PechaKucha Orlando
Karen Tilstra: innovation expert
co-founder and director of Florida Hospital's Innovation Lab; owner of eclectic pets
Brian Uzzi: professor of leadership at Kellogg School of Management
uses social network analysis and complexity theory to understand outstanding achievement in business, science and art