We go to press knowing that much more information will be uncovered in the coming weeks. This is our reconstruction of the day of the attack on Orlando.
SUNDAY
Marcus Godden was sipping drinks and mingling with his friends when he saw Omar Mateen standing about 15 feet away by the bar.
Mateen wasn't drinking or dancing. Quietly, he surveyed the roughly 300 people enjoying themselves during Latin Night last Sunday at the gay nightclub Pulse in Orlando. He stared at them intensely, but didn't try to make conversation, Godden says.
Godden says something didn't sit right with him, but he continued having fun until he heard the "POW-POW-POW-POW-POW-POW-POW-POW-POW-POW" of bullets barreling through the club, then people screaming, feet running, glass smashing, until he fell to the floor. Covered in other people's blood, he played dead for five minutes.
"Lord Jesus, I pray to God that this won't happen to me today," he remembers thinking. To his left and right, he heard people crying, praying for the chance to see another day.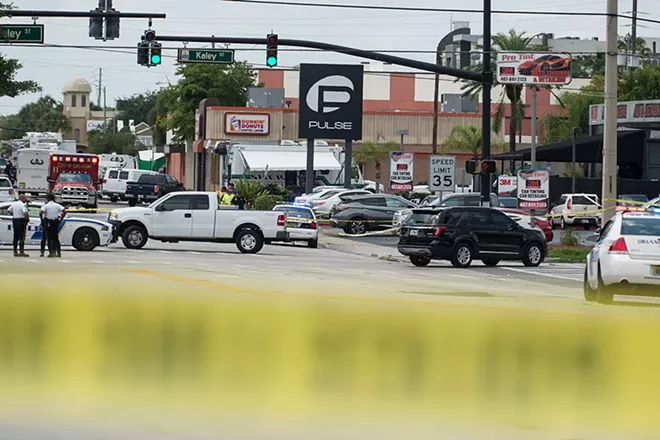 Photo by Jeremy Reper
Pulse Nightclub
Godden says he heard the shooter leave the room and made a run for the back door, stepping on people before he finally made it to the patio door and used a silver table to jump the fence.
"Once I was over that wall, I ran to the 7-Eleven," he says. "I don't know whose car I jumped in, but I jumped in somebody's backseat and said 'Take me home.'"
2:02 a.m.
An off-duty OPD officer working security for Pulse responded to shots fired at the club around 2 a.m. Sunday.
The officer started firing at 29-year-old Omar Mir Seddique Mateen, who was armed with a .223-caliber AR-15 type rifle, a 9mm handgun and extra ammunition. Two more officers joined in the gunfight, and Mateen fired back. Then, he walked deeper into the club and continued shooting, shutting people inside.
2:09 a.m.
On its Facebook page, Pulse Orlando posted, "Everyone get out of pulse and keep running," as hundreds of law enforcement officials began surrounding the club. Mateen went into the bathroom, where four or five hostages were trapped. During this time, he made a call to 911 and swore his allegiance to ISIS. A larger group of people hid in a second bathroom. Orlando Police Chief John Mina says law enforcement officials contacted Mateen by phone to negotiate, and he sounded "cool and calm." He suggested to officers he might have an explosive device, like a bomb vest.
"He really wasn't asking for a whole lot," Mina says. "We were doing most of the asking."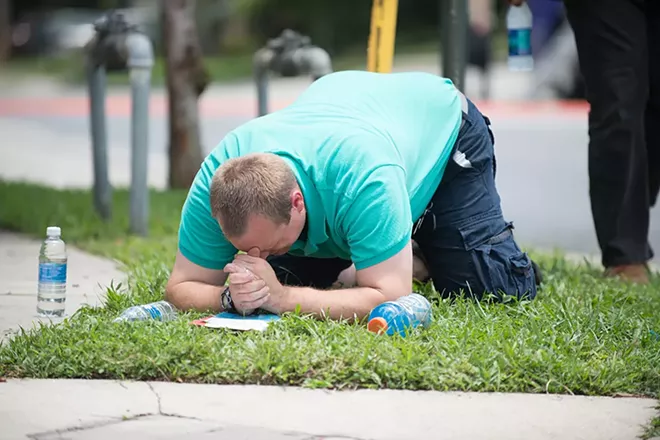 5 a.m.
Officials decided to rescue the hostages by driving an armored vehicle through a wall when explosive devices didn't work.
The hostages and Mateen ran out of the building, and Mateen exchanged gunfire with SWAT officers. One of his bullets hit an OPD officer's Kevlar helmet. Mateen, who reportedly purchased the guns within the last week, was killed by officers' bullets. Later, they found an "unidentified weapon" in his parked van.
Police rescued 30 people from the club alive, but found 39 dead. Two people died right outside the club. Officials and locals helped transport people down the street to Orlando Regional Medical Center.
7 a.m.
At the first press conference, Orlando Police reported at least 20 deaths and 42 people in the hospital.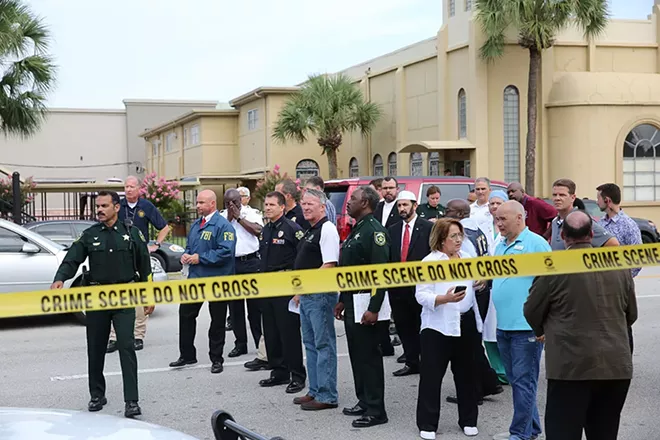 Photo by Joey Roulette
Federal, Orange County and Orlando city officials prepare to give statements to the media.
10:30 a.m.
At the second press conference, reporters and onlookers gasped as officials announced 53 people were wounded and 50 were dead. Later, it was reported that 49 of the dead were victims – Mateen, killed by police officers, is No. 50.
Local and state officials soon began congregating on Orange Avenue, including U.S. Sens. Bill Nelson and Marco Rubio, Florida Gov. Rick Scott, Orange County Mayor Teresa Jacobs and Orlando Mayor Buddy Dyer. The media and government officials confirmed it was the worst mass shooting in modern U.S. history.
"This is probably the most difficult day in the city of Orlando," Dyer told the press.
Photo by Chris Rodriguez
The scene outside the OneBlood donation center near Pulse.
Local blood banks reported long lines of people willing to donate, and the Council of American- Islamic Relations Florida asked Muslims to donate blood as well.
"We condemn this monstrous attack and offer our heartfelt condolences to the families and loved ones of all those killed or injured," said Rasha Mubarak, the Orlando regional coordinator for CAIR-Florida, in a statement. "The Muslim community joins our fellow Americans in repudiating anyone or any group that would claim to justify or excuse such an appalling act of violence."
Orlando City Commissioner Patty Sheehan, the first openly gay official in Orlando, said, "If you think that you're going to stab at the heart of us by doing this horrible, violent act, you're not, because we love."
Terry DeCarlo, executive director of The GLBT Community Center of Central Florida, said he just wanted to "wake up" from the nightmare he was living.
"My knees buckled and I almost went down when I heard it went from 20 [victims] to 50," DeCarlo said. "My heart left my body."
As the hours passed, national and international media descended on Orlando. The world learned more about the suspected shooter who drove from Fort Pierce to Orlando.
Mateen was born in New York, and FBI officials say they first became aware of him in 2013, when he "made inflammatory comments to co-workers alleging possible terrorist ties," CNN reports. The inconclusive investigation was closed, and in 2014, the FBI contacted Mateen again regarding "possible connections with an American suicide bomber" named Moner Mohammad Abusalha. They let Mateen go again, and he was not under investigation or surveillance at the time of the shooting.
Mateen worked as a security officer with G4S. Mateen's ex-wife, Sitora Yusifiy, told the Washington Post he was an abusive person who beat her. His father, Seddique Mir Mateen, told NBC News he was in "shock" and didn't think the killings had to do with Islam, but with his son's hostility toward gay people. Mateen was angered, he says, over a recent incident where he saw two men kissing in Miami.
"They were kissing each other and touching each other and he said, 'Look at that. In front of my son they are doing that,'" the father told NBC News. "And then we were in the men's bathroom and men were kissing each other."
Gov. Rick Scott called the incident "clearly an act of terror." U.S. Sen. Bill Nelson said ISIS media claimed responsibility for the shooting, but some reports are pointing to Mateen being a lone-wolf attacker. U.S. Sen. Marco Rubio said ISIS was seeking to terrorize us.
"I hope they see today they won't terrorize America," U.S. Sen. Marco Rubio told press in Orlando. "They won't terrorize Floridians. That we stand with and for all Americans, irrespective of their sexual orientation."
President Obama also addressed the shooting, saying he offered Mayor Dyer any resources Orlando needed and calling the mass shooting a "reminder of how easy it is for someone to get their hands on a weapon that lets them shoot people in a school, or in a house of worship, or a movie theater, or in a nightclub."
"We have to decide if that's the kind of country we want to be," Obama said. "And to actively do nothing is a decision as well."
The next day, Obama said the shooting in Orlando was a case of "homegrown terrorism," and that Mateen was influenced by "various extremist information that was disseminated over the Internet," the Washington Post reports.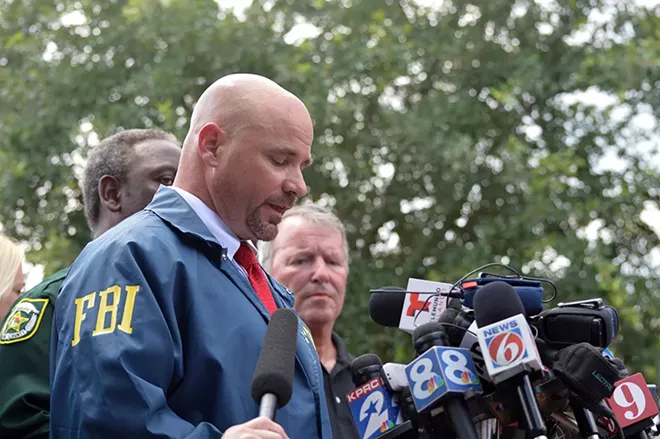 FBI spokesman Ron Hopper releases details about gunman Omar Mateen.
5:30 p.m.
Officials released some victims' names, but not all of them. In a tragic scene, people gathered at the Hampton Inn & Suites near Orlando Regional Medical Center cried out in anguish and wept at hearing the fate of their family members.
Most of the victims and their families are Latino. Many were disappointed after officials only gave the names of the wounded and did not confirm all the dead.
Sara López said she still doesn't know the fate of her friend Jimmy DeJesus Velázquez, 51. Velázquez was a professional Jíbaro dancer from Puerto Rico who traveled the world. López said Velázquez was with at least two friends at Pulse on Sunday morning.
His friends told her they heard shooting, but thought it was music until they started seeing people fall down. They tried to grab Velázquez, but he and others were pushed up against the wall by Mateen, who started shooting at the group. His friends ran out to the parking lot, and López says that's the last time Velázquez was seen.
Jaime León was furious and anxious after hearing no news regarding his cousin Luis Daniel Wilson, 39, and his cousin's partner, Jean Méndez. The victims' bodies, which were still at the club at the time, had identification that officials could easily look at, León says.
"I just want them to give us closure," he said. "If he's dead, I want to know."
Later, all three men were reported among the dead.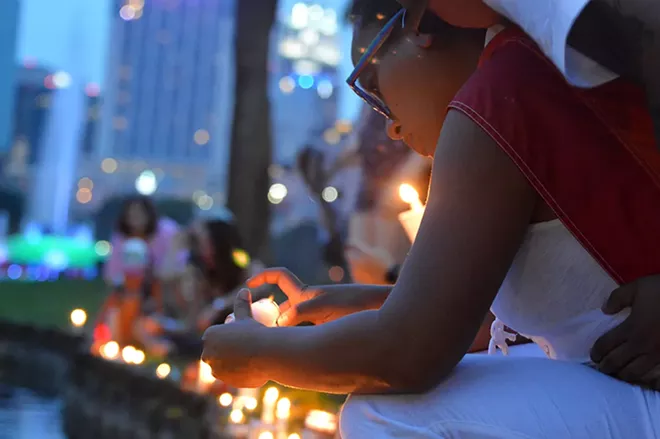 Photo by Monivette Cordeiro
Lighting a candle at Lake Eola.
7 p.m.
Vigils in Orlando were officially postponed, but others around the world mourned for us. Some Orlandoans did gather at Lake Eola to light candles while bars, clubs, churches and organizations around the city held small gatherings.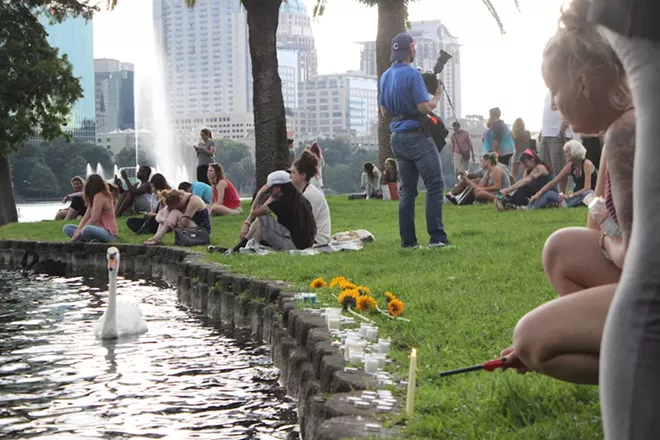 Photo by Chris Rodriguez
An impromptu vigil Sunday night at Lake Eola.
MONDAY
Slowly, the City Beautiful picked itself back up. Families anxious to learn the fate of their loved ones who had been missing since the mass shooting received the heart-wrenching news amid gasps and tears.
Orange County Mayor Teresa Jacobs said victims' families need guidance, prayers and fellowship from the local community. She also thanked the national community for coming together to support Orlando.
"We remain committed to the families," she said. "We're helping and working with them through every step of this loss."
Photo by Monivette Cordeiro
A child looks on as officials deliver details of the shooting.
Many of the victims are from Orlando's Latino community. Advocacy groups gathered to say they need bilingual resources for families who don't speak English and to remind the city that their community is also hurting. Carlos Guillermo Smith, who is running for the Florida Legislature as an openly gay man, said these types of clubs were traditionally safe gathering places for LGBTQ people, like New York's historic Stonewall Inn.
"I'm a proud gay man and I'm a proud Latino," he said. "We are reeling from this tragic news. ... Make no mistake, this was a horrific act of terror against the Latino and the LGBTQ community."
Later on Monday, the world watched as Orlando gathered to mourn and celebrate the lives lost at the Dr. Phillips Center for the Performing Arts in downtown Orlando.
"I think we're already starting to heal," Mayor Buddy Dyer said. "But now we need to grieve."
Gun Purchases
Omar Mateen legally bought the guns he would later use to kill 49 people and injure 53 at the gay nightclub Pulse in Orlando.
"He is not a prohibited person," Trevor Velinor, a spokesman for the Bureau of Alcohol, Tobacco and Firearms said on Sunday. "They can legally walk into a gun dealership and acquire and purchase firearms. He did so. And he did so within the last week or so."
On Monday, Florida Agriculture Commissioner Adam Putnam told reporters that Mateen "passed all of the legally required background checks for his weapons."
The 29-year-old St. Lucie County resident had no criminal record, passed the mental-health screening required to work as a security guard, legally purchased guns from a licensed dealer and followed the state's three-day waiting period rule before completing the purchase of the guns, Putnam says.
Black Lives Matter "data activist" Sam Sinyangwe pointed out on Twitter that, under Florida law, Mayor Buddy Dyer could enact an assault weapons ban and other gun restrictions while Orange County is under a state of emergency. No one has stated the intention to do so, however.
As the conversation around gun violence starts, CNN Money reports shares of Smith & Wesson and Sturm, Ruger went up by almost 10 percent after 50 people died in Orlando. After House Speaker Paul Ryan, R-Wisconsin, called for a moment of silence Monday, House Democrats interrupted Ryan by shouting at him, asking for gun control legislation.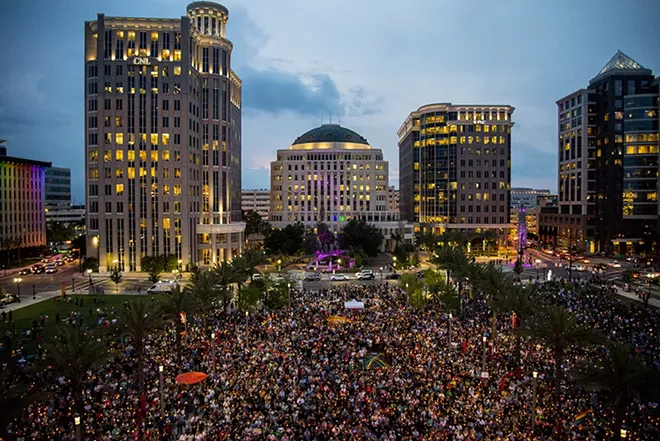 Blood Donations
Orlandoans showed up in droves to donate blood after Sunday's mass shooting. People are encouraged make an online appointment with OneBlood for later in the week because of overwhelmingly long lines and dwindling supplies. Here are some places that are still open for donations:
Asbury United Methodist Church Bloodmobile, 220 W. Horatio Ave., Maitland
Apopka Donor Center, 131 N. Park Ave., Apopka
AMC 18 Altamonte Mall, 433 E. Altamonte Drive, Altamonte Springs
St. Luke's United Methodist Church Bloodmobile, 4851 S. Apopka Vineland Road
Orlando Main Donor Center, 8669 Commodity Circle
Oviedo Donor Center, 1954 W. State Road 426, Oviedo
Metro Church Bloodmobile, 1491 E. State Road 434, Winter Springs
In a cruel irony, gay men are not being allowed to donate blood. The Food and Drug Administration set a lifetime ban on blood donation by gay men back in 1983, though they loosened that ban last December to only cover gay men sexually active in the past 12 months. Anecdotal reports that OneBlood and other Central Florida banks would suspend the ban in this crisis situation proved untrue; OneBlood has confirmed the restriction remains in effect.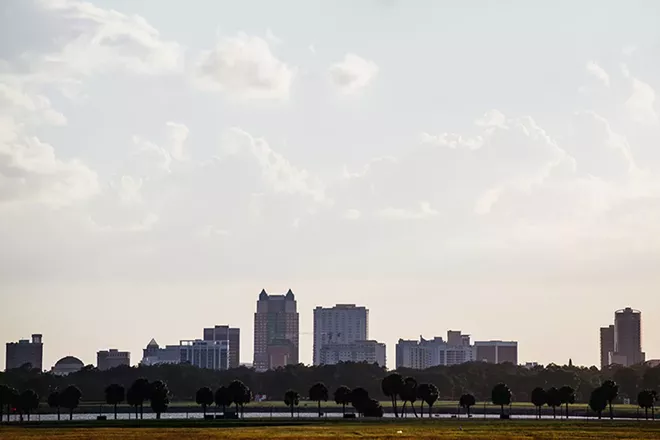 Bilingual Help
La matanza que dejo a 49 muertos y 53 heridos ha afectado mayormente a las comunidades Latina y LGBTQ. Se necesitan voluntarios de consejería bilingües para ayudar en las líneas telefónicas. Si puede ofrecer sus servicios de traducción, llame 407-428-5870 o mande un correo electrónica a info@hispanicchamber.net.
Si usted necesita ayuda bilingüe, llame Hispanic Family Counseling, 407-382-9079; Victim Services Center, 407-246-4357; o Two Spirits/Zebra Coalition, 407-228-1446. Si necesita información sobre las víctimas, llame la línea de emergencia de la ciudad de Orlando, 407-246-4357, o llame Hispanic Office of Local Assistance, 407-254-4652.