Page 2 of 7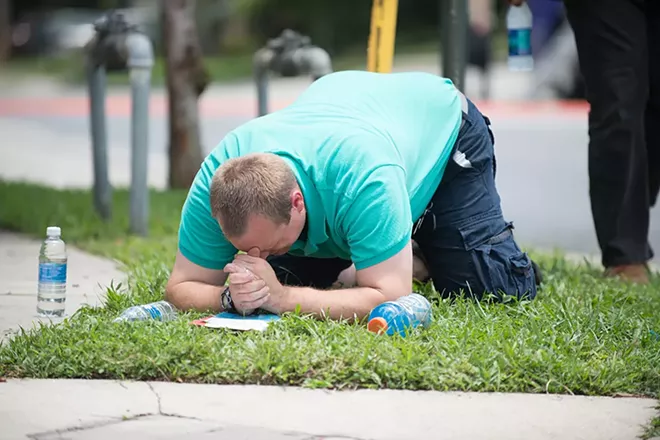 5 a.m.
Officials decided to rescue the hostages by driving an armored vehicle through a wall when explosive devices didn't work.
The hostages and Mateen ran out of the building, and Mateen exchanged gunfire with SWAT officers. One of his bullets hit an OPD officer's Kevlar helmet. Mateen, who reportedly purchased the guns within the last week, was killed by officers' bullets. Later, they found an "unidentified weapon" in his parked van.
Police rescued 30 people from the club alive, but found 39 dead. Two people died right outside the club. Officials and locals helped transport people down the street to Orlando Regional Medical Center.
7 a.m.
At the first press conference, Orlando Police reported at least 20 deaths and 42 people in the hospital.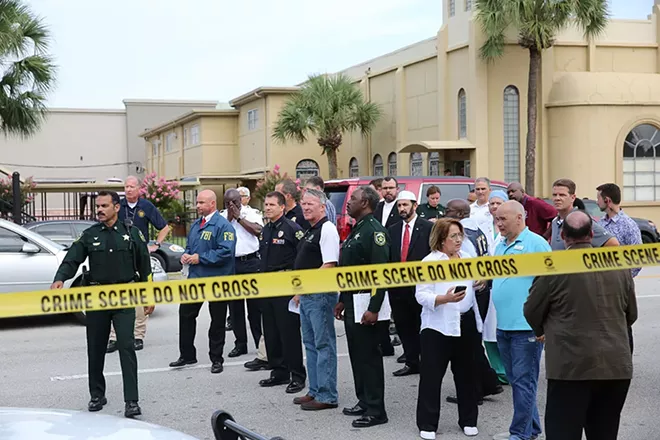 Photo by Joey Roulette
Federal, Orange County and Orlando city officials prepare to give statements to the media.
10:30 a.m.
At the second press conference, reporters and onlookers gasped as officials announced 53 people were wounded and 50 were dead. Later, it was reported that 49 of the dead were victims – Mateen, killed by police officers, is No. 50.
Local and state officials soon began congregating on Orange Avenue, including U.S. Sens. Bill Nelson and Marco Rubio, Florida Gov. Rick Scott, Orange County Mayor Teresa Jacobs and Orlando Mayor Buddy Dyer. The media and government officials confirmed it was the worst mass shooting in modern U.S. history.
"This is probably the most difficult day in the city of Orlando," Dyer told the press.