Page 5 of 7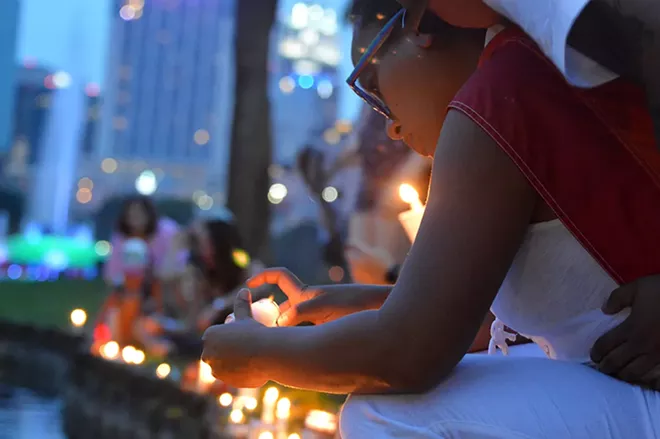 Photo by Monivette Cordeiro
Lighting a candle at Lake Eola.
7 p.m.
Vigils in Orlando were officially postponed, but others around the world mourned for us. Some Orlandoans did gather at Lake Eola to light candles while bars, clubs, churches and organizations around the city held small gatherings.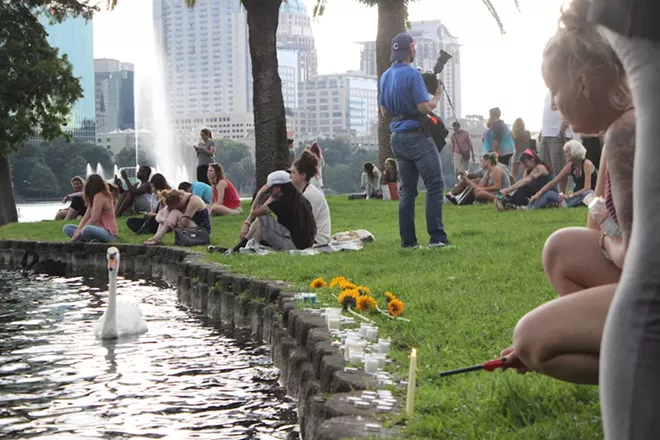 Photo by Chris Rodriguez
An impromptu vigil Sunday night at Lake Eola.
MONDAY
Slowly, the City Beautiful picked itself back up. Families anxious to learn the fate of their loved ones who had been missing since the mass shooting received the heart-wrenching news amid gasps and tears.
Orange County Mayor Teresa Jacobs said victims' families need guidance, prayers and fellowship from the local community. She also thanked the national community for coming together to support Orlando.
"We remain committed to the families," she said. "We're helping and working with them through every step of this loss."
Photo by Monivette Cordeiro
A child looks on as officials deliver details of the shooting.
Many of the victims are from Orlando's Latino community. Advocacy groups gathered to say they need bilingual resources for families who don't speak English and to remind the city that their community is also hurting. Carlos Guillermo Smith, who is running for the Florida Legislature as an openly gay man, said these types of clubs were traditionally safe gathering places for LGBTQ people, like New York's historic Stonewall Inn.
"I'm a proud gay man and I'm a proud Latino," he said. "We are reeling from this tragic news. ... Make no mistake, this was a horrific act of terror against the Latino and the LGBTQ community."
Later on Monday, the world watched as Orlando gathered to mourn and celebrate the lives lost at the Dr. Phillips Center for the Performing Arts in downtown Orlando.
"I think we're already starting to heal," Mayor Buddy Dyer said. "But now we need to grieve."