On Jan. 11, Orange County Sheriff Kevin Beary announced that he would not seek re-election this November to the post he first won in 1992. Throughout his tenure, Beary has been a reporter's dream: bombastic, arrogant, antagonistic, bullying, scandal-prone … you name it, Beary embodied it. Barely a month went by in the last eight years when there wasn't some headline about one of Beary's alleged misdeeds or bouts of idiocy.
Yet for all the smoke, the fire never happened.
Repeated ethics charges didn't faze him. Grossly exuberant expenditures – a never-used airplane and guns designed to bring down elephants, for example – failed to bring him down. Time and time again, Beary proved that he could weather the storms and win re-election handily. He may well have done the same this year.
But as of January 2009, Orange County will have a new sheriff for the first time in 16 years. That's bittersweet for us. On the one hand, the OCSO is in desperate need of fresh blood. On the other, we won't have Beary to kick around anymore.
So while he's still in office we decided it was time to relive a few of our fondest memories of Beary. There's still 11 months to go in his administration, so we have time to add to the list.
Elephant guns
In September, the Orlando Sentinel reported this odd bit of news: "Orlando is safe from rampaging pachyderms now that the Orange County Sheriff's Office has bought 14 elephant guns."
Elephant guns. Fourteen elephant guns, that, at $800 a pop, are by the department's own admission only used to kill "large or exotic animals." At a time when violent crime was on the rise and everyone was calling for more cops on the street, Beary's agency spent $11,200 on the megaweapons.
OCSO justified the purchases by noting that Orlando has a lot of theme parks, and some of them have big animals, and maybe one of those animals could escape. After all, that happened once, 14 years ago, in Hawaii. Maybe that would explain buying one, or even two. Buying 14 weapons that might never see action – unless Animal Kingdom's walls all fall down at the same time – is pure Beary, and that's why we love him.
Ride the lightning
In the summer of 2004, Beary's Taser policy was catching heat. After a flurry of media reports about the frequency with which local police officers employed the stun guns, and after three suspects died after being shocked, other area departments enacted a policy that only allowed officers to use Tasers when suspects were physically resisting arrest. Not the OCSO. Beary let his deputies use their Tasers whenever anyone resisted arrest, physically or not.
He wanted to put the media questions about his policy to rest. So he scheduled a press conference in time for the evening news. But he wasn't there to have a doctor or some expert talk about being Tasered; he was going to be Tasered himself, on camera.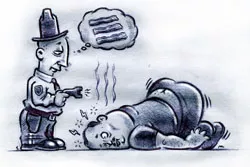 He was shocked, fell down, got back up and proclaimed himself fine: "You saw it. I've done it. Now get real," he said.
Quite the spectacle.
Hating the haters
Winter Park resident Alice Gawronski saw Beary get Tasered, but she didn't have the reaction the sheriff would have liked. On March 10, 2005, the Sentinel published her letter to the editor, in which she criticized the department's Taser policy, and said that in fact she'd become convinced of the policy's wrong-headedness while watching Beary's Taser press event. And she mentioned that perhaps Beary and his deputies wouldn't have to employ their nonlethal weapons so much if they were in better shape. Beary, of course, is a large man.
The sheriff didn't like her comments. He had aides search through the restricted state driver's license database to track down Gawronski's address and sent her a sharply worded letter of rebuke: "I recently read your slanderous remarks about the Orange County Sheriff's Office in the Orlando Sentinel. It is unfortunate that people ridicule others without arming themselves with the facts before they slander a law enforcement agency or individual."
Accessing that database is to track down a critic is legally squishy, at best. Beary's office offered the weak explanation that he was merely responding to public concern. That incident led to a Florida Department of Law Enforcement investigation, though the agency cleared him of wrongdoing.
After a good deal of public ridicule, Beary apologized to Gawronski.
Paying the 'rents
In 2003, Beary's sheriff's office paid $21,117 to Law Enforcement Crime Prevention Inc., the developers of a program called Prevention Pals that uses puppets, comic books and other similar materials to teach young kids to stay away from drugs. Nothing unusual. Unless you consider that Prevention Pals' developers were none other than Karen and Raymond Beary, Beary's stepmother and father. The sheriff's office forgot to mention that fact when it got the Orange County Commission to sign off on the arrangement.
Shady, but not illegal. State ethics laws allow you to contract with your parents, just not your spouse or children. Still, the OCSO went into damage-control mode. Beary's ever-loyal managers took the hit, telling the media that the sheriff had nothing to do with hiring the company. Which might be plausible, except that Beary's signature appears on the purchase form.
No matter. Beary's 2004 primary opponent, John Tegg, tried to make an issue of this and other minor scandals, but Beary trounced him.
Take the shot
With cameras rolling – of course – Kevin Beary rolled up his sleeve on a December morning in 2002 and became the first law enforcement officer in the country to be vaccinated for smallpox since vaccination for that disease ceased 30 years earlier. Such vaccinations, he proudly told anyone who would listen, would be made available to all of his deputies and their families, because Central Florida was the front line in the war on terror and they needed to be prepared for a smallpox outbreak.
The feds had already made plans to have 1 million people immunized – 500,000 emergency workers and 500,000 military personnel – but that wasn't good enough for our sheriff: "The best place to be is the lead dog on the sled," he told the Associated Press. "We on the local level are waiting for the federal government to get things done. They're doing a good job up there but I don't have time to wait."
King Air
In 2000, Beary bought a 1973 Beechcraft A200 King Air, a small, luxury seven-seat airplane that once ferried military officials to bases around the world, from the Department of Defense for $500. Beary said he wanted to use the plane to transfer prisoners. Sounds like a good deal, right?
But then the plane sat in an airport hangar in Sanford, almost completely unused, for more than a year before the Orlando Sentinel reported its existence. During that time, Beary pumped almost $200,000 into refurbishing it: new paint, new upholstery and engine repairs. The OCSO only used the plane once – to fly Beary to Tallahassee. It costs more than $300 an hour to operate.
Needless to say, county commissioners weren't thrilled with Beary's expenditures. His plan to use the plane to transport prisoners never materialized; he blamed the Sept. 11 terrorist attacks. By 2005, the OCSO was trying to sell the plane. By that time the Beary had spent nearly $700,000 on it.
WHERE DID YOU GO?
In 1992, during his first successful run for sheriff, Beary offered a stinging criticism of incumbent Walt Gallagher, whom he said traveled out of town too often to be an effective leader. As a Beary flyer read, "If Walt Gallagher cannot stay home to protect you and me, he should not keep his job."
Fast-forward 12 years. Beary was running for re-election, only to find himself the target of similar accusations. Between 1998 and 2003, Beary spent 400 days out of the area, not including his vacations. That's more than Gallagher ever did.
Those trips took him to Idaho, Arizona, California, Russia and Israel, among other places, and sometimes he took his family along for the ride. When terrorists attacked on Sept. 11, 2001, Beary was in western Russia with a group from the University of Central Florida. Because the airports were shut down, he wasn't able to get back for eight days.
Beary defended the trips by saying he needed to go to law enforcement conferences to keep current on the latest trends.
The $43,000 question
If there was one Beary scandal that came closest to ending his career in shame, this was it. In 2003, Beary and two of his OCSO underlings started a nonprofit called the National Domestic Preparedness Coalition. The next year, that company earned some profitable contracts from the state and federal governments: It got $654,000 to test the Department of Homeland Security's terrorism assessment methodology, and an additional $200,000 from the Florida Department of Law Enforcement to install software that assesses terrorism risks at the FDLE's seven regional task forces, one of which Beary co-chaired.
The nonprofit then paid Beary $43,000 in consulting fees (Beary's partners received $47,000 and $45,000, respectively).
That fact led to multiple investigations and charges that Beary used the clout of his public office for personal gain. One critic called the nonprofit a "conduit for the federal money." Beary denied wrongdoing, and said lawyers and accountants with whom he had consulted told him it was OK to take the money. Even so, during his re-election campaign in 2004, he had promised not to take any funds from his nonprofit.
After the arrangement was revealed in 2005, Beary resigned as the nonprofit's vice president and returned the $43,000. But that didn't end the story. The FDLE launched its own investigation, which cleared Beary of any criminal wrongdoing. In 2007, the Florida Commission on Ethics, however, found that there was "probable cause to believe" that Beary had misused his position for personal benefit, and that he may have used knowledge he'd gained as sheriff and co-chair of an FDLE regional task force to gain his nonprofit's $200,000 FDLE contract.
Those ethics charges are still pending.
What accountability?
In January 2004, a white OCSO sergeant shot and killed a fleeing, unarmed black man whom he thought was a homicide suspect (he wasn't the right guy). A week later, before the internal investigation had concluded, Beary put that sergeant back on the street, angering the black community. The sergeant was ultimately cleared.
But Beary came under pressure to grant more autonomy to the Citizens Review Board, a group established by a 1992 referendum to evaluate disputes of police brutality. That board, which had fallen under the purview of the sheriff's office, had with very few exceptions sided with the OCSO's internal affairs conclusions; in four of the six times the board differed with OCSO from 1998 to early 2004, Beary simply ignored its conclusions.
At first, Beary resisted the move to give the CRB some teeth, blaming one CRB member whom he said had a "disdain" for police officers for causing the hubbub. He eventually relented, but then he sent out a memo telling his deputies they didn't have to cooperate with the CRB if they didn't want to.
Our five-star general
Our sheriff thinks highly of himself. His office features an imposing oil painting of him in a Patton-esque pose, courtesy of an admirer. In the painting he wears five stars on his collar, as if he were a decorated military leader. And, as this newspaper reported in February 2005, in some of his 2004 re-election campaign materials, his uniform bore military decorations such as an Army Bronze Star, a Navy Silver Star, a Navy pistol marksmanship commendation and an Armed Forces Overseas medal.
Beary never earned those medals in the military; he bought them at military surplus stores and used them as OCSO commendations – including, apparently, some for himself. He also claimed to be ignorant of the fact that doing so was not only disrespectful to the actual military service members who earned them, but it was also illegal.
According to Title 18 of the United States Code, Part 1, Chapter 33, Sec. 704: "Whoever knowingly wears, manufactures, or sells any decoration or medal authorized by Congress for the armed forces of the United States, or any of the service medals or badges awarded to the members of such forces, or the ribbon, button, or rosette of any such badge, decoration or medal, or any colorable imitation thereof, except when authorized under regulations made pursuant to law, shall be fined under this title or imprisoned not more than six months, or both."
Beary told us – as a side note, it was amazing in and of itself that the sheriff called us back on this one, considering that his own office told this newspaper in 2004 that we had been blacklisted for critical reporting on the agency – that he bought the surplus medals to save money, and promised the practice would stop.
Fortunately for journalists in this town, the sheriff's bombastic nature never has.
jbillman@orlandoweekly.com