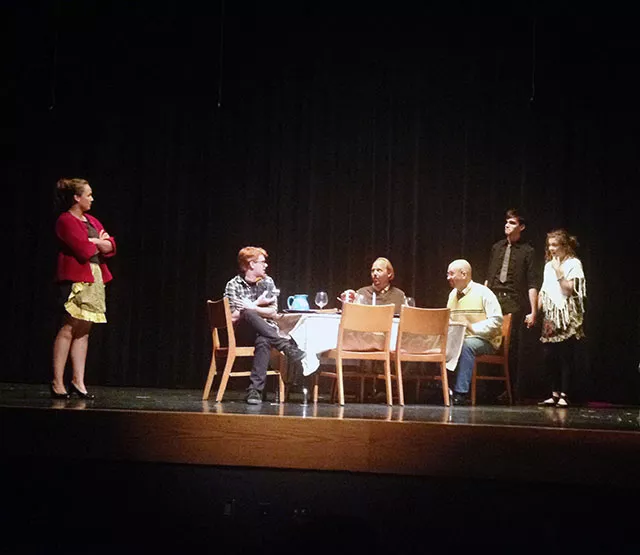 Legendary composer-conductor Leonard Bernstein once opined that "to achieve great things, two things are needed; a plan, and not quite enough time." Though artists pine for unlimited resources, the most enduring work is usually crafted under seemingly impossible constraints, while unfettered creativity usually results in crap. Nothing sharpens the mind (or pencil) better than a looming deadline. If you wanted to see the salutary effects of stunted artistic incubation, you should have been at Lake Howell High School on Saturday for the latest – and, in my opinion, strongest ever – Play-in-a-Day event.
Orlando has hosted several short-term creative competitions, including the recent 48 Hour Film Festival (see Orlando Weekly's Sept. 4 cover story), but Play-in-a-Day is the largest and longest-lived such local event. That's not to say it hasn't gone through many changes in the last 15 years, starting with its sponsors: Once a SAK Comedy Lab activity, it has been recast as a fundraiser for the Orlando International Fringe Theatre Festival, the Central Florida Theatre Alliance and Playfest, the Harriett Lake Festival of New Plays. The one constant has been Beth Marshall, who has now produced the project for 10 consecutive years. Since 2012, Marshall has partnered with Lake Howell High School and James Brendlinger's Penguin Point Productions, funneling the evening's $3,000 proceeds to fund both a scholarship for District 3 high school thespians, as well as Beth Marshall Presents' 2013-14 season, which continues with next month's world premiere of Alice Lost in Wonderland in Winter Garden.
Though I'm too faint-hearted and fond of sleep to directly participate in PIAD, I've been attending it more or less faithfully for most of a decade, and can confidently claim that 2013's edition was the most epic ever. For starters, a record-setting 100-plus artists participated in the project, producing nine unique playlets that required an astounding three and a half hours to perform (counting introductions, intermissions and auctions). Emcees Dennis Giacino and Fiely Matias (of the much-missed "Oops Guys") warmed up the crowd with a musical selection from their classic coolie cabaret Asian Sings the Blues (aka Lounge-zilla!) and later brought out Lulu Picard to belt Mulan's lesbian anthem from their Off-Broadway-bound musical Disenchanted!, which returns to Orlando next week. Between plays, while the backstage crew of Lake Howell students (tech directed by Darth Knapik) shifted the swiftly assembled scenery, Giacino and Matias interviewed the author and director of the just-completed piece, eliciting comments on their elation and exhaustion after writing all night and rehearsing nonstop since 7:30 a.m.
Each annual PIAD features a different theme, presented to participating playwrights at 6 p.m. on the night prior to the premiere. In 2011, the last time I wrote about the event, the theme was the relatively straightforward "theater history," but this year's phrase, "I never thought I would be in a situation like this," inspired some wildly diverse interpretations. Further, there is always a "twist," which this year was a surprise even to the audience: We gradually realized that actor John Edward Palmer appeared in every piece, mute except for the thematic quote. Andy Hayes, winner of last year's PIAD audience choice award, executed this element most inventively, breaking Palmer's single line into bite-sized bits ("I never!"/"Thought I would."/"Bea …") throughout the scene.
Finally, in an additional innovation, each author was assigned a different running time, ranging from 12 minutes to 60 seconds. Viet-Dung Nguyen (with director Jeremy Seghers) turned the longest slot into an emotionally draining drama about a dying bigot whose five children turned out Eighty Percent gay. At the other end of the time slot spectrum, John DiDonna's Sixty or Die (directed by Gabriella Juliet Beals) somehow squeezed four miniature acts into a single minute of breathless mathematical gibberish.
The evening's big winner was Janine Klein's siCHoo aSHen, a heartbreaking yet empowering semi-autobiographical memory play about absent parents and abusive neighbors. Sensitively directed by John Valines, with a talented trio of actresses (Cara Fullam, Melina Countryman, Jamie Middleton) simultaneously embodying the same woman at different ages, this 10-minute gem won 2013's audience award by a one-vote margin; I claim full credit for casting the decisive ballot. This was the first public performance of a drama penned by Klein, who is better known for performing broad, boozy comedies like Gay Bar Star.
Rome wasn't built in a day, but PIAD proves that you can become a playwright in a night.