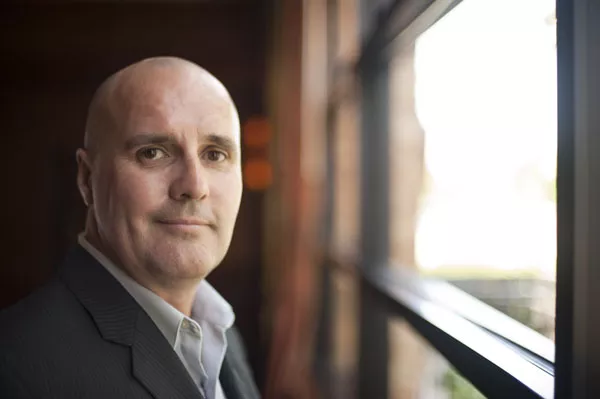 Carlos Amoedo
Speak the speech - John McLoughlin gives small-business owners a place to network and practice their public-speaking skills
Every Tuesday and Wednesday morning around 6 a.m., John McLoughlin emerges from his Lake Buena Vista home carrying a large, metallic briefcase. On Thursday mornings around the same time, the 51-year-old British national, shaved bald and dressed in business attire, leaves home with two such briefcases, which he puts in his Range Rover and carts off to a Perkins restaurant on Sand Lake Road.
"My neighbors must think I'm a drug dealer," McLoughlin says.
But the man who leaves with the suspicious cargo every morning is actually the leader of Business Connections of Central Florida, a "networking referral and hot leads" group he launched around this time last year. McLoughlin dedicates a separate briefcase to each of his organization's four groups, two of which meet on Thursdays, all of which feature roughly two dozen members and convene over breakfast or lunch. At these meetings, a scrappy bunch of small-business owners, entrepreneurs and salespeople – all of whom are the sole representatives for their professions in the group – come to develop relationships they hope will translate into profits. Though it's not an original idea, it's one on which McLoughlin has put his own paternal twist. At the meetings, he coaches people on public-speaking skills as well as sales strategy. He's also provided a forum for oddball businesses, ranging from herbal-supplement sales to hypnotherapy, provided that they exhibit the same professional conduct as the attorneys and realtors in attendance. And McLoughlin, who earns a living as a home inspector, has made Business Connections a profitable business for himself – one he is considering expanding toward the Tampa area and eventually franchising.
On a recent Wednesday morning at the Orlando Sun Resort in Kissimmee, McLoughlin presides over 20 people seated in a room that features a disco ball hanging below stained-glass windows. Immigration attorney Arch Davis sits next to herbal-supplement salesman Tom Rose, whom McLoughlin calls on to speak. Rose stands and reads from his prepared remarks: "We represent a holistic approach to nutrition. The wellness industry is the next trillion dollar industry; we're [in] the midst of it … ." He continues until a timer in McLoughlin's hand rings, signaling that his minute is up. "Excellent. So we're looking for personal trainers, people who are not happy with their nutrition," McLoughlin says.
It is in this manner that the first half of all three of McLoughlin's 7:30 a.m. breakfast meetings (and one noontime lunch meeting) are conducted: Members stand to give timed "elevator speeches" about their businesses, and McLoughlin summarizes what the business wants in a couple swift sentences. The information in the speeches isn't necessarily what McLoughlin or members are paying attention to – after all, it's the same audience hearing about the same businesses, week after week – but rather, the delivery.
"A lot of the businesses that I take on are businesses that are struggling. They're really in need of direction; they're in need of connections. So I take them on and I mold them," McLoughlin says. "Within three or four weeks, you can see a considerable difference in the confidence in people who stand up and promote themselves."
One of those people is Bill Hess, an accountant who says he would barely speak for 20 seconds when he first began, let alone "network" with other people. Now, he says, "I network doing anything."
Hess also says that McLoughlin taught him to "target" his audience. "If your aims are really general, he'll throw you a phone book and say: 'Here's your leads right here.'"
Businesspeople pay $150 per year to be a member of McLoughlin's group, but willingness to pay doesn't guarantee entry. McLoughlin conducts a personal interview with an applicant, then consults with an informal committee of trusted group members before accepting somebody – assuming that the slot for one's profession isn't already filled. Punctuality and attendance are strictly enforced, and missing more than three meetings per six months without a "substitute" is grounds for dismissal. A member is also expected to have lunch with two other members in the week between meetings. ("Runs a tight ship" was used by three different members to describe McLoughlin.)
"John's group is kind of like a religion. You go there every single week, without fail," says Robert Riley, a tech support professional who says that his business has grown since joining McLoughlin's group. Riley says that though the attendance rules are strict, they're in place to make sure a sense of professionalism stays intact. "People ask, 'Why do I have to turn up every single week?' Because it's a reflection of you and how you do business."
The core model of McLoughlin's group is not unique. Many chambers of commerce feature similar leads groups, and BNI International, a "business networking and referrals" company, which has 24 chapters and 546 members in its Orlando franchise alone, has been conducting meetings similar to McLoughlin's for 25 years. But the corporate air of a large-scale operation can be a turn-off to some people, such as Robert Mello, owner of a tile and carpet business and a member of Business Connections who used to attend a BNI group. "It was too big," Mello says. "You were like a number."
McLoughlin was once a BNI employee, but in 2007, after a year of being a group leader, he resigned from the company because he felt constricted by being allowed to manage only one group. Since he was at that time a member of the British American Chamber of Commerce of Central Florida, the chamber encouraged him to set up several such groups around Orlando under its umbrella, which he did.
But less than a year later, McLoughlin decided to break away from the chamber and start his own organization. Since then, the chamber has shuttered three of its leads groups, while McLoughlin has added three. "It created a bit of bad will and a bit of sadness at the same time," says Ed Beshara, president of the chamber.
It's a testament to McLoughlin's skill with organizing such groups, but also, his shrewdness as a businessperson. "I was doing this for other people, but I wasn't earning any money for it," he explains. He says that he now earns about $30,000 a year from Business Connections and puts about $5,000 back into the business annually.
Like any salesman, however, McLoughlin is prone to exaggeration. McLoughlin boasts of Business Connections groups in the United Kingdom and South Africa, but a closer look demonstrates that the said groups are similar in name only, and connections with the group in Orlando are threadbare. "I don't think any of the members have particularly found the connection of great value," says Gerald Sutherland, former president of The Business Connection in Cape Town, South Africa.
But back here in Orlando, group members seem to feel differently. "To be honest, he's the best I've ever seen at doing that job," Riley says. "Everybody thinks that they can do it. But it's really not easy at all."