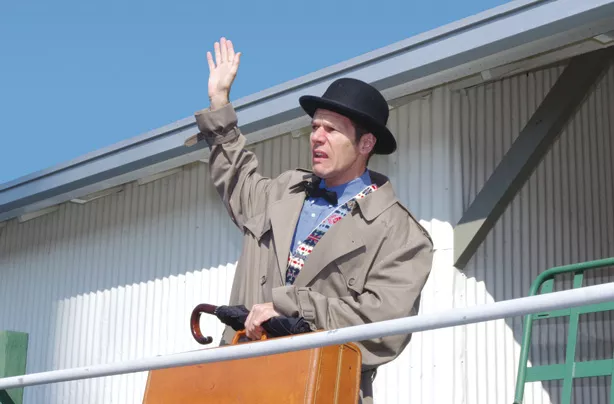 The Foreigner
through April 1
Garden Theatre
160 W. Plant St., Winter Garden
407-877-4736
gardentheatre.org
$24

Playwright Larry Shue had only authored a handful of works before dying in a 1985 plane crash at age 39. His best-known play, a 1983 farce called The Foreigner, has since become a staple of amateur and community theaters worldwide, mostly because its broad characterizations and loony plot lend themselves to companies whose theatrical strengths may not place them among the best and the brightest. But however competent some of those productions may or may not be, in the hands of solid professionals, The Foreigner has the potential to be an outright gem of a show, and such is the Jester Theater Co.'s current incarnation of the play at the Garden Theatre in Winter Garden.

Under the expert direction of Jay Hopkins, the casting of this show – which good directors will tell you is 90 percent of the whole shebang's potential success – is absolutely perfect. Throughout the hilarious two-plus-hour affair, there is nary a missed moment by any of Hopkins' skilled comedic performers, and it would be impossible to single out the best portrayal, as the ensemble worked so seamlessly well together. So I'll just list them by name and part: Keith Smith (Charlie), Bill Warriner (Froggy), Elizabeth Murff (Betty), Brett Waldon (Rev. David Lee), Gemma Fearn (Catherine), Don Fowler (Owen) and Will Hagaman (Ellard).

You may wonder why I haven't mentioned the show's plot; that's because it really doesn't matter. The play is a farce, and the plot is completely and totally arbitrary; the only thing that matters is how it is carried out – but here goes: A Cockney explosives expert takes his shy, unhappy friend with him on a trip to Georgia, where they stay at a ramshackle inn run by a ditzy septuagenarian and peopled by a Southern ex-debutante, her dimwitted brother, her smarmy fiance and a violent redneck who is plotting to do some grievous mischief. For an entirely specious reason, Charlie, the unhappy friend, pretends to be unable to speak any English – except that he clearly understands everything that is going on around him. See? I told you it didn't matter.

What truly matters is that this Foreigner is a flawless production – a strong script plus precise direction plus deft acting equals side-splitting humor and a perfectly enjoyable evening at the theater. My favorite show, so far, this year.