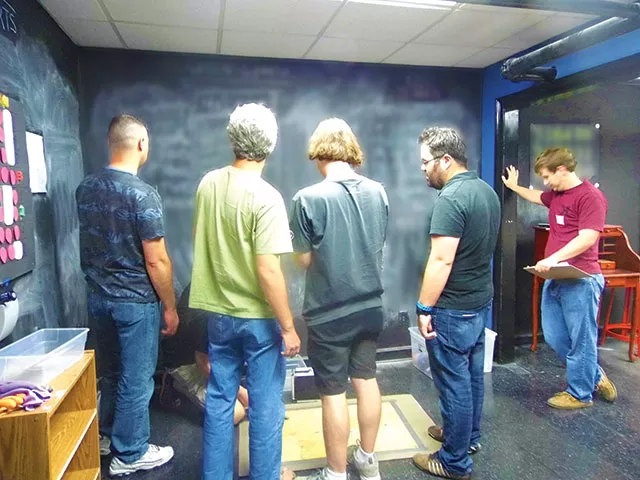 Gamification has become a burgeoning buzzword in Central Florida's amusement industry, as the merger of electronic interactivity and themed entertainment has accelerated at area attractions in recent years. From first-person shooters (Buzz Lightyear, Men in Black) to card-battling RPG (Sorcerers of the Magic Kingdom) to an Angry Birds exhibit at Kennedy Space Center, the line between video game and theme park ride has become increasingly blurred. But as a fan of classic adventure games – Infocom text adventures like Zork and graphic puzzlers like The 7th Guest – I've long wished for an analog analogue to that old-school intellectual experience. Disney once considered turning their abandoned Discovery Island zoo into a Myst-themed attraction, but the closest they've actually come is their Phineas and Ferb and Pirates of the Caribbean scavenger hunts, simplistic fetch-quests aimed at kids.
Finally, the form of brain-teasing interactive attraction I've always wanted has arrived, but not at a big-name resort. Hidden inside an unassuming downtown office space you'll find the Great Escape Room (thegreatescaperoom.com), which greeted its first guests a few weeks ago. A franchise that is also expanding to Miami and Washington, D.C., the concept is similar to other establishments found in New York and San Francisco. You and up to nine teammates are locked in a room and tasked with finding and decoding a series of clues within 60 minutes in order to effect your escape. Winners get bragging rights in the form of a Facebook photo, while losers are at least allowed to leave.
I got to experience the Great Escape Room last Friday, alongside Orlando Weekly social media maven Jacki Mick and a half-dozen local bloggers. I'd love to tell you all about it, but the first rule of the Great Escape Room is that you don't talk about the Great Escape Room. And the second rule … actually, the first rule (as listed on the liability release you sign before playing) is "Have fun," followed by "Anything may be a clue. Search EVERYWHERE!" and "If you need to use the restroom, please go before entering the room. Going in the room is strongly discouraged."
What I can reveal is that the adventure consists of several stages. First, you scour the space, disassembling (but not breaking) furniture and exploring every corner to collect color-coded objects which provide clues to four distinct puzzles. Once you've discovered all the components, you can solve the four challenges, each of which rewards you with a tool required to access the fifth and final puzzle. Decode the ultimate enigma before the clock counts down and you'll achieve triumphant egress; otherwise, the staff will unlock the door for you to slink out in shame.
I'm proud to report that my group accomplished our goal, completing the tasks with three and a half minutes to spare. We were forced to use all three hints provided after becoming stuck on some particularly obscure (or, in one case, painfully obvious) puzzles. You don't need encyclopedic trivia knowledge to compete, but some basic astronomy and Sudoku skills will come in handy. The only real requirement is a willingness to think laterally and take nothing for granted. Overall, I'd rate the challenge level at about a 7 out of 10; while some solutions were slightly frustrating, all are ultimately fair.
The Great Escape Room expects to run for at least a year, and if it succeeds as its creators hope, they plan on adding additional rooms to tackle. Currently, the puzzles are identical for every group, eliminating any replay value. I'd like to see improved theming and storyline – while we were initially briefed by an audio recording of "Sherlock Homes" that referenced a trap laid by "Moriarty," the room itself is blandly modern without a hint of Victorian England in the decor or puzzle design. The finale room needs some audiovisual pizazz, as the payoff is anticlimactic; and the entire experience would be much more immersive if the staff monitored players remotely, rather than standing in the room with them. Finally, at almost $30 for an hour's entertainment, the value proposition is a bit steep. I'd be more inclined to recommend it unreservedly with a $5 or $10 price cut.
Constructive criticism aside, there isn't anything else quite like this in Orlando. Try it as a team-building exercise with your co-workers or roommates and you'll quickly learn who keeps cool under pressure and who cracks in a crisis. Now excuse me while I fire up an old copy of the Hitchhiker's Guide to the Galaxy game – I got to find that bit of fluff and no tea.