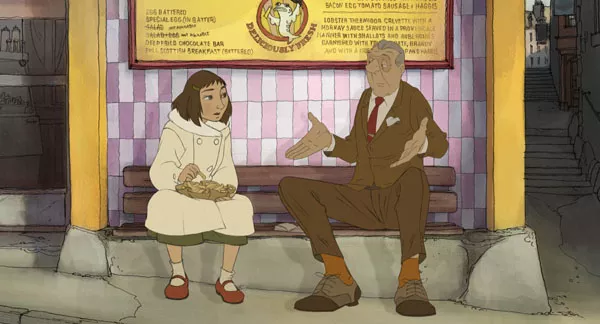 The Illusionist

4 Stars

PG

Modern-day slapstick comedy, as redefined by Jim Abrams and David Zucker and perpetuated by the Farrelly Brothers, comes in the form of a rat-a-tat string of gags: Some aren't as developed as others, which is OK as long as the supply of jokes outpaces the demand. By contrast, when French actor-director Jacques Tati filmed his succession of comic masterpieces in the '40s and '50s, he had the audacity to make them slow. In Mr. Hulot's Holiday or Mon Oncle, minutes go by without a joke, but the final yuk would be so inspired that it rewarded your patience.

The Illusionist is not a comedy, but that same sense of perceptive deliberation – the quiet observation of the banal – that Tati's films explored enriches every minute of this bittersweet elegy. Tati wrote the script and conceived the idea for The Illusionist in the late 1950s but never ended up filming it; had he gone through with it, the story's sense of hushed melancholy and paucity of humor would have come as a jarring surprise to followers of his Monsieur Hulot comedies. But it finds a welcome correlation with the low-key, hand-drawn animation world of Triplets of Belleville director Sylvain Chomet, who dusts off the half-century-old treatment to reveal an eternally poignant story of a surrogate father-daughter relationship.

Shot in the same sepia tones as Triplets, The Illusionist captures the decline of an endangered species: the traveling magician. We're introduced to the lanky title character on his final tour. Bumped off marquees by emergent rock bands, he pulls rabbits out of hats for empty concert halls and makes objects disappear for sloshed barflies. At a gig in Scotland, the illusionist meets perhaps his last admirer, a waifish girl named Alice who believes his tricks are the real thing.

Alice stows away with the illusionist for Edinburgh, beginning a mutually beneficial relationship between the aged entertainer and the daughter he never had. Where Hollywood (including Pixar) might go saccharine with this setup, Chomet prefers emotional restraint, filming the burgeoning relationship as a wordless series of small miracles – genuine magic moments in the blueprints of the everyday.

The film is essentially about a man confronting the obsolescence of his profession and, by extension, himself, in a callous world that no longer has a need for illusion. Tati discovered the beating heart in this dying milieu more than 50 years ago, and Chomet has gamely adapted the discovery in a manner befitting both men: slowly but surely.