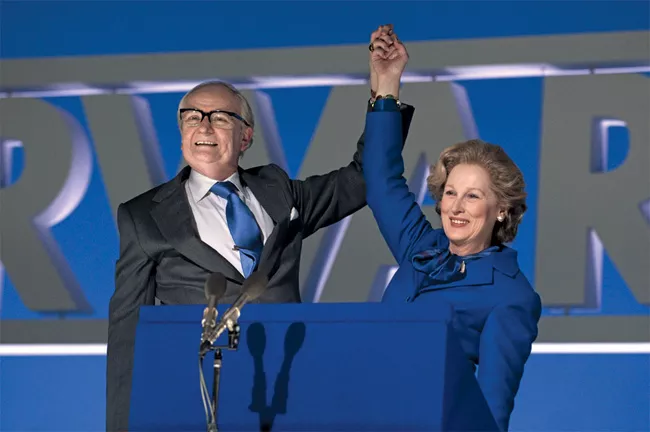 The Iron Lady
2 Stars
(PG-13)

Recently, a co-worker expressed a mixture of anticipation and caution with regards to The Iron Lady, the Meryl Streep-headlining biopic of the controversial former U.K. Prime Minister Margaret Thatcher. "I know Streep is going to make me like Thatcher, but I don't want to like her," my colleague said.

It's a reasonable fear. To those who grew up in the shadow of Thatcher and her U.S. soul mate, Ronald Reagan, her vitriolic battles with miners, white-collar economic policies and separatist foreign relations were always at unexplainable odds with her lower-class background as a grocer's daughter. Throw in the national disruptions of bombings by the Irish National Liberation Army and union strikes, and you have the recipe for a life story ripe for shading in and contextualizing. And with Streep's impeccable mimicry front and center – and it is something to behold, no matter the movie around her – it's not unthinkable that one might emerge from the theater with a new appreciation of the Iron Lady.

Unfortunately, director Phyllida Lloyd (Mamma Mia!) and writer Abi Morgan have no interest whatsoever in Thatcher's policies or her legacy. The Iron Lady sidesteps any analysis of what she did in office and why in favor of a frustratingly cursory glance at the major moments in her life – how she met her husband, Denis (Jim Broadbent), the acrimony others launched at a woman in power, the Falklands War, the Irish issues – which are employed as filler for a broader look at Thatcher in her senior dotage. Her main thrust in this life story: cleaning out her late husband's closet. No matter what your opinion is of Thatcher the politician, it can surely be agreed that this is no way to treat a highly successful person's life's work.

The Iron Lady is a cowardly enterprise, one that dramatizes its subject's conflict over balancing her demanding work life with raising a family by showing her practically running over her own crying, arms-outstretched children to get to Downing Street, then, decades later, having her watch old family videos of outings she missed. Does she register any of it? Does she feel any sense of longing or regret? It's hard to tell, because here comes Alzheimer's!

Why were her politics so contradictory to her upbringing? Never mind that, Lloyd figures. Let's watch a montage of Meryl Streep going through voice training exercises! You know, like that other Weinstein Co.-distributed biopic about another 20th-century British leader that worked so well!

The King's Speech did work (albeit not enough to claim dominion over The Social Network last year, and yes, I'm still bitter) because it centered around one particular time and, more precisely, one important speech. The Queen worked for the same reason. Why wasn't the same done here? Yes, Streep is remarkable, as she always is, but she and Thatcher both deserve a much better movie.