With white walls covered by student work, stacks of lesson plans and a collection of books, the classroom at the BETA Center in Orlando looks like any other. It's the smattering of baby toys atop shelves, and an infant wailing somewhere down the hall, that sets the room apart.
"When you're struggling and feeling like you have no control with the baby, it's harder to put them in that chair 50 times like the Supernanny," Noreen Lantry, an infant mental health specialist at the BETA Center, explains to a group of three teen mothers during a recent parent workshop. The center provides public school credit through a partnership with the Orange County School District for 145 pregnant Orange County teens and young mothers; 40 more women and girls are waiting for a spot in the program.
Florida ranks No. 6 nationwide in the number of teen pregnancies, and Florida teens account for 41 percent of all Chlamydia and 29 percent of gonorrhea cases statewide, according to the Florida Department of Health. More than 3,300 Floridians between 13-19 are HIV positive. A study released by the University of Florida earlier this month posits that the reason for statistics like that is the state's sex ed programs for students, which are ineffective and introduce materials too late, after many are already having sex.
In a state where abstinence education is the rule, the findings are significant, and lend credence to the need for an overhaul in the way that sex education is viewed and taught. Standardizing the haphazard sex ed taught to students throughout the state and moving toward comprehensive sex education is the answer, the report concludes. That may be tougher to achieve than it sounds.
Report: sex ed flunks
Sexuality Education in Florida: Content, Context and Controversy, released in its entirety this month by the University of Florida, reveals that the state's sex ed programs are failing kids.
The preliminary results of the statewide, yearlong sex education study were presented on Nov. 5 at the American Public Health Association's annual meeting in Washington D.C. Final results were released three weeks ago.
Dr. Brian Dodge, the principal investigator, who has since left UF to head up the Center for Sexual Health Promotion at Indiana University, says the study was prompted by concerns that began building a few years ago. Dodge noticed that some Florida public schools would invite a state health department representative to talk about abstinence one day, then invite someone in the next day to talk about contraceptives. Often the messages contradicted each other.
He set out to determine what types of sex education were being taught in Florida. He came up with a clearer picture of how sex ed has failed Florida students, and will continue to do so unless it is overhauled.
"What we found was quite concerning, particularly in light of the fact that levels of sexually transmitted infections and unintended pregnancies continue to rise in Florida and the state ranks second in the nation in terms of annual incidence of HIV infections," Dodge says.
A lack of standardization and uniformity across the state is a major problem, the report states, with 55 percent of districts using self-created curriculum and 37 percent using free or donated materials.
"In short there appears to be absolutely no uniformity in terms of underlying value systems or philosophical foundations for sexuality education in Florida," says the report. "In Florida, thus far, such a 'minimum standards' evaluation has not yet taken place and is desperately needed."
Many school districts have no standards for who can teach the curriculum. For most schools, the task falls to a health, science or physical education teacher, or a school nurse or counselor. Few districts reported staff training standards or quality assurance measures; only half surveyed reported receiving any training in the topic. One Escambia County teacher responded that there was no standard curriculum at all, notes Dodge. "There's just so much diversity it was almost chaos," he says.
Additionally, sex education is occurring too late, often not until 10th grade when many students are already sexually active, Dodge says. As one Clay County teacher responding to the survey wrote, "This needs to be taught earlier than high school. Many of my students are sexually active as early as sixth or seventh grade. By the time they reach the ninth grade, some have had a baby or an abortion."
Dodge found that 16 percent of districts statewide reported that all their students get some form of sex ed, while 13 percent of districts said they don't offer the topic at all. Most reported that students received less than 20 classroom hours of sex education during the 2005-2006 school year. A frustrated Pinellas County teacher wrote, "This is a topic that needs to be taught to all students. Unfortunately our state does not agree."
When asked about content, Florida schools districts overwhelmingly reported that they concentrate on teaching abstinence-only education. Of the responding districts, 97 percent said they teach abstinence is the only certain way to avoid pregnancy, sexually transmitted infections and other health problems, while 85 percent taught the importance of self sufficiency before engaging in sex and 82 percent taught that abstinence from sex outside marriage is the expected standard.
Dodge says the effectiveness of the abstinence programs weren't evaluated because published studies have already shown them to be ineffective. "The bottom line is that sex ed varies widely and many miss out altogether," he says.
Abstinence plus
Orange County uses what's known as an "abstinence plus" curriculum, with very specific guidelines about what can be introduced. Here educators straddle a line between comprehensive programs that discuss sexual identity, contraceptives and abstinence, and strict abstinence programs that do not include discussions of birth control and advocate abstinence until marriage.
Adopted in 1991, Orange County's guidelines require that decision-making skills be stressed at every level, that the reproductive system be taught in a "sensitive fashion," that homosexuality be presented factually (though the district has no particular lessons on the topic) and that disease prevention be taught. Most of the guidelines, however, relate to getting across the abstinence message.
"A positive, proactive and practical message of abstinence from sexual activity before marriage should pervade the entire curriculum, especially at middle and high school levels. Strong curriculum emphasis on self esteem should be the foundation of a convincing abstinence message," read the guidelines.
Family planning, contraceptives and birth control are presented in the program, but not to extent that abstinence is diluted. The demonstration of contraceptives, such as condoms, is prohibited.
Kindergarten, first and second-grade students begin with the basics – focusing on learning body parts, the roles of family members, the emotions and feelings of body changes during puberty, hygiene, how to handle conflict, simple awareness of child abuse and the risks of HIV and AIDS. (Because of their age, students learn only basics about the disease.)
Fourth and fifth-graders expand on each of those topics but also learn about how the human reproductive system works. A video about puberty is shown to fifth-graders toward the end of the year. Listed among curriculum topics is abstinence and decision making for fourth- and fifth-graders, though the district has no elementary-level abstinence lessons.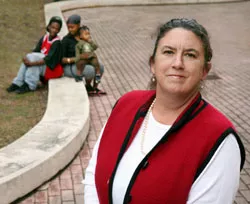 Kathy Bowman-Harrow
Kathy Bowman-Harrow, a health education resource teacher who shapes the district's sex education curriculum, says the elementary sex education program, developed in 1989, is outdated. It will likely be revamped this summer, Bowman-Harrow says.
"At the fifth-grade level students are more mature than they used to be so we may add more content," she says, adding that the move would happen only after input from parents and others in the community.
Most of the curriculum, however, is aimed at middle schoolers. Sixth, seventh and eighth-graders focus on dealing with the pressures of society, drug abuse, the reproductive system and the process from fertilization to birth, sexual abuse such as rape, preventing sexually transmitted diseases including HIV, parenting, abstinence and a brief lesson that includes contraceptive options, along with the definitions of adoption and abortion.
For each lesson (there are 17 in sixth grade) teachers receive an information packet and are allowed to teach the lesson a variety of ways – by showing a video, inviting a speaker, a simple lecture or through activities.
High school students are only exposed to sex education during their freshman year when they take Life Management, a required class. The health course reviews sex education topics including abstinence, birth control, sexual abuse, sexually transmitted disease prevention, personal and community standards, pressure and decision-making. But much of that course is devoted to other health related topics such as alcohol and drug abuse, nutrition, exercise and general safety.
Birth control is mentioned only briefly, though Bowman-Harrow says some teachers don't get through the district's entire curriculum so some may miss out on sex-related topics altogether.
There are topics on which teachers may answer questions (if comfortable with the question and knowledgeable about the answer, per district guidelines) such as abortion, adoption outside of the Safe Haven Law, sex, masturbation, sexual identity or orientation. But there are no lessons on those topics and if students don't ask, they won't be discussed.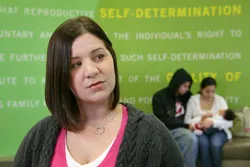 Jenna Crawley
Mixed messages
When asked whether Orange County's program adequately informs kids, Jenna Cawley, director of education for Planned Parenthood of Greater Orlando, sighs.
"It may not be the most progressive program, but it is medically accurate," Cawley says, noting that some topics such as gender identity, sexual orientation and abortion are not covered.
The trouble is that kids don't get solid information. With perfect use, she says, condoms are 98 percent successful. But students often get mixed messages about their effectiveness.
A video about contraceptives shown to Orange County students titled "Abstinence First: Teen Birth Control Decisions" shows teens rattling off statistics that latex condoms are between 85 percent and 99 percent effective, and giving an even larger range of failure for female condoms – between 75 percent and 95 percent.
"Kids think they don't work so they don't use them," she says.
The lack of standards means that teens who have sex may be ill-prepared, says Julie Kay, a senior staff attorney for the sexuality and family rights program of Legal Momentum, a Washington-D.C.-based group that works to advance the rights of women and girls.
"There are harmful implications of abstinence only (programs)," says Kay. "Women and girls are the ones that suffer. They're the ones that get pregnant, have a greater propensity for STDs, AIDS and gender inequality; women are the gatekeepers."
Kay says the age of sexual debut and the average number of sexual partners remains the same for teens attending abstinence-only programs versus those who were taught comprehensive sex education. But teens taught only abstinence, or limited or incorrect contraceptive information, are less inclined to use condoms.
"Research has been very conclusive that these programs are ineffective," Kay says. "It fuels misinformation and inaccurate information about condom use that discourages condom use. People are not waiting and we're missing an opportunity to educate about condom use. When all we're taught is to fear it, we're left with no tools to keep us safe."
Abstinence-only advocates say they are helping kids make tough decisions. Dr. Sally Lorbach, director of housing and healthcare for Catholic Charities, teaches non-religious abstinence sessions that focus on "giving students the ability to think with what they know before engaging in premarital sex" and helping teens resist negative pressure to engage in high-risk behaviors such as tobacco or drug abuse, alcohol and sex before marriage.
"Our goal is to reduce the number of unwanted pregnancies and any type of sexual behaviors before marriage," Lorbach says. "There are a lot of decisions made based on a lack of knowledge."
In addition to a school and halfway house for pregnant teens and teen mothers, the BETA Center, which receives federal abstinence funds, provides abstinence education through after-school community events.
"We really don't get into political rhetoric as to whether this (abstinence education) is the only thing that works or not," says Hope Kramer, president and CEO of the BETA Center. "I don't think anyone could claim that just one method works."
Kramer references the recent Centers for Disease Control and Prevention report that indicates teen pregnancy rates spiked three percent last year, the first national increase in 14 years, and says there are bigger issues than focusing on which method works best.
"We're seeing a greater number of young kids," she says. "I've been here 10 years and when I started there was one middle school kid. Now we have over 60. That's a huge increase."
Currently, the program's youngest teen is 13, though an 11-year-old was enrolled in the program at one point. The average age of girls in the program is 16.
The district doesn't track the percentage of middle schoolers having sex. But approximately 47 percent of Orange County high school students in grades 9 through 12 have had sexual intercourse, according to the results of the 2007 Youth Risk Behavior Survey, a study developed by the CDC to assess how risk behaviors change over time. Of that percentage, 8 percent lost their virginity before the age of 13, and 14 percent have had sex with more than four partners. About 67 percent claim to use condoms, while 12 percent say they use birth control pills.
Orange County's sole source of sex education funds is through the $272,000 CDC grant that includes $40,000 for its participation in the Youth Risk Behavior Study. The remainder is used to purchase resources, pay for staff training and provide funds to update the curriculum. The CDC provides the funds to districts that provide fact-based information, regardless of whether or not they teach abstinence only or comprehensive sex ed. Florida counties that receive the funds, including Orange, Palm Beach and Miami-Dade, all provide information about contraceptives.
The fix is change
The UF report is very clear about the solutions. It recommends implementing a comprehensive K-12 sex ed program that is scientifically and medically accurate, consistent with community standards, non-judgmental and value aware without imposing religious beliefs. Dodge says the program also should be age appropriate, taught by trained teachers and made available to every student unless opted out by a parent.
"In order to remedy the current situation, state organizations and advocacy groups located within the state may consider initiating campaigns to promote responsible sexuality education in Florida's public schools," the report notes.
"We want to take the information gained in the study and transform it into policies that can create change," he says. "The last thing we want to come out because of the study is saying that teachers are not as good as they should be. The teachers really did report favorable attitudes to the information but are constrained by their environment. On these issues – hot button issues – there has to be a middle ground."
It sounds simple, but many conservative districts likely would balk at the idea of comprehensive sex ed. Seminole adopted their strict abstinence programs based on community input and largely represents what the residents there desire, a school district spokeswoman says. Same goes for Osceola, though neither has much interest in debating public policy when, as it stands now, its school board can dictate district policy.
One proposed solution to press for the sweeping changes the report recommends was dual bills introduced by State Rep. Dorothy Bendross-Mindingall and State Sen. Ted Deutch in collaboration with what the University of Florida researchers called the Healthy Teens Act. The legislation, announced Jan. 8, was based on the findings of the study, and aims to require all Florida districts to teach a standardized comprehensive curriculum that is factual and medically accurate beginning July 1.
"There have been efforts previously to require comprehensive sex education, but in light of the recent (report) by the CDC and the study at the University of Florida, and the fact that right now pop culture is dominating an awful lot of time to teen pregnancy, it seems like the right time to bring something like this forward," Deutch says. How that will play out remains to be seen.
dsheffield@orlandoweekly.com