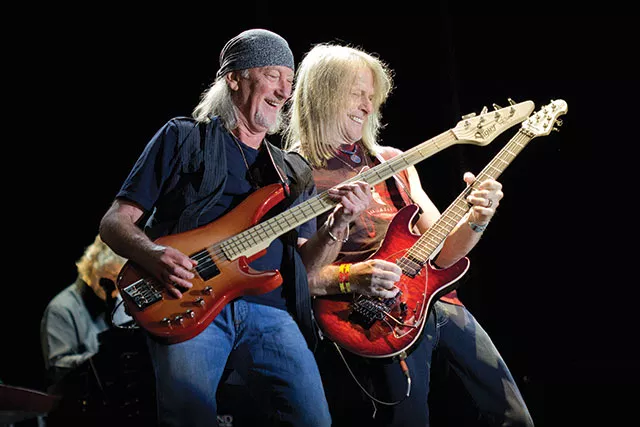 AN EVENING WITH DEEP PURPLE
8 p.m. Saturday, Aug. 30 | Hard Rock Live, 6050 Universal Blvd. | 407-351-5483 | hardrock.com/orlando | $48.50-$123
The music video for Deep Purple's "Call of the Wild" came out in 1987. It was from the second reunion album from the classic lineup of the band, the so-called "Mark II" lineup featuring guitarist Ritchie Blackmore, keyboardist Jon Lord, vocalist Ian Gillan, bassist Roger Glover and drummer Ian Paice (Paice being the only member who has been in every lineup of Deep Purple since its formation in 1968). This was the group that recorded the legendary stretch of albums from 1970 to 1973 that most people associate with the band and was responsible for classic rock staples like "Smoke on the Water" and "Space Truckin'."
The conceit for the video was cute: "Deep Purple doesn't do videos, so let's just hire a bunch of extras to stand in for them." Very post-modern. Very '80s. But also very sad, because it functioned as a sort of unspoken acknowledgement that "Deep Purple" as an idea was essentially more important than "Deep Purple" as a collection of exact people.
This is a band that had four different lineups between 1968 and 1976, and eight more iterations since 1984 (including two reunions of the "classic" lineup). And while other long-running bands have certainly had as many (or more) shifts in membership (I see you, Fleetwood Mac and the various Starships and Airplanes Jefferson), Deep Purple has remained remarkably faithful to their original intent. In fact, other than the two '80s "reunion" albums (which suffered from decade-specific flaws and some truly lazy songwriting), the quality of hard rock that Deep Purple produces has been both consistent and interesting. (In fact, I'd argue the output of the underrated David Coverdale/Glenn Hughes era has several moments that outshine the Gillan/Glover era.)
The latest lineup – which features Dixie Dregs guitarist Steve Morse in Blackmore's shoes and Don Airey in the deceased Lord's – has been together longer than any other formation of the band (12 years), and has also produced three albums that aren't just "good for a 40-year-old band," but also "good for a band making rock & roll in the 21st century." While Deep Purple is definitely a well-oiled classic-rock hit machine on stage, the breadth of material and skill of the players ensure that their shows manage to still inject excitement and even surprise into their sets. Seems that maybe all those blood transfusions over the years actually did the trick.