The vibrant sprawl of last year's inaugural Orlando Museum of Art Florida Prize in Contemporary Art elated viewers. Witnessing OMA's previously sedate galleries invigorated with video, large-scale installations, textile art and more felt exactly right, and the fact that it was all new work by Florida artists made it even more of a thrill. In our review ("Win, Dixie: Viewers are the real winners at this exciting invitational exhibition," Aug. 5, 2014) we hoped it was a precursor of things to come.
Our wish came true; the full-museum takeover of Maya Lin: A History of Water in the first half of 2015 paid off on the promise of bigger, better contemporary exhibitions. Now the Florida Prize is back in its second incarnation and it seems clear that it will be equally as vital.
Ten artists were chosen – Farley Aguilar, Bhakti Baxter, Cesar Cornejo, Michael Covello, Rob Duarte, Jennifer Kaczmarek, Nicolas Lobo, Wanda Raimundi-Ortiz, Alex Trimino and Antonia Wright – to compete for the "significant monetary award," juried by three Florida curators. (Last year's winner, Agustina Woodgate, was awarded $20,000.) All the artists will exhibit new or recent work, some of it made for this show.
"I'm creating a brand-new site-specific installation for the museum. I'm also showing recent paintings and works on paper selected by the [OMA] curatorial team," Covello, whose installation Hound on the Moor was recently seen at Maitland Art Center, tells us via email. "Around half of the 10 artists are doing a similar mix of recent work and brand-new installations."
The museum has posted some work-in-progress photos as artists begin fitting their visions into the galleries, for those of you who like teasers. If you're the no-spoilers type, the show opens with a grand reception from 6-8:30 p.m. Thursday, June 11, and hangs through the first week of September.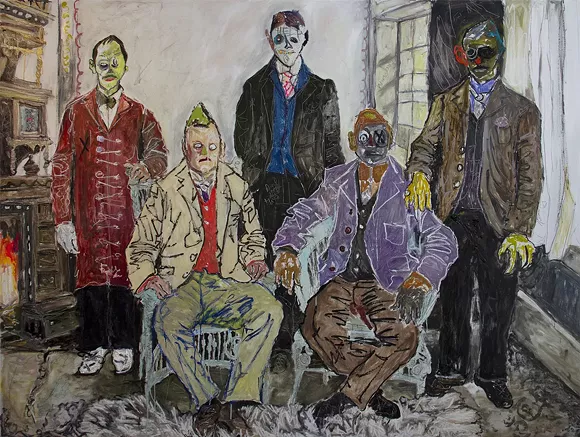 "Patriarchy," Farley Aguilar (2015)