Page 2 of 3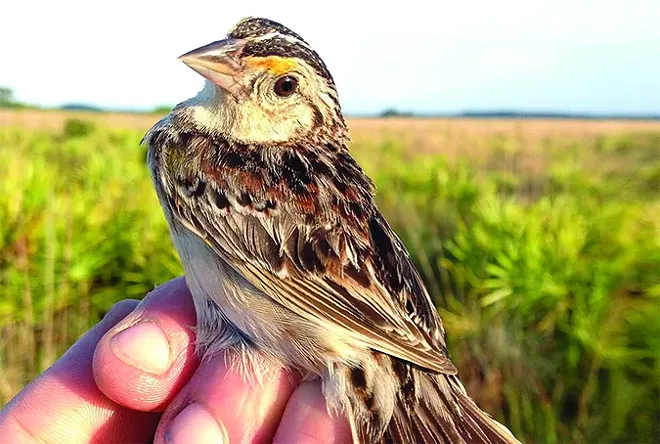 Photo courtesy White Oak Conservation Foundation
The sparrow resides exclusively on the dry prairie of the state's southern interior, a harsh, unforgiving ecosystem prone to frequent fires and occasional floods, where the sun beats mercilessly from a wide-open sky. Vegetation in its habitat primarily consists of clumps of native grasses, dwarf oaks and saw palmetto. It nests on the ground of this grassland, consuming bugs and seeds. Though it does eat the insect, the sparrows are named for one of their buzzing, grasshopper-like calls.
The decline of the Florida grasshopper sparrow began, by most counts, in the early-to-mid 20th century when most of its habitat was lost to citrus, sod and pine farms and pastures. Today between 5 and 15 percent of the Florida dry prairie remains. The remaining 45,000 hectares is in mostly isolated pockets scattered throughout its original territory.
In 1978, the state listed the Florida grasshopper sparrow as endangered; in 1986, it was added to the federal endangered species list. That year, official counts estimated there were 1,000 in the wild.
In spite of the fragmentary nature of remaining habitat, the population remained relatively stable for many years. In 2004, Florida Fish and Wildlife Conservation Commission reported that there were 1,000 Florida grasshopper sparrows in the wild. Sometime between the mid-aughts and 2012, first one, then another subpopulation went into freefall until there were steep losses across all populations. Nesting success plummeted, as did the over-winter survival rates for males. In just over a decade, the Florida grasshopper sparrow has declined by nearly 95 percent.
In the initial scramble, everyone knew they were disappearing, but no one knew why. Similar factors affect subgroups, but no one has been able to identify a unifying cause for its decline. Today researchers and land managers say that there may be no single smoking gun.
"This is 10 problems, maybe 20," says Schumann.
Paul Reillo, president of the Rare Species Conservatory Foundation, the first facility to launch a Florida grasshopper sparrow captive breeding program, agrees. "[It is] most likely a combination of factors: habitat conversion, climate change, fire ants."
This list is by no means exhaustive. Invasive hogs are another factor. Predation by other native and nonnative species is another. More extreme weather patterns is another. Competition for food from non-native species may also contribute; so too the effect of pest control on insect populations.
Nevertheless, the speed with which it has disappeared from the landscape has mystified those who have worked for decades to save the Florida grasshopper sparrow. Land managers have done an exceptional job restoring and improving existing habitat. Researchers have generated much-needed data on behavior, diet, life cycle, etc. U.S. Fish and Wildlife has also contributed significantly with both funding and public outreach. With more problems than solutions, it has become a sprint to preserve what remains of the wild population, rescue and breed as many as possible and simultaneously identify the cause for the sudden drop in population.
There had been talk of starting a breeding program, but the necessity was seen as relatively low until unprecedented numbers of Florida grasshopper sparrows started disappearing from the wild. In 2015, wildlife officials rescued eggs from flooded nests and transported them to RSCF; of the 23 eggs, incredibly, 21 hatched. They were the first to hatch from incubation.
"That's kind of a major feat technologically because those eggs are so, so small," says Reillo.
Today some of those same sparrows are in RSCF's breeding program, a huge, and crucial, feat for any such endeavor. As "naive" birds who have never bred before, the sparrows' first nesting attempts this year were a bit hit-or-miss, with females sometimes laying eggs outside the nest, then not sitting them. (Researchers remove these eggs and incubate them. On July 1, RSCF hatched the first egg to be incubated from day one – another major coup.) As the breeding season, which runs from roughly April to July, has continued, the birds' performance has improved. In yet another positive sign, genetic testing has found that the birds are not suffering from inbreeding depression, which often affects endangered species. These successes have researchers feeling cautiously optimistic.