Page 3 of 3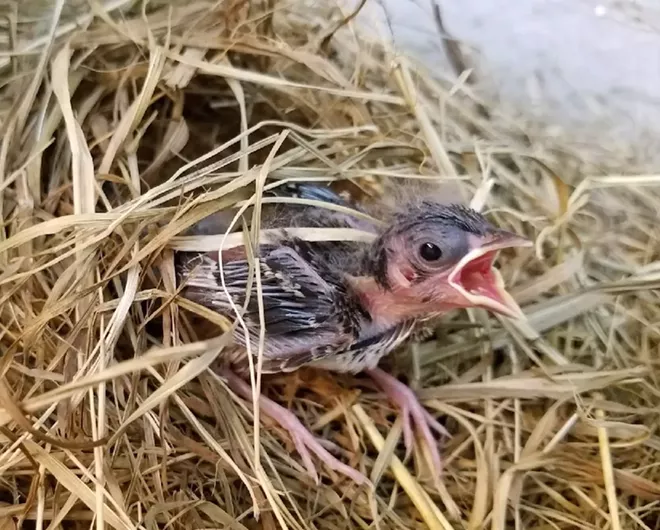 Photo courtesy White Oak Conservation Foundation
Still, captive breeding is essentially a Hail Mary attempt to save a species. Sometimes it works; sometimes it doesn't. Both White Oak and RSCF have incorporated lessons learned from other programs, such as the dusky seaside sparrow breeding program, which failed to save it from dying out in 1987. In the case of the dusky seaside sparrow, which lived in the salt marshes of Merritt Island and the St. Johns River west of Titusville, the breeding program began too late. Others, such as the California condor program, have successfully thwarted extinction.
A lot depends on how a creature responds to captive breeding. Happily, perhaps miraculously, not only can Florida grasshopper sparrows be successfully hand-reared – an intense undertaking that requires feedings every 30 minutes to an hour for 18-24 hours a day for the first week and a half or so – they also breed very well in captivity.
White Oak started with three wild-caught pairs and five offspring. By mid-June, they had 18 chicks. Researchers have observed sparrows attempting five nestings in a single season, and Schumann says that by the time the breeding season ends, their sparrows could rear as many as 24 more. Wild-caught pairs always breed better than birds raised in captivity, but RSCF has found that even captive-raised sparrows will successfully breed.
White Oak's management style differs from most breeding programs, where birds are kept in a more traditional, controlled environment. Its sparrow enclosures are built atop a grassy area measuring 30 feet long by 8 feet wide and 8 feet tall, creating as close to a natural habitat as possible. "I found a spot that if I was a grasshopper sparrow, I would live there," Schumann says of how they selected the site.
Though it's over 200 miles north of the sparrow's habitat, the open field containing the 14 enclosures does remind one of a miniature prairie. Six of the enclosures house Eastern grasshopper sparrows, which White Oak bred as it designed the program for the Floridian subspecies. Schumann says they were encouraged when, during migration, some Eastern sparrows stopped over for a while before continuing northward.
Breeding in a more natural environment does present some challenges, though. Before they could safely breed sparrows, they had to contend with over 90 invasive fire ant nests nearby. Controlling these voracious eaters with poison is not only relatively ineffective, it could harm the sparrows – a non-option. They brought in entomologist Joshua King, an associate professor at the University of Central Florida who has developed a diesel-powered machine that heats a large quantity of water to 150°F, which is then pumped into ant mounds with a probe, killing all within minutes. First used in 2015 to control fire ants near sea turtle nests at Fort de Soto to great success, King's provisionally patented, eco-friendly breakthrough in ant control is a lifeline for the Florida grasshopper sparrow.
King says that though it's long been known that hot water kills fire ants, before his invention, there was no practical way to do it in the field, a source of great consternation for researchers. "What we've seen with the grasshopper sparrow, [ants] kill all the hatchlings that emerge," King says. Now when wildlife officials locate a nest, they place fencing around it to keep out other predators, such as snakes or even cattle on private land, then he follows, driving in with the machine on a trailer to treat all ant mounds within 10 meters of the nest.
"The combined effort has resulted in not losing any chicks ... this is making everybody happy," King says.
Fire ant predation doesn't explain the sudden drop in all populations, however. Erin Ragheb, an assistant research scientist with FWC, studies Florida grasshopper sparrows at the Three Lakes Wildlife Management Area, which, along with Avon Park Bombing Range and Kissimmee Prairie Preserve State Park, is one of three public lands where the sparrows are found. (There are a handful on private lands as well.) Unlike the other two, Ragheb says that Three Lakes, where the largest wild population resides, had only identified one possible case of ant predation. This year, nest cams revealed that snakes and Eastern spotted skunks, all native species, were helping themselves to the tasty babies Reillo referred to as "the potato chip of the bird world." Three Lakes is currently exploring solutions.
Improving lower-than-usual rates of nesting success is critical, but that alone will probably not save the Florida grasshopper sparrow.
"There is no subpopulation that is doing well. There's no subpopulation that is doing less bad than the others," says Reillo. "They're all crashing very badly."
Most of the dry prairie was converted decades ago, and land managers have developed precise techniques that today offer more and better habitat than existed for many years. Yet before its population collapsed, the sparrows weren't utilizing all existing habitat. Nest predation, though serious, doesn't alone explain the free-fall. "We've recorded low rates of adult animal survival, but we have not pinpointed the cause," says Ragheb.
Recently, scientists may have come a crucial step closer to solving the mystery. Birds that perished in captivity, including juvenile offspring, have provided researchers with tissue samples that can help understand what is killing the sparrows. "A suite of potential diseases are affecting these birds in the wild and in captivity, and a suppressed immune system could very well be part of that puzzle," says Reillo. "The suppressed immune system could make those diseases far more serious." They are working with the University of Florida and the University of Georgia College of Veterinary Medicine Infectious Disease Laboratory to identify the cause. It's still in the early phases, but, if successful, they may figure out what's killing and possibly how to save the Florida grasshopper sparrow.
"The key to this, in terms of the little bit of the science, is if we can isolate these pathogens, then we can culture them, which means we have them growing somewhere, then we can sequence them," says Reillo. "Hopefully we can engineer a solution. Maybe it's already there; some birds could be already resistant."
This breakthrough, along with the early successes with captive breeding, have breathed fresh hope into what until very recently seemed an utterly desperate situation. But there is still much ground to cover.
Outreach programs have been helpful to increase public awareness, which improves the chances of saving any endangered creature, but with the federal government considering drastic cuts to Endangered Species Act funding, private support may be the only way to save the Florida grasshopper sparrow. Time is running out; a few years' delay could be the difference between extinction and recovery. "We have to do this through partnerships," says Reillo. "Sometimes conservation heroes come from the private sector, individuals who can make a huge difference with their philanthropy."
Captive breeding programs are crucial to keeping the subspecies viable long enough to solve the mystery of its collapse – and may also help deliver the solution to why the tenacious little sparrow is disappearing from the wild. Even as they celebrate recent triumphs, everyone fighting for the Florida grasshopper sparrow acknowledges that it is an uphill battle.
"There's a huge amount of challenges. We all know it. But we've got to try." Schumann smiled. "I'm optimistic."
This story originally appeared in the Jacksonville Folio.