Being that it's so damn hot down here for most of the year, it's possible that the only time you bust out your sifter and baking pans and turn on the oven for more than a quick broil is the holidays. It's a little ironic, then, that the tradition of baking beautiful layer cakes for the holidays is so entrenched in the blazing South. And as goes a Southern lady's hair, so goes her cake: "The taller the cake, the closer to heaven."
This year, consider embarking on a sweet sojourn that's a little more advanced than Toll House cookies. There's nothing more inviting than a tall, frosted, three- or four-layer cake on a beautiful cake stand in the middle of the table. There's nothing that says "come in and sit a spell," that signals "home," more invitingly. As Art Smith, noted Southern chef and owner of Homecoming Kitchen at Disney Springs, says: "Everybody loves a cake. It comforts us."
And with what 2016 has been to Orlando and this country – namely, one sucker punch right after the other – we could all use a little comfort.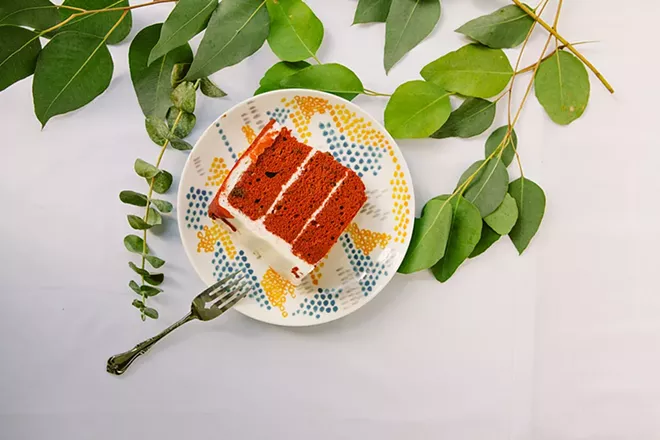 Cakes tell us a lot about who we are as a people and how far we've come as a nation. They're passed down from generation to generation, grandmamma to mama to daughter. In 1898, Emma Rylander Lane, an Alabama belle, published the cookbook Some Good Things to Eat. Inside was her recipe for Prize Cake (which later came to be known as Lane Cake in her honor), a four-layer white cake with a thick custard filling, studded with bourbon-soaked raisins. History ate up the Lane Cake, which gave rise to plenty of other Southern namesake cakes, like the "Robert E. Lee Cake." Harper Lee mentions it in To Kill a Mockingbird, and the sweet was a favorite of President Jimmy Carter, a peanut farmer from Georgia before he was POTUS.
From that point forward, lavish layer cakes became a staple of Southern cooking, making appearances at birthdays, graduations, weddings, funerals and always during the holidays. Anne Byrn, a Nashville-based author of the new American Cake cookbook, recently spoke to NPR about the true Americanness of cake. "Cake is an icon of American culture," Byrn said. "Why? Because it is celebratory."
The ingredients in cakes, and their structures – wavy layers jam-packed with sweet fillings and add-ins – also tell the story of an America made of immigrants. Ricotta cheese and almond paste from Italy. Coconut from the slave trade that came through the Caribbean. Chocolate and sweetened condensed milk from Mexico and Latin America. Orange blossom and rosewater from the Middle East, especially Lebanon. Like America, dessert is made better by diversity.
Heather McPherson, former longtime food editor at the Orlando Sentinel and now a food writer, publicist and cookbook author, says, "Layer cakes are a thing because they make an impression from the outside in. They rise like the crescendo in a Sunday morning hymn, they are blanketed with icing that comforts and can cover a multitude of baking sins, and they convey status that transcends a ZIP code."
Like pretty much everything else in the South, a cake also has a backstory. In this part of the country (from Central Florida up to Appalachia and as far west as New Orleans), certain cakes rule the roost, as they say: hummingbird, red velvet, caramel and coconut.
Smith, a sixth-generation Floridian, traces his family's heritage from England and Germany down through the Okefenokee Swamp in north Florida. His great-grandmother Margaret Geiger Smith, wife of a moonshiner, baked a 12-layer chocolate cake native to Alabama, Georgia and Florida that was her great claim to fame. The butter cake was made in a cast-iron skillet and sandwiched together with a cooked-fudge icing. Soon, Smith's hometown of Jasper (population 4,221 in 2013), near the Florida-Georgia state line, will be home to the Chef Art Smith Old Florida Bakery and Kitchen, where the historic lost arts of Deep South baking will be reintroduced and distributed to Smith's restaurants and, he hopes, throughout the South.
John Rivers, owner of the 4 Rivers Smokehouse chain of restaurants that also hosts the Sweet Shop at 4 Rivers, has a personal connection to the coconut cake that's almost always on the shelf at his bake shops. "The cake was included in honor of my wonderful mother, Teresa, to whom I attribute my love of coconut. It was only fitting to include her very favorite dessert in the Sweet Shop," he says.
However, according to Rivers, the far-and-away favorite at the Sweet Shop is their red velvet cake, a more recent addition to the Southern layer-cake lexicon, born of necessity when a baker didn't have any chocolate for a devil's food cake and used red food coloring instead.
Aimee Shea Vitek, former Orlando Weekly staffer and author of the food blog Order Envy, grew up in New Orleans. Her maternal great-grandmother was one of those intuitive cooks who rarely used recipes, but dished out a home run just about every time: "During the holidays, she would spend hours cooking a feast for our big family, which always included a spectacular dessert."
Vitek fondly remembers her hummingbird cake and apple cake sitting atop the Lazy Susan in the center of the table. She now re-creates those traditional cakes for her family during the holidays and sees it not just as a pleasure, but as a duty.
Vitek's husband, Kenny, also grew up with Southern layer cakes at his family table. The caramel cakes that his grandmother used to make for their Charlotte, North Carolina, gatherings were epic. "It was a cake meant for celebrations," says Aimee. "On our first Christmas in our first home, I asked his aunt for the recipe and attempted my first layer cake. The pure, super-sweet joy that emanated from my husband the minute he tasted that slice is a memory I won't soon forget."
The caramel cake is McPherson's favorite, too: "It requires patience to get the caramel just right, but it always says 'special occasion' to me."
Linked here are three of Aimee Vitek's go-to recipes: Grammie's Apple Cake, Grammie's Hummingbird Cake and Gamma's Southern Caramel Cake.
Practice what you preach (amen!)
The first time Heather McPherson tried a caramel cake – at a church social, mind you – she knew she had to make one. "The texture and icing were otherworldly. I wanted to make one from scratch."
According to McPherson, a 25-year veteran of the test kitchen, working through a recipe is a magical dance. "It's OK if you don't get it right the fwirst time, but that experience teaches you a skill or technique you won't forget for next time."
If you think you might be ready to try your hand at making one of these super-colossal sweets for your holiday dessert table, here are some tips from the pros:
Andrea Zelen, director of bakery operations, the Sweet Shop at 4 Rivers:
— When the cake pans are filled with batter, spin them gently on a flat surface. The centrifugal force will pull the batter to the outside edge of the pan, creating a flatter layer once baked.
— Always allow cakes to cool before frosting.
— When stacking the layers, place each layer upside-down so the flattest surface is on top.
— Before you frost the final layer, apply a thin layer of frosting over the entire outside of the cake and freeze for 10 minutes, then apply the final layer of frosting. This locks in crumbs so they don't show in the final product.
Heather McPherson, recipe developer, food writer and cookbook author:
Follow the recipe to the letter. Baking is edible chemistry, and it's often unforgiving.
— Buy quality ingredients, including flour. Gold Medal and King Arthur are my go-to brands.

Chef Art Smith, chef-owner of Chef Art Smith's Homecoming at Disney Springs:
— Calibrate your oven to make sure you have the right temperature before you start baking.
— Take your time, watch carefully, and measure every ingredient.
— Use parchment on the bottom of your cake pans and butter the parchment for easy removal. Your cakes won't stick to the bottom of the pan that way.
— Don't be afraid to make a cake in advance and freeze it. Once it has thawed, it'll be just as delicious as if you made it the same day.