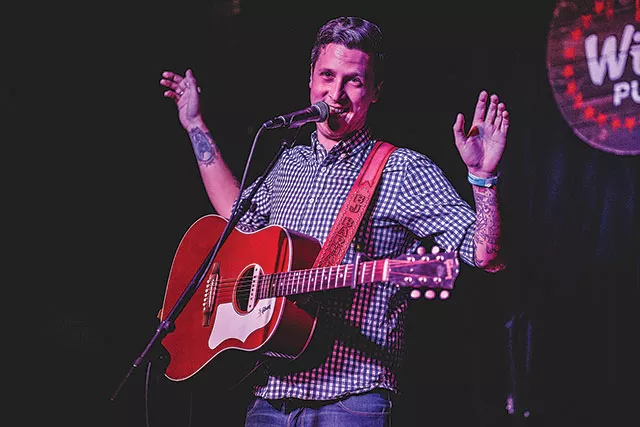 PHOTO BY JAMES DECHERT
BJ BARHAM
The Milk Bar just announced the appointment of local scene-mover Jessica Pawli to managing partner. The Southern Fried Sunday impresario's event-making thumbprint can be seen all around the area on the earthier side of the music scene. Knowing her history and sensibility, this significant reload will likely mean more live music in a place not especially known for it, already evidenced by the addition of a small stage. Cheers to that. Time to watch their calendar anew.
The Beat
North Carolina's BJ Barham (Aug. 4, Will's Pub) writes some excellent songs – some of today's best barroom country-rock, in fact. And, with the full wingspan of his band American Aquarium, he knows how to dress them up royally and just right. But his solo shows are a different kind of engagement altogether, and they're concentrated on gravity and character.
What makes him as evocative as a raconteur is that he writes directly from his life and opens his veins, but the well from which he draws ink has gotten deeper and more complex in recent years. Sometimes it's to his misfortune (despair, addiction), sometimes it's to his salvation (love) – but for the listener, it's all compelling gold. And it's only enriched his solo expression.
A BJ Barham performance is like a Storytellers session, a generously narrated experience that ushers you into the very den of his heart. He's in the glow of new engagement at the moment, and so much of his set (despite the sizable audience immediately before him) was directed toward his fiancée, who was minding both his wares and their dog at the merch booth. That energy gave his raw country confessionals some added power and light.
But, of course, there are those songs that make the story worth delving into in the first place. And what's making those already good songs even better is that his voice now reflects those emotional miles, adding a little Lucero heart into his sweet Whiskeytown twang.
For a touring musician, Barham has put in years of hard work here and has woven himself into the fabric of this city's music scene. There's always something to be said for that. When you add up his talent, warmth and work ethic, you've got the kind of artist that builds more of a cult than an audience. And this was a sing-along crowd with an especially loud group toward the back. Trust me, I know most of the true believers in that chorus – if you got them, you did your work right.

Sweet serenade: Photos from BJ Barham and Kaleigh Baker at Will's Pub
Local star Kaleigh Baker opened. No matter how many times I hear it, her singing knocks me down. It's a rare, gorgeous, dead-raising force capable of absolutely anything. The world at large doesn't know it yet, but Baker's brick-built voice is one of the greats. And because of that, there is nothing quite like seeing her solo. Not that any band in the world could overcome this Florida hurricane, but hearing her sing in such a nude, unfiltered state grips the soul like a throat.
Besides being the Asian analogue to "gringo," Round Eye (Aug. 8, Will's Pub) is also a Shanghai band with a local tie via guitarist-vocalist Craig "Chachy" Englund of standout Orlando punk band Libyan Hit Squad. A model of good-natured extremity, their music is an arty collision of hardcore and jazz. Their unreasonable sound-checking, however, was ridiculous for a punk band.
The last-minute addition – Atlanta's heY!ALLigator (yes, stylized just like that) – probably would've fit in better over at the Orlando Nerd Fest happening the same weekend than on this bill. But it's good they arrived because they threw mad spice all over this show. In traditional hip-hop terms, they're kind of terrible – but they're neither traditional nor hip-hop. Splashed in excellently awful outfits, these two ladies dropped some dorky, outlandish and horned-up comedy rap. Like a freak show with lots of on-the-floor audience interaction, their performance was big on humor and entertainment. It's all powered by the fun of two chicks who seriously know how to let it all hang, confident in the belief that attitude will make up for any lapse in craft. I can relate.