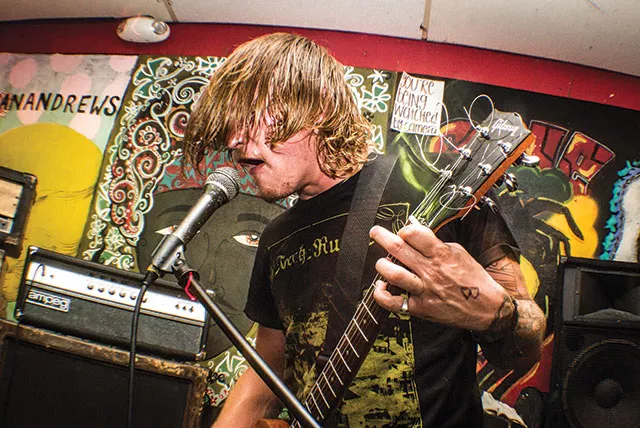 PHOTO BY CHRISTOPHER GARCIA
CENTURIES
A huge, heart-heavy pour on the floor for Bar-BQ-Bar, whose shocking and sudden coda arrived this last weekend. Due to some recent changes in downtown's show patterns and social demographics, it's been a while since I've been a regular there, but I was very much one for many years. I've killed countless hours and brain cells there. Because of the concentration of talented artists and serious music heads on both sides of the bar over the years, I've had some of my best music conversations there. It's been some time since the place has been quite that elite as a scene clubhouse, but in its prime, it was unmatched. Over my last beers here, I realized those memories are eternal. Thanks for the high times, Bar-BQ. May your successor be as worthy.
The Beat
Non-Prophet Organization's latest punk-centric showcase (Aug. 27, Uncle Lou's) was a study in both extremity and advancement. Some of these young bands aren't just pushing hard, they're pushing the genre outward.
The night's bookends were decent but undercooked. Though occasionally intriguing with some unusual elements, closing local band Gross has yet to make it all click and stick. The headlong, wall-crashing powerviolence of opening South Florida band Shit Luck was more coherent in style and raged with bleak undercurrents. But for the unforgiving demands of their style, they were a little loose.
The sweet middle where the headlining bands were, however, is the stretch that made the night crack like a thunderbolt. Jungbluth, a PC punk trio from Germany, ripped the room in a progressive hardcore attack. With more relief, sinew and slash than the traditional stuff, they sometimes wrap their toes over the noise-rock ledge. These guys have some seriously beastly recordings, much of it you can find for free on their Bandcamp (jungbluth.bandcamp.com). With this much danger for such little price, it's an imperative.
But it was the sonic wrath of West Palm's Centuries that blew everyone else the fuck away. The last time I saw this band was in this bar, and they whipped everyone into such a frenzy that bodies were flying off the pool table like a herd over a cliff. Well, it wasn't nearly as wild this time, a fact that I know drove die-hard promoter Ryan Pemberton to near insanity. But blame the crowd, because the band did their part.

Outer limits: Photos from Centuries, Gross and Jungbluth at Uncle Lou's
Although pit action was lean all night with little more body friction than a Promise Keepers rally, this is when the house started to heat up. A Centuries performance is always an event, but I don't ever remember them stirring this much thrill before playing even a single note. As they went about aiming a small wall of amp stacks – an array that, in this tight room, practically made them Jucifer Jr. – even a total stranger to their music would know, yeah, dis gon' be nasty. And it was.
Live, Centuries are searing. As a unit, they're fast, loud and united – all blasting at the same laser-sighted target: you. Even in the few moments when they slow it down, their chugging chops are heavy enough to down a redwood. Perhaps the most distinctive thing about them as a hardcore band is that they manage such surprising atmosphere and scope without ever relenting on their primal fury. They're modern, forward-thinking and absolutely, unmistakably one of the top heavy bands alive. Step into the same room while they're on, and it'd be hard to believe that them hooking a legit label like Southern Lord was anything but an inevitability.
Modern Music Movement's latest theme event was an R.E.M. tribute show (Aug. 28, the Imperial) focusing on the band's early material. Unlike MMM's regular, low-key Acoustic Soundcheck series here, this special concept show drew more intense traffic – the most bodies I've ever seen in here, actually. Although sound – between crowd din and technical problems – was an issue for the acoustic performance, local notables Stephen Rock, Brian Chodorcoff, Wheeler Newman and a revolving cast of accompanists did a quality job on the music. Besides, it was nice to be able to appreciate R.E.M.'s music anew as interpreted – pardon the heresy here – without the iconic but sometimes trying voice of Michael Stipe.