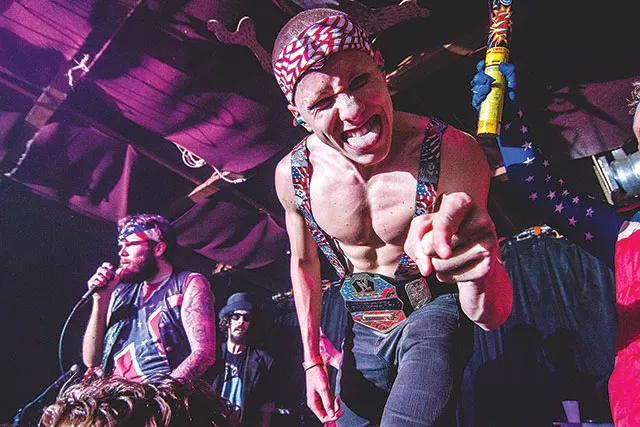 Photo by James Dechert
AMERICAN PARTY MACHINE
The idea of someone playing acoustic in a place where music isn't the spotlight is seldom a thing that warrants the attention of serious music heads. The Acoustic Soundcheck series, however, is an exception.
Though the latest event (July 2, the Imperial) was my first, I've been tracking the talent selections for a while and what's become clear is that it's curated with some care. A concept by local music organizer Modern Music Movement, the series has been a parade of area notables, with an exciting upcoming edition that'll feature local soul supernova Eugene Snowden channeling Sam Cooke (July 23). Young local Reggie Williams, who plays a breezy, jazzy brand of pop that straddles easy accessibility and genuine soul with some real technique, held down the night I attended.
And in terms of ambience, there are a million worse places to drink than the Imperial. Put it all together and you have a recommended option for live music when you want to chill without compromising quality.
The Beat
Atlanta's the Coathangers (July 2, Will's Pub) always had enough aesthetic to be noted as the little sisters to the Black Lips. But it hasn't been until maybe this year's album, Suck My Shirt, that they've truly gotten good. They've finally elevated their songwriting and expression beyond basic punk with a wider spectrum whose full color was on display live. They're not even close to ruining themselves with gloss, polish or some shit like that. They just kick ass with better songs.

Suck my shirt: Photos from the Coathangers at Will's Pub
In recent years, the Menzingers (July 3, the Social) have shot up rapidly in both musicianship and popularity. Their rise has been fueled not by image or sensation but simply the timeless power of sturdy songs, which is a thing worth championing. Since I first saw them a handful of years ago, they've gone from a decent but common pop-punk act to one that's ripened into the kind of chest-filling, Rust-Belt punk-rock band that only the Northeast produces so well. And more than just topping the melody-punk class, they've moved toward the deep taproot of a classic American sound with a soul-over-style ethos.
The big surprise, however, was the Orlando debut of Toronto's Pup. So much pop-punk becomes a fleeting adolescent infatuation because, on its way to the heart, it takes the obvious but often inferior roads. When it comes to emotion, you can tap the sap or channel the strength. And Pup's large sound does the latter by chasing melody with gusto and rocking it respectably. They're poppy but not cute. And with some wider dimensionality, they're not even necessarily tied to the punk-rock box.
But Pup apparently does not share the same fuzzy feelings about Orlando Weekly, citing a one-star review we published in April of their debut LP onstage. Contrary to a rumor floating around the room, the review didn't come from me; it came from fellow contributor James Greene Jr. But it impelled the band to