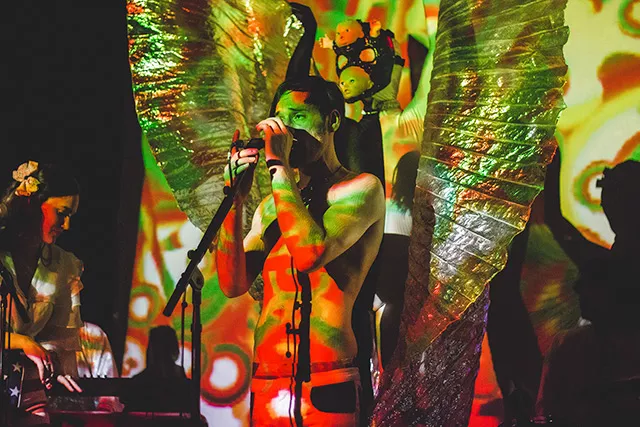 Photo BY James Dechert
Of Montreal
Talib Kweli hasn't moved to Orlando, but homie might as well because he's practically taken up residency on the turntables at Bullitt Bar, spinning special events on the reg about every six weeks or so. And it looks like he's stepping up the affair with our city by shooting his next music video for "What's Real" right here, starring y'all muh-fugs. That's some serious love there. The crowd-performance event (May 18, Bullitt Bar, $10) is open to the public, so get on up.
The Beat
It would take one high-grade spike in the water supply to have another week as psychedelic as this past one.
Psych Night II (May 7, Will's Pub and Uncle Lou's) was the result of two small shows that, rather than be competitors, partnered to become a bigger joint event. What started out as separate shows, through cross-pollination and synchronization, became a mini-fest that no doubt exposed people to some new music. How's that for esprit de corps?
Organized by Bread & Circuses and Norse Korea, the event showcased diversity, quality and some strong national names, the heaviest hitting of which were L.A.'s Froth and Lansing, Mich.'s the People's Temple.
Featured on notable boutique labels like Burger Records and Lolipop Records (alongside Orlando crops like Wet Nurse and Strangers Family Band), the exceptional Froth packed extraordinary sonic mileage for a trio (great effects, 12-string guitar). Their thick garage fog honors the past but looks forward, speedballing psych-rock, fat fuzz and some modern punk edge into one mighty high. Transporting, heavy-headed and vaguely menacing, Froth's deadly cocktail will put you under.

Photos from Psych Night II: The People's Temple, Gloomwolf, Maximino and more
The People's Temple also came with a serious résumé on weighty labels like HoZac and Jack White's Third Man. Their sonic size comes from sheer manpower in a thundering three-guitar approach to garage rock that has a way of going from traditional stomp to breathtaking tornado with little warning. And like their nod to their seminal rock & roll heritage (a cover of "I Wanna Be Your Dog"), it's all done with big, hairy Michigan balls.
On the night's electronic other pole was Brooklyn-based but Gainesville-raised Michael Collins. If his past in Prince Rama didn't signal you that this was going to shoot left of your usual pop exhibition, his between-song address and crazy-ass rig – a wood case that unfolds into an array of keys, knobs and buttons – would have. With dance beats and big synths, his electro-pop rolls out like homemade hipster disco but with something else underneath. What exactly, I'm not sure, but the first song was in Sanskrit.
A curious new homegrown find was Deltona band Gloomwolf. As far as I could spot (and count) from a first listen, their rock touched on indie, psych, math, post-rock, '60s, '70s and '90s, all with an unusual pop sense. Their scattered sound has lots of familiar ether but is smashed together in ways that aren't entirely predictable. We'll see if they can crystallize it to get to the next level, but at the very least it's an intriguing bouillabaisse of potential.
But the trip stretched beyond Psych Night. Boogarins (May 8, the Social) is one of those hot new acts who've been trying to catch up with their own momentum ever since they started. The Brazilian kids were signed before they were a full band or even had a name and are now doing their first U.S. shows. With a nebula of dream-woven melody and fuzz that radiates like a woozy sun, Boogarins move their tropical psych-pop heritage into more current territory. And what plays on record as more pop burns with deep rock throb in person, making for an impressive live debut. These boys can kick.
Although this was the smallest room I've seen Athens headliner Of Montreal play in eons, their flamboyance of show and production was fit and alive. Their stage aesthetic – arty, elaborate and DIY – has always been a triumph of low-tech/high-concept craft, and it's still a glorious visual buffet that brings their rabbit-hole freak-pop to Technicolor life. Gotta give it to 'em: Of Montreal can still turn a club into a hot dancing sardine can, all while staying true to their freaky selves all these years.

Springtime is the season: Photos from Of Montreal and Boogarins at the Social