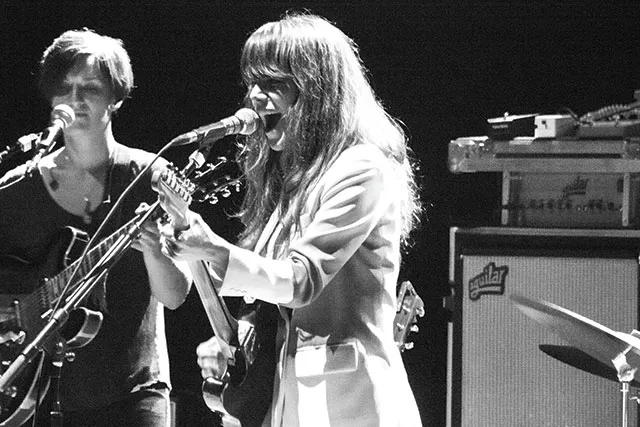 Photo By Christopher Garcia
JENNY LEWIS
Regular TLU readers should already be familiar with Orlando country-rocker Jackson Rodgers, but his profile remains disproportionately low relative to his considerable talent. Regardless, he's an artist worth noting. You should know him first for his music, which is deep in tune and soul. But while he waits for more of you to catch on, he's added "impresario of emerging talent" to his credentials by presenting New Faces, a free showcase that just debuted at Will's Pub (July 7) featuring area musicians who've mostly never played the venue in their current form.
If curated judiciously, a showcase like this could be both a great stage for listeners to get in on some undiscovered talent and a precious shot for artists to audition. After seeing New Faces' inaugural class, I'd say Rodgers looks like a scout trusty enough to keep this concept from becoming a basic open mic and to create instead an expo of unknowns standing among a calendar of notables.
Of the several acts I caught, the best was a solo performance by Henry Toland of DeLand band Passing Afternoons. Woven from the interplay of a light, limber voice and rich guitar, his modern indie-folk sound isn't afraid of space and understands that a room can be filled with atmosphere instead of volume or busy filigree. That, of course, takes taste and skill to pull off. Fortunately, he has both.
In addition to hosting, Rodgers also anchored the event by playing short sets with his usual accompanist – his father, Forest – to intro each act throughout the night, a touch that added face, format and, most importantly, a baseline of quality to the proceedings. There are no set plans for another edition of New Faces yet, but it's a valuable scene-building idea worth development.
Besides credit for a promising concept, congratulations are also in order for Rodgers, who flew out butt-crack early the next morning to attend Steve Earle's Camp Copperhead songwriting workshop in the Catskills on an all-expenses-paid scholarship. Because I don't want to accelerate the end of civilization, I'm going to pretend he won it for his songwriting and nice cover of "Copperhead Road" and not for a Facebook comment he posted on Lagunitas Brewing Company's page. Either way, it went to a deserving young talent.
The Beat
With her first new album in six years being released at the end of this month and some recent touring – this latest leg supporting Ray LaMontagne (July 11, Bob Carr Performing Arts Centre) – Jenny Lewis is back to rekindle the embers of her solo music career. Despite some early sound issues, she and her band played an elegant set that mixed some new songs (opening with her brand-new single, "Just One of the Guys") with much of her most prime work and even a toe-dip into Rilo Kiley material like "Silver Lining," perhaps the most perfect song she's ever penned.
There's a lot of style that goes into what Jenny Lewis does, from the golden tones of her Cali-cool steeze to being the de facto majorette of indie coquettishness. But despite her soft-core flair and the baggage of peripheral Hollywood fame, she still manages some real, natural soul and even some respectable rock and roots. The gestalt is a particular space entirely her own. Even with somewhat muted sonic and visual treatment, this performance wove some rich nuance, proving the craft behind her work. And it wasn't really until I saw her onstage again this time – with a shine that radiated more from plain-spoken gravity than cutie-pie affectation – that I fully realized how good it was to see her back on the scene.
Braiding his pop music with a rootsy sensibility and white-guy soul, headliner Ray LaMontagne is nothing if not a detailed and honed craftsman. Though his sharp but square adult-alternative styling isn't especially my bag – and the fact that he's one of those guys whom you suspect wears a back-canted brim hat all the fucking time – at least he's not one of those half-cooked indie hypnotists who skirt by under the guise of arty impressionism. (Yeah, you, Bon Iver.) And even though sizzle isn't really in LaMontagne's mission, this was a fine-cut, professional performance.

Roses and cigarettes: Photos from Ray LaMontagne and Jenny Lewis