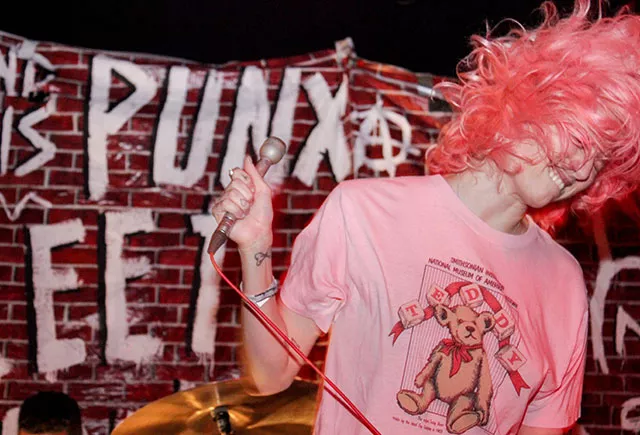 Once school no longer dictates the rhythm of your life, summer's a bummer. Oh, sure, the flora and fauna are ballin', but it's the bane of culture. So, thank you for the good new Florida acts that woke things up this week.
The Beat
The first one was a total surprise. New St. Pete trio Sonic Graffiti (Aug. 13, Will's Pub), of whom I was completely unaware, played Orlando for the first time. The twin brother-fronted band rips a wild, freewheeling kind of traditional rock & roll that, sadly, isn't in particular favor right now. But for me, it's always in season. And these cats are straight in my book, because they crank it up, kick it out and shoot for the rafters with real abandon. Channeling the almighty MC5, their garage-scraped, blues-licked proto-punk is some primal-howl, true-believer stuff. It's raw but big, with just enough guitar heroics to rock, not wank. And it's one sweet bomb of grease, cacophony and thickness. Until they make it down I-4 again to sweat it out, check their new EP for free on their Bandcamp page (sonicgraffiti.bandcamp.com) and start getting amped.
Hunx and His Punx shows are always a guaranteed spectacle. The most recent one (Aug. 14, the Social) was in many ways a terrible set, but Hunx's outsized personality carried it as usual.
Click the photo below to see a gallery from Hunx and His Punx's and Hunters' sets:


But apparently, Florida has its own Hunx in Michael O'Hara, the frontman for St. Augustine opener Queen Beef. In fact, their gay garage-punk template – real punk ethos captained by queer charisma and humor – is strikingly similar to the Punx. Even tighter than the Punx, their powerful, gutsy torque is a great dynamic foil to O'Hara's prancing flamboyance.
The tightest performance of the night, however, was delivered by Brooklyn's Hunters. There's some fun and play in their presence, but they were much more serious in sonic intent than anyone else on the bill. Like a more punk-revved Sonic Youth, their hot fuse of noise and punk rock set them apart in size, style and kick. Between their stiff focus, penetrating drive and physical performance, this young band radiates an undeniable prime-time quality.
With a name like Caribou King (Aug. 17, Uncle Lou's), you gotta figure it has to be heavy. And indeed the new local band going by it is. Still, their bluesy stoner rock – which sounds a little like the Sword's more chill little bro who hasn't quite filled out yet – seems like it wants to be heavier than what I saw. At least it should if it really wants to be all it can be. The vocals, for instance, need to grow some more chest hair or just be de-emphasized altogether. Most importantly, though, they need to spread their sonics on thicker – the thicker, the better. But, luckily, those are just tweaks, not a wholesale redraft. They more or less have the songs, they just need more brawn to send that shit home right.
One block up and an hour later, Orlando act Luscious Lisa took the stage for an album release party (Will's Pub). Your reception of them will depend greatly on how devout and unflagging your allegiance to dirty party rap is. Mine isn't. I say this because they don't bring anything particularly special to the form, just basic goofs and gags. Now there's certainly nothing wrong with that when it's inspired – just look at Gil Mantera's Party Dream, who were one of the most side-splittingly riotous live acts. But even sendups require wit and precision to hit the bull's-eye. Luscious Lisa and crew bring lots of spectacle and pageantry, and they kicked up a decent party. But the returns rapidly diminish after that. Imagine if Peaches were stripped of her musical and lyrical poignancy – she'd be nothing. That's Luscious Lisa's predicament.
I've heard plenty of good, high-functioning two-piece bands, but, damn, Philadelphia's Sadgiqacea (Aug. 10, Will's Pub) showed unbelievable mileage and scope in their blackened doom sludge. Within an unrelenting sonic blizzard and sometimes dizzying altitude, the exceptional narrative quality of their music packs volumes of drama. In just their instrumentals alone, you can hear entire kingdoms falling and whole planets being scorched. They're impressive on tape but, live, they're very serious business.