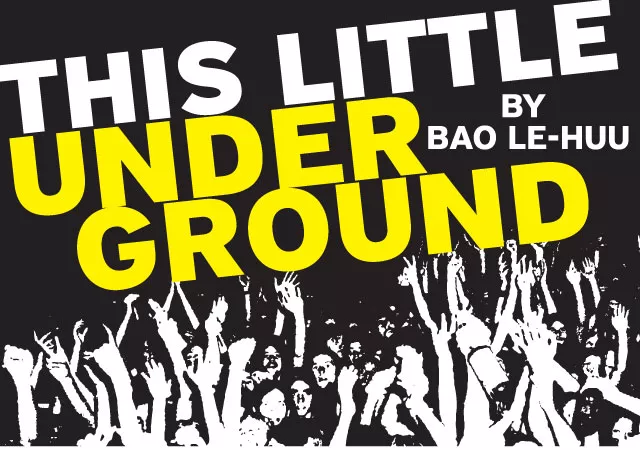 For my first show of 2013, Uncle Lou's is as grounded a launch pad as any, and what drew me was a Palm Bay band invasion (Jan. 2). The last time I saw such a concentrated sampling from this little coastal burg was over a year ago at the 2011 xFalXcorex Fest at the dearly departed Hoops Tavern, where I was surprisingly impressed with the talent. Ditto this time.
All grindcore bands embody sonic combustion. But few acknowledge the hilarity that can be intrinsic to extreme music. Anything but self-serious, My Black Girlfriend does both. In sound, they pack the intensity with songs that sometimes rip forth in three-second blasts. But in concept and outlook, they pack the humor with funny between-song exposition and, well, three-second songs.
Interestingly, the singer announced that bassist Chaz Brockington's aunt is Central Florida News 13 anchor Jackie Brockington. I don't know if this is actually true, especially considering the band's sensibility. But they do share a surname and he does have more than a passing resemblance to the stately news dame, so I'm gonna go with it because I really want to believe she has a nephew in a grindcore band.
At the Hoops show, Gillian Carter was the band that stood out most. And this set reaffirmed why. Their dazzlingly expansive post-hardcore, though extreme, has extraordinary scope and ambition. And it's some of the region's most expressive heavy music.
Although not from Palm Bay, Jacksonville screamgaze band the Caution Children were also good. Belying their touches of lighthearted levity (e.g., the Incredible Hulk Smash Fist holding the mic), their massive songs come in serious, dizzying squalls of beautiful noise and moving melody. It's a big, big sonic experience that shatters the mold for scream-based bands.
Also in the pursuit of starting the year off fresh and right, I figure a trip back out to lovely DeLand was in order. I noticed an intriguingly large temporary outdoor stage last time I was in the sui generis courtyard at Café DaVinci. But I've since been hearing about a big, new permanent one out there. And, truth be told, that was the primary impetus for the trek – much more than even the legendary, albeit now-ironically named, SoCal punk bands the Adolescents and Youth Brigade, who were playing there that night (Jan. 3).
From what I saw, New Smyrna's the Vices were a competent, by-the-numbers punk band, and Youth Brigade brought a veteran take on the forever vernal sound of rolling, bouncing punk rock.
But the best news is that Café DaVinci, now a year into its latest life, seems to be functioning well and is looking better than it ever has. I've long been one of its most vocal fans, but because it's a downright enchanted place with a beer garden that's one of the finest spaces anywhere to spend time with a drink in your hand, its latest developments are especially worth noting. To more fully maximize that incomparable garden space, there's now a big, brand-new bar outside that spreads the action and serviceability well.
As for the aforementioned new stage, the night's murky, Seattle-like weather pushed the show inside, unfortunately (though it was kind of cool seeing the charming interior stuffed with a lively punk crowd). What was clear, however, is that this tall, covered and fully lit stage is built for scale and permanence. And, sure as shit, I'll be back soon just to enjoy a show on it. You should really treat yourself, too.
The Cook Trio is unquestionably the area's best jazz Manouche combo. OK, so maybe they're the only one, but they still completely rule. And since Redlight Redlight's big move to Audubon Park, they've been without a hometown residency. But they recently did their gypsy swing thing and splashed their deep ambience all over Lil' Indies (Jan. 4) – a new place that many of you insiders likely already know well, what with all your inside-y ways and shit. And it's as good a spot for them as any.
You did say one of your New Year's resolutions was to get out more and check out different – and always presumably cool – things, riiight? Thought so. Consider your list already started. Because I love you, is all.