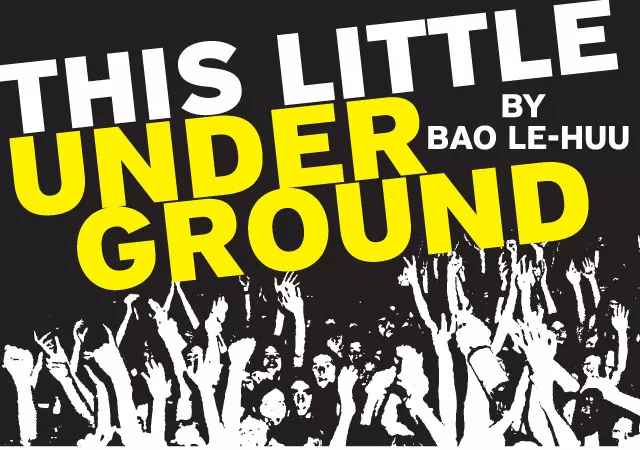 Aw, man. R.I.P., George Jones. But hat-tip to local country champion Joseph Martens for doing an unannounced but respect-filled tribute to the Possum right before Thomas Wynn & the Believers' set (April 26, Will's Pub).
There's a storm of controversy brewing over changes at Rollins College radio WPRK 91.5 FM. Looks like it's all over the degree of student control of the station, and shit's gotten emotional. Right now, there's more flap than verifiable facts, so stay tuned. Got knowledge or perspective? Do tell.
The Beat
I've been tracking Le Blorr across several years and several permutations, from when they went by Bastard Lovechild of Rock n' Roll, then to acronym BLORR, then to the Frenchification thereof. And what each version suffered from was aesthetic indecision. Now they've freshly re-emerged as SWIMM (April 26, the Social). With the completely new name, it seems they've also finally arrived at a cohesive sound. What started as something of a lark – a Frankenstein mix of the Black Keys and Gil Mantera's Party Dream (no, seriously) – has somehow become a symphonized, realized and altogether different thing, hence the total brand overhaul. Their new vision – organic, psychedelic rock with bright pop sensibility – is a bigger aesthetic that accommodates all their stylistic whims in a holistic way. They're collected and deeper now. And with an impressive, just-released free EP (swimmmusic.bandcamp.com) they may finally be poised to take off.
Part of what's great about the Plaza Live is that it's enabled me to conveniently fulfill my lifetime concert wish list. With the recent Dick Dale show (April 21), I can now check off another legend. And for the city's rock and pop fans, I hope loudly that this doesn't change. But with all the recent talks of the historic theater's possible purchase by the Orlando Philharmonic Orchestra, we'll have to wait and see.
As for the surf-guitar god himself, the man has timeless badassery with cave-in riffs built on danger and thrill. While other surf acts actually stroke the easy beach vibe, Dale's loud, diving, screaming-eagle licks capture the action out on the water in, say, a North Shore typhoon. He and his band redid some American classics, spanning Johnny Cash to the Animals. They even dedicated "Amazing Grace" to our nation's service people (soldiers, firefighters, police), making it momentarily feel like a Dropkick Murphys show. But Dale's best when he's on his own hair-raising material. And because he's always kept it hard, even after all these decades, he remains the king of surf guitar. And it made me wonder what might happen if local surf-rockers Thee Wilt Chamberlain attacked it like that.
Although sometimes a little unseasoned live, the concept for Brooklyn, N.Y.'s Field Mouse (April 24, the Social) is solid. Their rock take on dream-pop – driven by the horsepower of shoegaze and indie-rock – motors with greater size, frame and presence than their twee peers. It's a substantial sound; it just needs more confidence.
Not at all lacking in muscle and verve was headliner Laura Stevenson. Considering the quirky, often gentle vulnerability of her indie folk-pop, the live punch is a little surprising. But in keeping with her expanding, studious sound, she has a strong cast behind her to paint her sweet melodies in full color, dimension and wingspan. With the weight of a high-functioning rock band (including keys, accordion and bells), her conviction and emotion are finally in full force.
But she was still sweet enough to dedicate a song to GWAR, who was playing only one wall away, next door at the Beacham. As if that intersection weren't weird enough, a couple of doors down, Independent Bar featured Dennis Haskins – yes, Mr. em-effing Belding from the hilariously insufferable tween sitcom Saved by the Bell. The club has brought in big-name guests like Kid 'n Play before to headline special editions of Mac & Cheese, its Wednesday celebration of "bad" music and pop-culture corn. But this booking was genius in its ridiculousness. Personally, I have zero nostalgia for Saved by the Bell. But if you're gonna do something, might as well go all the way, right? And what a scene it was – palpable energy and live silkscreening of Bayside Tigers T-shirts. Good god, I can't believe I now know that mascot. Anyway, it was kinda nuts.