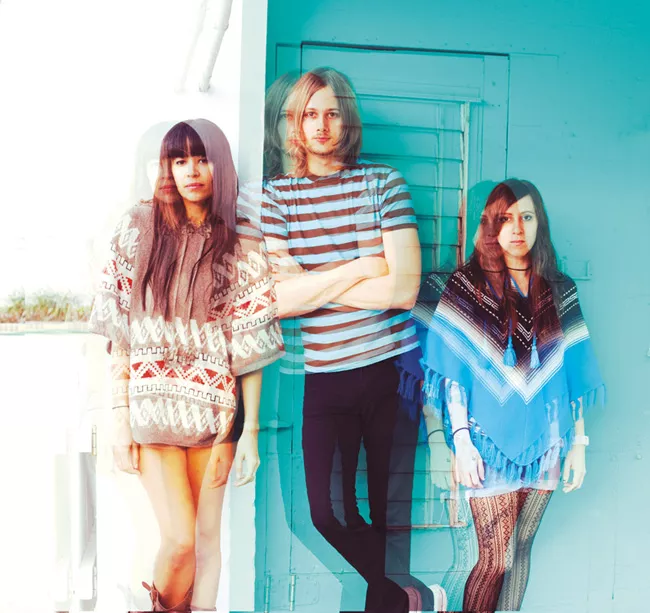 There's nothing this column loves more than a native revelation, and this week it was Beach Day (June 2, Will's Pub). They're from Hollywood, Fla., but all three members used to play in Orlando-born band the Black Rabbits.And this one's a good story.
Beach Day specializes in a beachy (duh), garage-minded breed of girl-group pop. Indeed, this wellspring goes back about 50 years, and lots of young acts are reviving it now, but this band's interpretation is so natural and incandescent that they make it feel completely fresh again. They have all the romantic nostalgia that you want from this fare but with just enough garage grit to be au courant. But their universal virtue is their rare melodic gift. Most of their ilk simply don't have the stunningly easygoing songwriting instinct that Beach Day does. And that's the difference. It's basic but it's everything. It's why all their songs sound like singles. Moreover, singer Kimmy Drake has the true voice of a girl-group leading lady, something like a young, white Ronnie Spector raised on punk.
Not only is Beach Day way more ready for prime time than their contemporaries, they could knock off some of the genre's reigning bands – they already make Best Coast sound asleep and seem ready to rush up on Dum Dum Girls real fast. In other words, they are one of the best cases I've seen of this genus so far and are genuine breakout material. I've seen far lesser bands have great success. Consider me fully in their corner.
But here's the best part: Mere moments after I typed in the above sentiments into my phone, I was told they just got signed by tastemaking Brooklyn imprint Kanine Records. Label honcho Lio Cerezo, an Orlando boy who was there to see Beach Day play, told me himself. This is the label that nationally broke Sunshine State luminaries Surfer Blood and Viernes. So beyond your favorite music column here, expect to see Beach Day on the buzz blogs soon because being signed to Kanine is a significant pop for them.
The beat
In other haps, let's add Titusville's frog-throated Lone Wolf (May 31, Will's Pub) to the list of good Florida one-man bands.He handles foot drums, harmonica, tin-can mic and banjo, which he plays more like a full-steam boxcar bluesman than in the rapid-rolling bluegrass style. Although not as put-together as, say, Ben Prestage, his style has a nice scuff to it, sounding almost like a field recording. But a half-hour in, he finally picked up a resonator guitar by popular demand, giving his slide work a big jolt of octane and vaulting him much closer to Bob Log III,which is never a bad thing. It just proves how real of a barnstormer Lone Wolf is.
Technically and artistically, Chicago's Maps & Atlases (May 27, Plaza Live) are simply on a different level, miraculously blending two things often seen as mutually exclusive: heroic math wizardry and fluid pop ability. These guys are way more exultant and moving than Minus the Bear ever was.
The rarer thrill was NYC opener the Big Sleep. It was great seeing them recently at this year's Orange You Glad Music Festival, and now only a few short months later. It almost makes up for the several years' drought of Orlando appearances. OK, no, it doesn't. But the significance this time is that, thanks to Maps & Atlases, the Big Sleep's seductively noisy loudness finally got the good, receptive audience it deserves, something I wasn't sure I'd ever see here for this worthy but unheralded band.
Even louder and much harder was the punk-thrash slash of San Francisco's Black Cobra (May 29, Will's Pub). These guys roll like their brake lines were cut with the throttle wide open. While most would freak, they just make a day of it, rock the fuck out and hurtle down the cliff with style and gusto.
Also gripping was Salt Lake City opener (and Khann labelmates) Gaza. Their intense sonic bomb blasts with hardcore, sludge, math and crust shrapnel. It's tough but progressively expansive music featuring lots of finger taps that give them a berserk edge when their angles aren't chopping into you. And live, they're a searing presence.