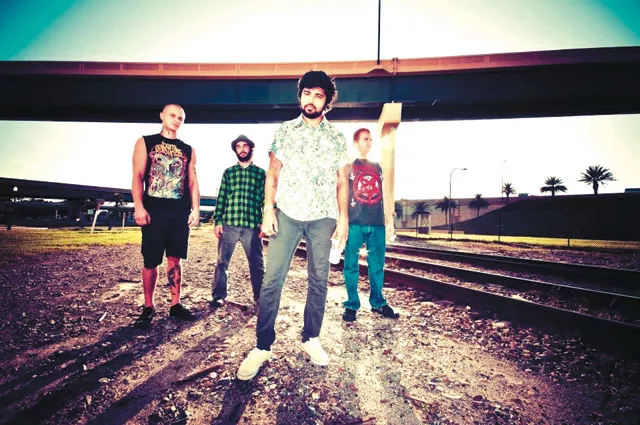 R.I.P., Crush. Although a little self-fellating, the long-running Monday night dance party at Backbooth leaves a legacy.
The Beat
Backbooth's latest weekly night is, interestingly, a jarring departure from the dance-oriented nights that dominate the club when there isn't live music. Juggernaut, the new Tuesday night, is a full-on metal party organized by a cabal of guys you'd recognize if you frequented certain downtown clubs, dudes who are probably the only organizers in town who could both bartend and bounce their own night.
The destruction is dealt by resident DJ Fuck You. Subtle, no? Occasionally, there'll even be a live band performing. The debut (June 5) featured Primary Colors, a local band that pairs extreme metal with a big sense of humor. But besides the comedy of their outrageous lyrical content, singer Sadi Thakur actually got onstage and did a better stand-up routine than the average comic. The band quietly set up behind him and, when he was done, exploded into their blistering set.
From opening night's decent attendance, it would appear there are people out there who thirst for something with teeth. Well, color me impressed. How many reputable weekly metal nights do you know out there right now? Exactly. And this one will rock you for only two bucks. If you think downtown's balls have gotten a little too powdered, well, you ain't wrong. If you like it heavy, Juggernaut is your new cure.
Earlier down the street was Jersey's River City Extension (the Social). The stocked eight-member ensemble played a high-spirited brand of folk that's as rock-driven as it is symphonic. Instead of the bookishness of Ra Ra Riot or Vampire Weekend, these guys gush with a more down-home honey and deliver live with infectiously energetic esprit de corps.
Also invoking a little folk was Canada's City & Colour (June 6, the Beacham), the solo acoustic project of ex-Alexisonfire singer-guitarist Dallas Green. His brand of indie-minded, lightly twangy folk-pop is definitely sensitive-guy stuff that aims for flights of prettiness over earthiness or grit. Its soothing comfort is occasionally shimmering but also occasionally generic. But apparently, it drives the ladies crazy, so take note,
enterprising men.
Later, California's Ceremony (Backbooth) ripped another amazing show. It's only been seven months since they last played here but this is one band we want coming here as often as possible because they're one of the most legitimately buzzing hardcore bands to come along in a while, and they're outstanding live. Their performances have always whipped up a seriously wild time with bodies flying everywhere and throngs of people climbing onstage to yell the choruses into each other's faces. But more than any of that, I love this band because they can go nose-to-nose with any trad-hardcore band in terms of punching power, but they completely refuse to be straitjacketed by the genre's suffocating stylistic conservatism, freely mixing in lots of moody post-punk shades. There's a pronounced edge of expression, range and humanity to them, all bound by raw aggression. And, man, have you listened to their last album, Zoo? Incredible.
The Relief in Abstract Records showcase (June 9, Backbooth) was a dope slice of Orlando's experimental electronic scene. Amid a stage strewn with TVs broadcasting live-mixed visuals – a smart touch that about 99 percent of all electronic shows could use – the local label's notable beat architects showed their stuff.
Headliner XXYYXX has been getting some serious national hype and interest. And from the tasteful quality he displayed with this particular performance, it's easy to see why. Forward-thinking, unconventional and distinctive, his jams can range from chill kaleidoscopic trips to futuristic bass bumpers. Fortune Howl also shined with his own brand of left-field liquidity in a set that possessed great motion with chunky, bright stutters and a constant sense of woozy surprise.
Beyond its youth – the artists above as well as the label's founders are teenagers – this promising little scene represents abstract electronic music made from fertile minds. And the best part is that this isn't the typical snoozy bedroom fare often emblematic of the genre. These guys are beat producers so there's some real rhythmic core and movement here. And perhaps the community that Relief in Abstract is building will give this tribe enough shape and presence to truly make its mark.