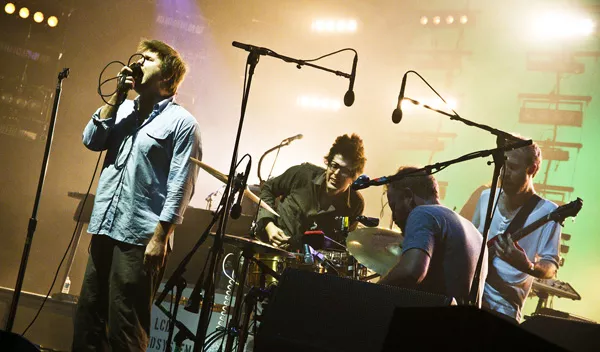 Christopher Garcia
LCD Soundsystem showed their full range
You know that look on a
dog's face when its head's hanging out the window of a speeding car – peeled back lips flapping and all stupid smiles? That's me during this unprecedented whirlwind of concerts. Please tell me you're getting in on some of this.

The beat

Because of their flat recordings, I've spent the past few years trying to figure out if Indianapolis' Margot & the Nuclear So & So's (Oct. 7, Back Booth) suffered from lackluster songwriting or if their live prowess was so good that it spun vitality from thin air. Their new album Buzzard, however, has made it a moot point. It has darker, thicker, deeper rock guts and sounds like a band that may've spent a hard season holed up with only some cases of whiskey and a Gutter Twins record. In look and sound, this is a completely different band. Longtime fans could be challenged, but Richard Edwards & Co. may have finally arrived, because this drama-swollen sound is easily the most defining work of their career.

Pride of Jersey Gaslight Anthem (Oct. 4, House of Blues) doesn't care about innovation. For them, it's all about the heart and soul of classic American rock. Intellect is one thing, but you're off course if you make rock music that gets too far away from feeling. And Gaslight Anthem's music is straight-up feeling. Under all those tats beats an undeniably romantic heart and it's what makes them timeless and enjoyable. That angle wears quickly without good songs, but these boys have a killer instinct for booming anthems. Like Hot Water Music or Social Distortion in a New England state of mind, they're far more precise and consistent than other punk bands who mine that same rock soul like the Street Dogs. There are a multitude of bands out there you can rock your heart out to, kids, but this is one of the few that's worth 
your emotion.

Back at the Social was the return of soul slingers Mayer Hawthorne & the County. Riding the fashionable classic-soul wave with a young skinny white guy in stylish specs at the fore makes it easy to be cynical about this act. But Hawthorne ain't no casual hipster tourist. He may favor the form's most crowd-pleasing vibes, but he's a real student of the stuff. Most importantly, dude's got skills. Step into the room when he's onstage and you'll know his sweet, sweet voice is legit in a nanosecond flat. Their sound may be unapologetically revivalist, but it radiates as much pleasure as it does faith, and it's a very good thing that their gospel has taken hold here.

Yeasayer (Oct. 7, Firestone Live) was all right. But in terms of electronic band performances, LCD Soundsystem (Oct. 5, Hard Rock Live) showed the full range of what's possible. For an electronic act, an astounding amount of material was actively performed with huge energy. Although their massive, stage-surrounding light rig was a gorgeous visual feast, the heart of their show was a truly live essence. And what actually makes them one of the premier live electronic acts today is that they know how to kick it like a big rock band.

There are so many reasons to root for the National (Oct. 6, House of Blues). For one, they've defied huge odds by conquering an indie scene that often favors youthful hipness. In appearance and expression they are very much grown men, and not exceptionally glamorous ones either. The single thing that's earned them their due is their music. 

Moreover, the National's songs don't even employ the immediacy of pop sensation or face-kicking rock. They're patient, simmering and atmospheric. There's little that's instant about them – no flash, no bang – just resonant substance. Nowadays, that shit's just crazy talk. But the basic truth is that few high-profile bands today have as much core as they do. And their success gives me hope for humanity.

Going from playing the intimate Social several short years ago to packing out House of Blues is one accomplishment. The greater one, though, is how they gambled by closing their set totally unplugged and somehow kept such a big crowd in rapt silence until it burst into deafening applause after. That's a lot of confidence in both your ability and your audience. And this is the kind of deep-water music that breeds lifetime fans.