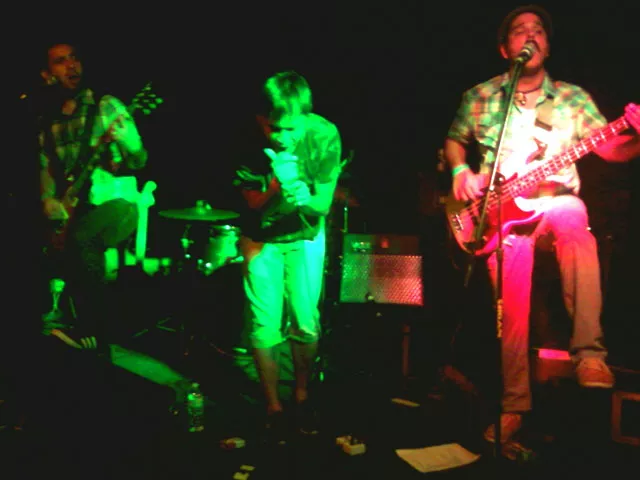 As I click this space's "Open" sign back on, I want to give my freshly departed music editor Justin Strout a proper sendoff. So farewell, be fruitful, kick ass.
The Beat
At an outstandingly loaded free show featuring local luminaries Roadkill Ghost Choir and Day Joy (Sept. 25, Will's Pub), I finally saw Loud Valley's new lineup as a trio. It's nearly a total redraft of not only their look but their sound as well. It appears they've shed their rustic, symphonic edges for a more straightforward indie-rock approach, resulting in less obvious character and patina but more muscle. They seem a bit transitional right now but the songs are there. Apart from their warm Southern sway, nostalgic ease and heart-filled articulation, there are hints of heft never before seen. They just need to let it loose.
Another local band sporting a new look was wild drum hive SSLOTS (Sep. 26, Will's Pub). It was my first time seeing them with electronic gadgetry and vocals – if using a drum over the head as an amplification helmet for screams can be considered vocals, that is. Clearly, more of that noise pedigree is permeating their formula. One thing that hasn't changed however is their raw, brain-blasting thrill. Take the conceptual core of the drum circle, strip it of convention and the dippy hippie corn in favor of feral experimentation and you have SSLOTS. Basically, they're like the drumline in Lightning Bolt's world. Whenever you're struck by flying drumstick shrapnel when stepping a little too close, you know some serious business is happening.
Also playing was Orlando's Hau Zarest, a hardcore band that's more than the aggro usual. Besides some post-punk sinews, there's actual tone, mood and musicality to them. And they attracted a rightfully enthused lot to see them.
Headlining was Oakland's No Babies, whose noise cranks from the total freak-punk side of No Wave. The blasting style of their squall-core comes at you in a sonic splat. When it comes to any kind of rock music, the sax is usually the death of... pretty much everything. In their breakneck off-the-wall blender, however, it works. Shit, with such lack of convention, anything could work here. Still, something seems very dentally dangerous about full-body raging with a sax in your mouth. But they get max credit for an all-to-the-wall physical performance.
Bringing more traditional hardness were Detroit hardcore heroes Negative Approach (Sep. 27, The Social), who opened up for punk supergroup OFF! Despite their age, their tough, electrifyingly hardboiled style didn't feel notably diminished. For a bare-knuckle band, they showed nice range - from nasty pit struts to all-out, body-flying frenzy. And John Brannon's voice? Wow, absolutely commanding. That stentorian and beautifully menacing shotgun roar instantly and exponentially ups any band's hard factor.
Immediately after, I rolled over to check out the Megacock Rock Fest (Sep. 27, Will's Pub), an event whose name has one side of me throwing a fist in the air and yelling "fuck yeah" while the other overthinking, somewhat porn-savvy side nervously utters "um, okaaaay." Luckily, it was the Tacatantàn Records Latin rock showcase it was billed as and not some posse of well-hung men in wait.
Puerto Rico's Los Nadie is really what pulled me there. Their diggably catchy anthem-punk is blessed with a stout rock heart and really sharp songs. Davila 666 showed how excellent punk rock sounds in Spanish, and these guys in their own way reaffirm it. And though they sound great in Spanish, they're beyond that cultural pigeonhole. This is a fun, charged band with quality music, period.
Truth be told, my schadenfreude at possibly witnessing some of Adam Ant's total nuttery live was as much of a draw to his concert (Sep. 29, Hard Rock Live) as my esteem for his music. Too insensitive? You're talking to a guy whose TV diet's crammed with Tosh.O, Maximum Exposure and America's Funniest Home Videos, so probably not. Basically, I wanted to see Adam Ant be a little kray kray. But apart from looking like the touched uncle of Captain Jack Sparrow and some loony toddler dance moves, he was mostly solid. His band packed two full drummers and that's always a great thing. But Ant is still a performer through and through. Even so, not cuckoo enough.